Egypt detains opposition leader for 'obscene gesture'
Prominent human rights lawyer Khaled Ali latest to be detained in spate of arrests rights organisations say target potential presidential candidates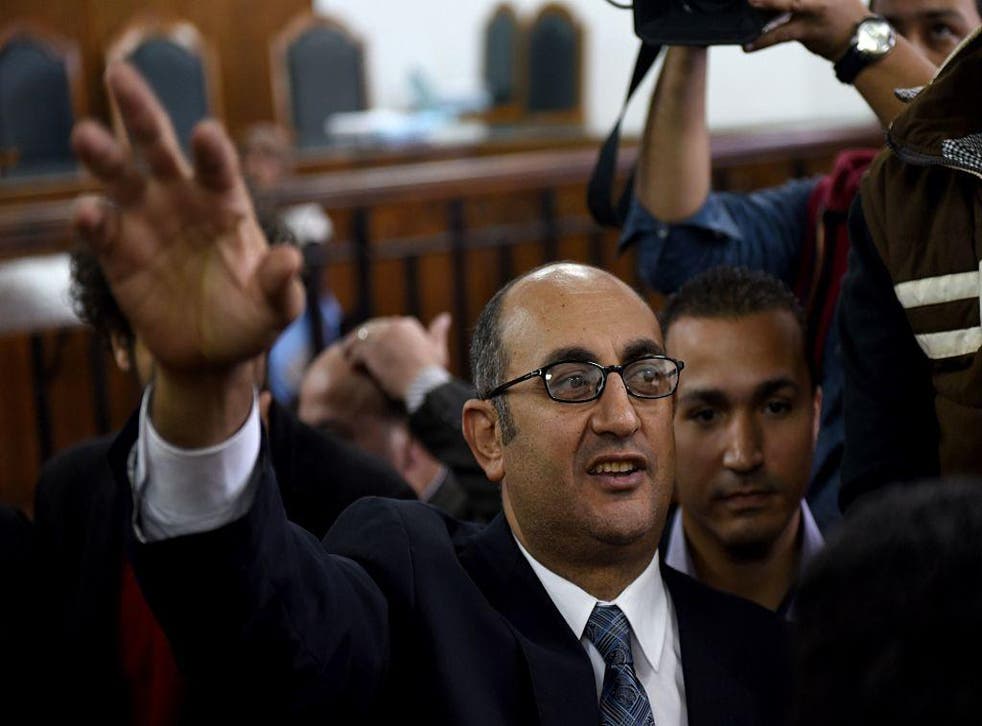 A well known Egyptian human rights lawyer who has suggested he may run against President Abdel Fattah al-Sisi in elections scheduled for 2018 has been arrested and detained in a move critics say is politically motivated.
Khaled Ali, 45, was apprehended by police on Tuesday, and taken to al Dokki police station for questioning over a photograph from January in which he allegedly made an obscene gesture on the steps of a Cairo court house.
He was arrested on charges of "offending public decency" and kept at the station overnight. A prosecutor is due to decide whether to release Mr Ali on bail or extend his detention later on Wednesday.
Donald Trump shakes hands with Egypt President El-Sisi and pledges support to his regime
The lawyer denies the allegations against him and the authenticity of the photo.
Eight members of Mr Ali's left-wing Bread and Freedom Party (BFP) have been arrested in the last two months on spurious charges ranging from "misusing social media to incite against the state" and "insulting the president", Elham Eidarous, the party's legal advisor, said in a statement.
"We are in a state of repression. Every now and then the state launches another attack," he said. "This is happening to scare people from running for president or even considering alternatives."
Can Egypt's revolution stay the distance?

Show all 2
Egypt's interior ministry has repeatedly denied the arrests are politically motivated.
Mr Ali previously ran for president in Egypt's 2012 election, held after the 2011 Arab Spring protests which overthrew incumbent autocrat Hosni Mubarak. The election was won by the Islamist Muslim Brotherhood movement's Mohamed Morsi.
In 2013, Mr Morsi's government was toppled by a military coup led by General Sisi, who went on to win a presidential election in 2014.
Mr Sisi has been widely criticised by the international community for his bloody crackdown on members of the Muslim Brotherhood and other encroachments on citizens' human rights such as the freedom of speech and assembly.
The president has not yet said whether he will seek re-election in 2018 when his current term in office ends. He remains a popular figure with the wider Egyptian public.
Register for free to continue reading
Registration is a free and easy way to support our truly independent journalism
By registering, you will also enjoy limited access to Premium articles, exclusive newsletters, commenting, and virtual events with our leading journalists
Already have an account? sign in
Register for free to continue reading
Registration is a free and easy way to support our truly independent journalism
By registering, you will also enjoy limited access to Premium articles, exclusive newsletters, commenting, and virtual events with our leading journalists
Already have an account? sign in
Join our new commenting forum
Join thought-provoking conversations, follow other Independent readers and see their replies