Russian plane crash in Sinai: Three possible theories on what happened to Metrojet flight 9268
It has been confirmed the plane broke up while mid-air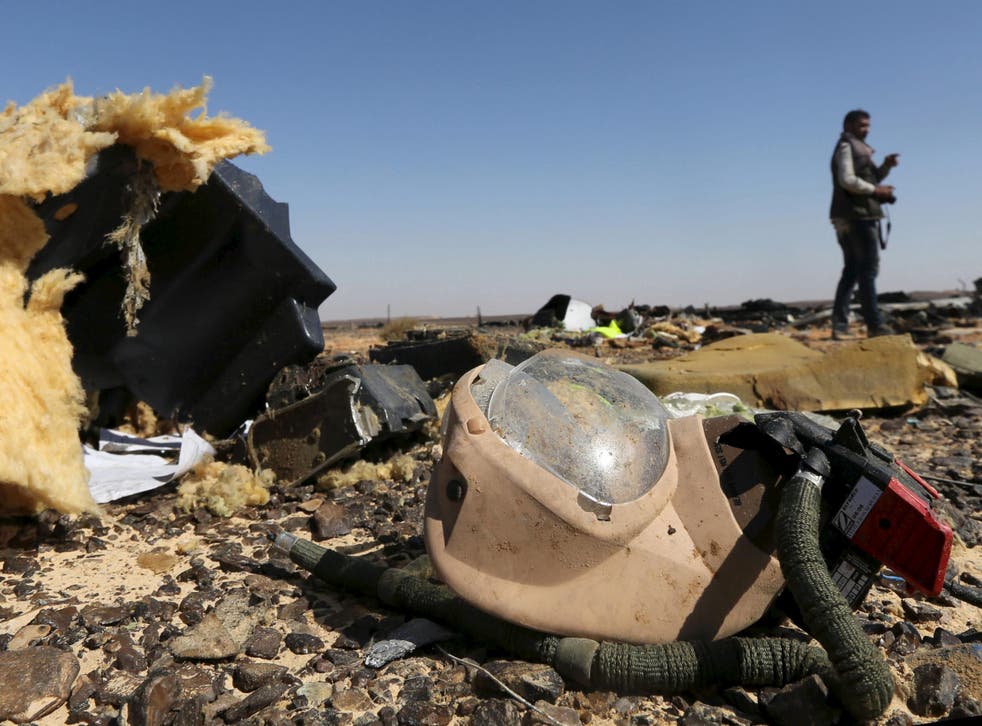 The bodies of 140 victims of the Metrojet plane crash have arrived in St Petersburg, where most of the passengers were from, as Russian officials confirmed the plane broke up at high altitude.
All 224 people on board the Russian airliner were killed on Saturday when it crash-landed shortly after take-off from Egypt's Sharm el-Sheik resort.
The plane had been en route to St Petersburg when it crashed 23 minutes into its journey, scattering bodies and fragments of the planes over a wide area in the Sinai Province.
A 16 square kilometre area in Sinai has been combed by search teams, who had recovered 163 bodies by midday Sunday. More victims' bodies are expected to be flown to Russia on Monday night.
Forensic experts have begun identifying the victims' bodies, according to a Russian official, many of which were in pieces, according to an unnamed Egyptian morgue worker.
"Maybe 75 of the ones we have are full corpses," he said.
"Some are burned, others have blunt trauma wounds and fractured skulls. The others were mainly arms and legs. It could be that these parts belong to some of the corpses, but we don't know without DNA analysis."
While it has been confirmed the plane broke up at high altitude, Egyptian President Abdel-Fattah el-Sissi cautioned that the cause of the crash may not be known for months. Both of the plane's black boxes have been recovered and are now to be analysed, though a number of theories on how and why the plane crashed have already been raised.
Isis-affiliated group fired anti-aircraft missile
Egypt: Russian A321 plane likely fell apart in the air over Sinai - Rosaviation head
Wilayat Sinai, an Isis-linked group operating in the area where the plane crashed, has attempted to claim responsibility for the tragedy on behalf of the terrorist group "in response to Russian airstrikes that killed hundreds of Muslims on Syrian land".
Reports suggested Isis claimed the plane was shot down by an anti-aircraft missile, while supporters of the militant group shared a video claiming to show the plane exploding mid-air before falling to the ground while trailing smoke.
But authorities have refuted claims the plane was brought down in a terrorist attack. Russia's transport minister Maksim Sokolov said suggestions a missile had downed the plane "can't be considered accurate," while Egypt's army spokesperson Mohamid Samir told The Guardian there is "no proof" that terrorists were responsible for the crash.
Russian passenger plane crashes in Egypt

Show all 20
"We will know the true reasons [of the crash] when the civil aviation authority in coordination with the Russian authorities completes its investigation," he said.
"But the army sees no authenticity to their claims or their video."
The plane was also cruising at 31,000ft before any incident occurred, which experts have said is out of range for Wilayat Sinai's air-defence systems, known as Manpads, meaning the plane was too high to have been hit.
Bomb on board
Russian officials have said the plane likely broke up mid-air, appearing to have split in two, with one part burning up and another crashing into a rock, but have stressed it is too early to draw conclusions from this.
A former safety engineer with Boeing says that when planes break up in mid-air, it is usually due to one of three factors: a catastrophic weather event, a collision or an external threat, such as a bomb or a missile.
Todd Curtis says if there are no indications such events played a role in the crash, investigators will be looking at more unusual events, such as an on-board fire or corrosion that caused a structural failure.
But Professor Michael Clarke at the Royal United Services Institute think-tank told the BBC that reports of the aircraft splitting in two suggest a "catastrophic failure, not a mechanical failure," which could mean an explosion on board.
"If we have to guess at this stage, it's much more likely to have been a bomb on board rather than a missile fired from the ground," he said.
Technical failure on board
Reports that the plane was in a poor condition have circulated as a possible reason for the crash. A source at Sharm el-Sheikh airport who spoke to Russian news agency Ria Novosti claimed the plane had experienced "engine start failures several times over the past week" which the crew had apparently flagged to airport technicians.
The co-pilot himself had reportedly complained to his wife about the technical condition of the airliner before take-off, according to an interview on Russian state-controlled TV.
Natalya Trukacheva, wife of the late co-pilot Sergei Trukachev, told NTV: "He complained before the flight that the technical condition of the aircraft left much to be desired".
The pilot was said to have planned an emergency landing, radioing in to air traffic control to report technical difficulties on board, an official from the Aviation Incident Committee said, shortly before contact was lost.
In addition, the Aviation Safety Network reported the aircraft had in 2001 suffered a 'tail strike', which occurs when the tail of an aircraft hits the runway, which took three months to repair. But the aircraft received a certificate of airworthiness earlier this year, regulators in Ireland, where it was registered, said on Monday.
Egypt's minister for civil aviation, Hossam Kamal, has since said this was not true.
"Up until the crash happened, we were never informed of any faults on the plane, nor did we receive any SOS calls," he told a press conference. He added that pre-flight checks and all-contact with air traffic control has been normal.
Additional reporting by agencies
Register for free to continue reading
Registration is a free and easy way to support our truly independent journalism
By registering, you will also enjoy limited access to Premium articles, exclusive newsletters, commenting, and virtual events with our leading journalists
Already have an account? sign in
Register for free to continue reading
Registration is a free and easy way to support our truly independent journalism
By registering, you will also enjoy limited access to Premium articles, exclusive newsletters, commenting, and virtual events with our leading journalists
Already have an account? sign in
Join our new commenting forum
Join thought-provoking conversations, follow other Independent readers and see their replies