Egypt elections: Abdel Fattah al-Sisi's challengers liken President to Saddam Hussein as they drop out of race
Last credible candidates drop out one-by-one citing violence and corruption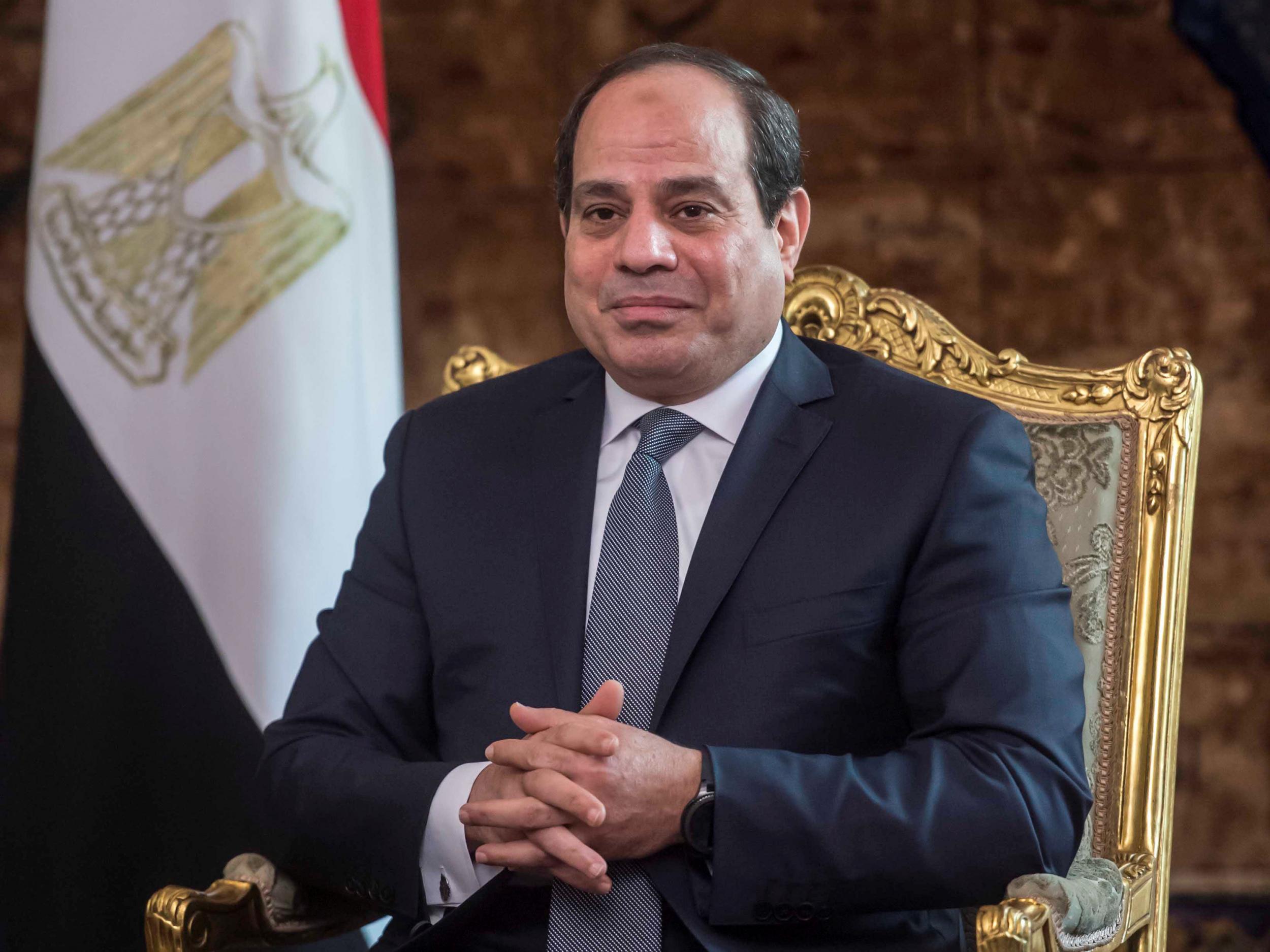 It was in a room packed with reporters on Wednesday night that the last serious challenger in the Egyptian presidential elections announced his intention to step down. Khaled Ali, a well-known, left-leaning activist, told the room he could no longer continue the race, citing "many violations" on the part of the electoral commission, and violence against his staff. "There was a furious reaction to our campaign," he told journalists, "the security forces arrested many members of my staff."
The conference was held in Mr Ali's campaign headquarters in downtown Cairo, just a stone's throw from Tahrir Square, on the eve of the seventh anniversary of the 25 January revolution. Mr Ali's campaign had been littered with references to "the values of the revolution" and even his own Bread and Freedom Party takes its name directly from an iconic revolutionary slogan. Considered a radical by many voters, Mr Ali was widely seen as the underdog in a two-horse race.
His decision to drop out makes it increasingly likely that, when Egyptians go to the polls in two months' time, the incumbent President, Field Marshal Abdel Fattah al-Sisi, will be the only name on the ballot.
Mr Ali is just the latest in a string of presidential hopefuls forced to abandon his campaign in the face of government pressure. The day before Mr Ali's announcement, Sami Anan, a former general under Hosni Mubarak, was pulled from his car while driving through a suburb of east Cairo, and arrested. An army statement made over state-television announced that Mr Anan was charged with falsifying documents and "violating the laws of military service" by running for office without army approval. "We still don't know where he is," said campaign spokesman Mahmoud Refaat. "Sisi is using extreme violence against anyone who challenges him."
Other candidates to fall by the wayside include former-Prime Minister Ahmed Shafik, who dropped out in January after his family claimed he was "kidnapped" for 24 hours and held against his will at a Cairo hotel. A relatively unknown military officer, Colonel Ahmed Konsowa, announced his intention to run in a video posted online in November and was subsequently sentenced to six years in prison for attempting to run as an enlisted officer.
Another challenger, Mohamed Anwar Sadat, nephew of the 1980s-era President of the same name, also dropped out this month, claiming that the voting process had been rigged in Sisi's favour. Under National Election Committee (NEC) rules, candidates are required to collect endorsements from 25,000 people from a minimum of 15 governorates with at least 1,000 signatures from each. Mr Sadat complained that while other candidates were subject to these stringent requirements, state authorities began leading an effort to collect signatures on Mr Sisi's behalf, well before the start of the nomination period.
The President's supporters have also been accused of paying for signatures, according to an Associated Press report on Thursday that claimed poor residents in a village just south of Cairo were being offered EGP100 (roughly £4) to sign for the President. In contrast, a member of Mr Ali's team told a local news anchor on Wednesday night that the NEC had refused to validate petitions for their campaign. "It's just a joke now," said Mr Anan's spokesperson, "it's no longer a serious election."
This is the second time Mr Sisi's name will appear on the ballot, after he first won office in 2014 with 97 per cent of the vote. He was swept into power on a wave of popular anger against the ousted-Muslim Brotherhood, with promises that he would bring stability to Egypt. Since then, Egypt has suffered a wave of terrorist attacks, including the two worst in the country's history. Amid falling tourism numbers, the Egyptian pound has lost two-thirds of its value against the dollar since 2014, pushing up the cost of living for everyday Egyptians. In December, a Unicef report claimed that there is now almost double the number of people living in poverty in Egypt than there was in 2000.
Even so, few political pundits ever really believed that a challenger might beat the incumbent President. According to HA Hellyer, senior non-resident fellow at the Atlantic Council, Mr Sisi's push-back against opposition candidates was not from fear of losing, but concerns of "how such candidacies might have galvanised a certain proportion of opposition within the system, and outside of it, which is also not tolerable".
World news in pictures
Show all 50
Since grappling power from the Muslim Brotherhood in 2013, repressing dissent has been a key part of Mr Sisi's regime. Over 200 websites are now blocked in Egypt, the country comes third in the world for jailing journalists and there are some six-times more political prisoners than under the old Mubarak regime. "This President now is like Saddam Hussein in Iraq," said Gamal Eid, a prominent human rights lawyer in Egypt, who himself is legally banned from leaving the country pending a court case against him: "I'm sorry to say that repression of dissent is much worse now than it was even under Mubarak."
Join our commenting forum
Join thought-provoking conversations, follow other Independent readers and see their replies