Rabaa massacre: Five years on Egypt struggles with legacy of single biggest killing of protesters in modern history
Security forces massacred more than 900 on one bloody summer day in Cairo in 2013, but the failure to bring any of the perpetrators to justice speaks volumes about the country's human rights crisis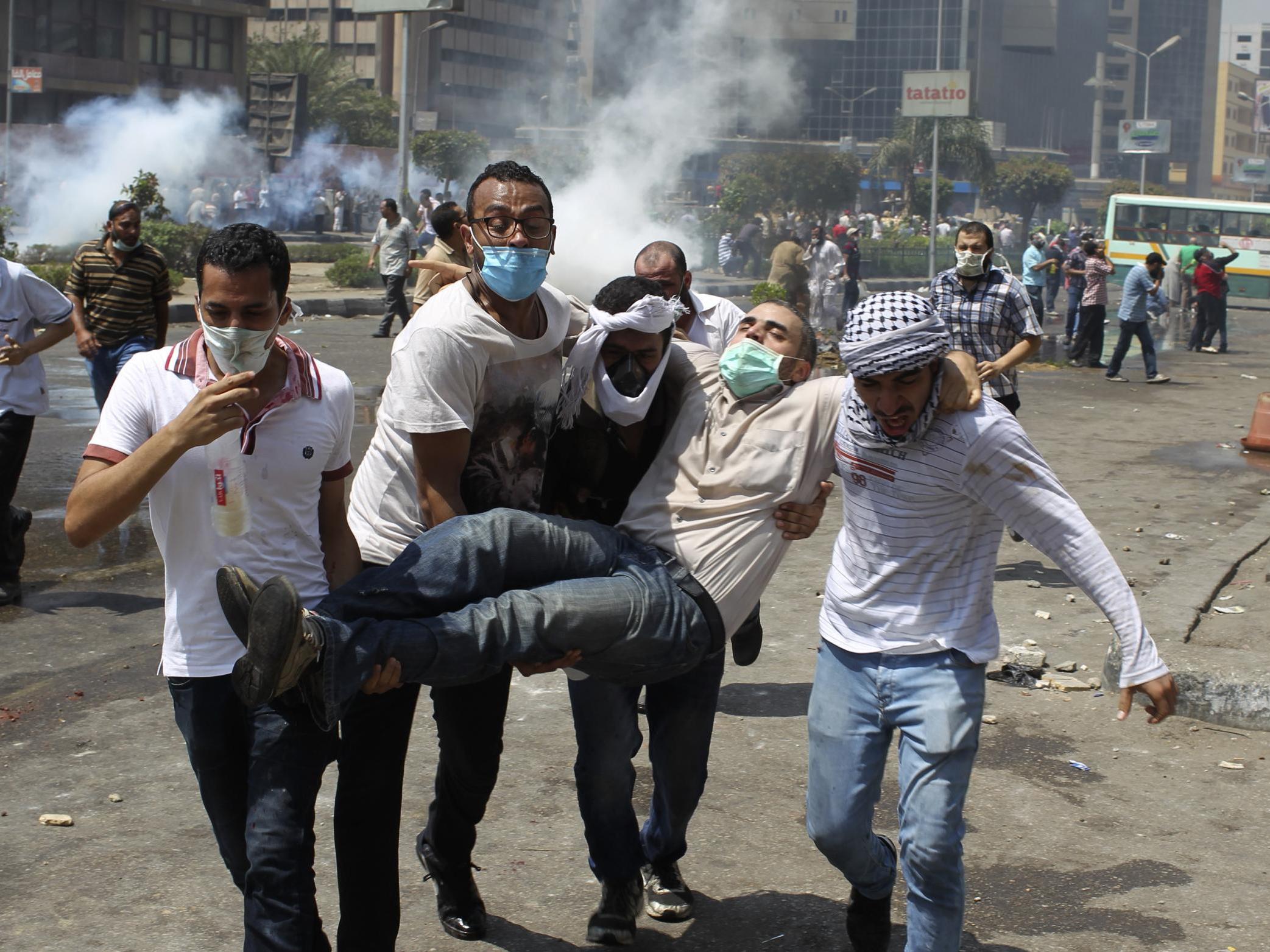 "The violence was on a whole new level – like nothing I had ever seen before," said Ibrahim Halawa, an Irish national who was just 17 when the Rabaa massacre happened. "I have never seen so much killing in my life."
Ibrahim had taken a break from the pro-Muslim Brotherhood sit in at Cairo's Rabaa Square to go home for a shower when his sisters called and told him in panicked voices they were being shot at.
He rushed back, dodging tear gas and snipers, only to encounter Egypt's security forces "just spraying bullets into everyone".
Donald Trump shakes hands with Egypt President El-Sisi and pledges support to his regime
A man in his twenties was shot dead – but saved Ibrahim's life – when he moved in front of the teenager and a split second later was shot in the stomach.
"The bullet was meant for me," Ibrahim said.
It was at that moment he realised he had to find his sisters at whatever cost: JCBs were already scraping up burnt bodies from the street.
"Even if they had been killed already, I had to get them," he said. "This would be my only chance to bring their bodies back home."
He eventually got through to his aunt, who had located his sisters, and they were reunited a few streets away. All were wounded, and the family would later learn they had lost six friends in the violence.
Around 900 people were killed in Rabaa and nearby al Nahda square on 14 August 2013, a massacre Human Rights Watch says is the largest killings of demonstrators in a single day in recent history.
Egyptians prepare for life after Mubarak
Show all 2
To Egyptians, it also marks the day former military general – and now president – Abdul Fattah al Sisi showed he was willing to go to any length to suppress support for the recently deposed Muslim Brotherhood president, Mohamed Morsi.
Ibrahim was arrested at another protest two days after the killings. Despite his status as a foreign national and high profile campaigns for his release from rights groups and the Irish government, he remained in jail until last October.
During his incarceration, which robbed him of four years of his youth, President Sisi has maintained a "zero-tolerance policy towards dissent" and the state's respect for human rights has eroded, Human Rights Watch says.
"The Rabaa massacre was a horrific turning point for human rights in Egypt," Najia Bounaim, North Africa campaigns director for Amnesty International, said in a statement.
"Over the past five years human rights violations by Egyptian security forces, such as carrying out enforced disappearances and extrajudicial executions, have occurred on a scale never seen before."
Repressive new legislation has effectively clamped down on non-governmental organisations, shut down independent media and allowed at least 15,500 civilians to be tried in military courts between 2014 - 2017.
At least 378 persons disappeared and the whereabouts of at least 87 remained unknown from 2017 alone, according to independent rights group the Egyptian Commission for Rights and Freedoms.
Arbitrary detentions, use of torture and extrajudicial killings by the security services are common as the perpetrators have almost complete immunity.
Egypt jail routinely torturing prisoners, rights group warns
Perhaps most cruelly for Rabaa's survivors, last month Egypt's parliament passed a new law designed to protect senior military commanders from being prosecuted over the violence that followed the overthrow of President Morsi.
The move may have put families' quest for justice on hold indefinitely.
Instead, a mass show trial of 739 people charged with participating in the 2013 protests – for offences ranging from murder to "incitement to break the law", "membership of an illegal group" and "illegal gathering" continues.
Among those detained are journalists and photographers who documented the truth of what happened that day.
"President Abdel Fattah al Sisi's regime is keen to wipe out all memory of the massacre of the summer of 2013, even though the spectre of what happened will always loom over his administration," said Ms Bounaim.
"The Egyptian authorities' repeated failure to respect the rights of protesters and their failure to hold anyone accountable for mass murders has contributed to an environment in which the security forces feel empowered to violate human rights with absolute impunity."
Ibrahim, now home in Dublin, is still haunted by nightmares of the violence. He finds it shocking that no one has been held responsible for the events of 14 August 2013, but says he has given up hope that those responsible will be punished.
"What's the point?" he asked. "[The new immunity law] is a slap in the face to all the people who lost their loved ones, to all the parents who still don't know where their children are.
"You don't seek justice in a country that doesn't have justice."
Join our commenting forum
Join thought-provoking conversations, follow other Independent readers and see their replies