Fears for transgender Egyptian woman held in men's prison
Arrest comes amid harsh crackdown on LGBT community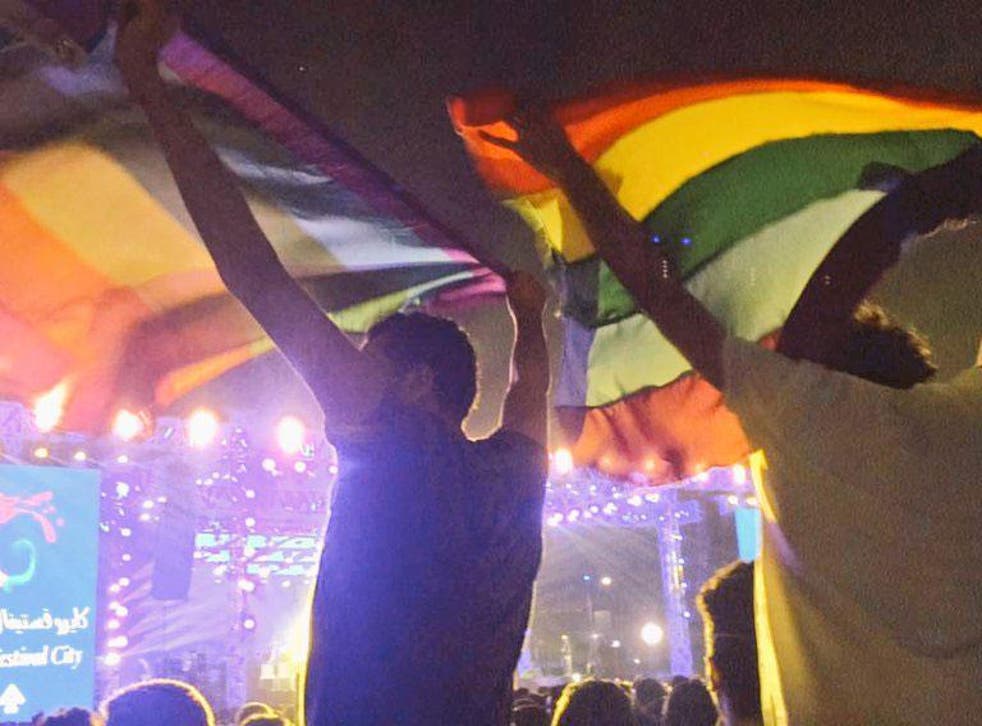 An Egyptian transgender woman arrested for inciting anti-government protests is at risk of torture and sexual violence, activists and rights groups have warned.
Malak al-Kashef, 19, has undergone gender reassignment surgery, but it still officially registered as a male in Egypt. She was arrested on Wednesday as part of a crackdown on protests sparked by a deadly train crash in Cairo last week.
Early reports suggested she is being held separately from other prisoners. Some activists have expressed concern that she may eventually be placed in detention with the male population, which could put her at risk of abuse.
"Malak Al Kashif is a transsexual woman and after her detention she will be dealt with as a male and be imprisoned with male inmates and this is mainly due to the fact that the process of changing her ID is taking too long, and so she is still a male according to her ID," wrote May Elshamy on Twitter, reported the Al Bawaba news site.
"Egypt's prisons are like graves and chambers for torture and sexual harassment but for a person like Malak, the chances of abuse will be doubled," wrote another.
Hundreds of people have used the Arabic hashtag "in solidarity with Malak al-Kashef".
Amnesty International said she had been taken by the police to an undisclosed location, and that her lawyers have been unable to locate her.
World news in pictures

Show all 50
"There are real fears for the physical safety and psychological well-being of Malak al-Kashef," said Magdalena Mughrabi, Amnesty International's Middle East and North Africa Deputy Director.
"Malak al-Kashef appears to have been detained solely for peacefully exercising her rights to freedom of expression and peaceful assembly. Due to her gender identity, Malak is at increased risk of torture by the police, including rape and sexual violence, as well as assault by other detainees," she added.
Egypt's LGBT community has been on the receiving end of a harsh crackdown for the past few years, which began following the unfurling of a rainbow flag at a concert in 2017.
More than 70 people were arrested last year under Egypt's "debauchery" laws, which criminalises same sex relations, according to Bedayaa, a Cairo-based LGBT rights organisation. Egyptian authorities subject victims arrested under the law to forced anal examinations, which amounts to torture.
Earlier this year, an Egyptian TV host was sentenced to one year in prison for interviewing a gay man on his show. Mohamed al-Gheiti, who previously expressed his stance against homosexuality, invited the man to discuss his lifestyle on air in August 2018.
Despite the dangers she faced, Kashef has spoken publicly about her transition and the difficulties of being transgender in Egypt. In a 2018 interview with Erem News, she said she had attempted suicide because of the pressures she faced.
According to Egyptian news site Mada Masr, citing the same interview, she said he had written in her suicide note: "I'm not killing myself because I'm trans. It's society that has killed me, because you rejected me, hurt me, hit me, detained me."
The site said Kashef's family currently do not know her whereabouts.
Her arrest follows the detention of more than 70 people in the past week for taking part in small and scattered anti-government protests sparked by a deadly train crash.
Twenty five people were killed and dozens injured in the accident at Cairo's main train station, which caused a large fire. Many blamed the country's crumbling infrastructure for the high death toll, and have expressed anger at the government for not addressing the issue.
Egyptian pop singer sent to prison for two years over video that 'incited debauchery'
Since coming to power following a coup in 2014, President Abdel Fattah el-Sisi has cracked down on all forms of opposition to his rule.
In the last year, his security forces "have escalated a campaign of intimidation, violence, and arrests against political opponents, civil society activists, and many others who have simply voiced mild criticism of the government", according to Human Rights Watch.
Egypt's transport network suffers frequent crashes, and the government has faced criticism for not doing enough to maintain it.
Authorities said they have arrested six people over the deadly crash, including two train conductors, their aides and two other rail workers. Investigators said the crash may have been caused by a fight between the two conductors.
Register for free to continue reading
Registration is a free and easy way to support our truly independent journalism
By registering, you will also enjoy limited access to Premium articles, exclusive newsletters, commenting, and virtual events with our leading journalists
Already have an account? sign in
Register for free to continue reading
Registration is a free and easy way to support our truly independent journalism
By registering, you will also enjoy limited access to Premium articles, exclusive newsletters, commenting, and virtual events with our leading journalists
Already have an account? sign in
Join our new commenting forum
Join thought-provoking conversations, follow other Independent readers and see their replies