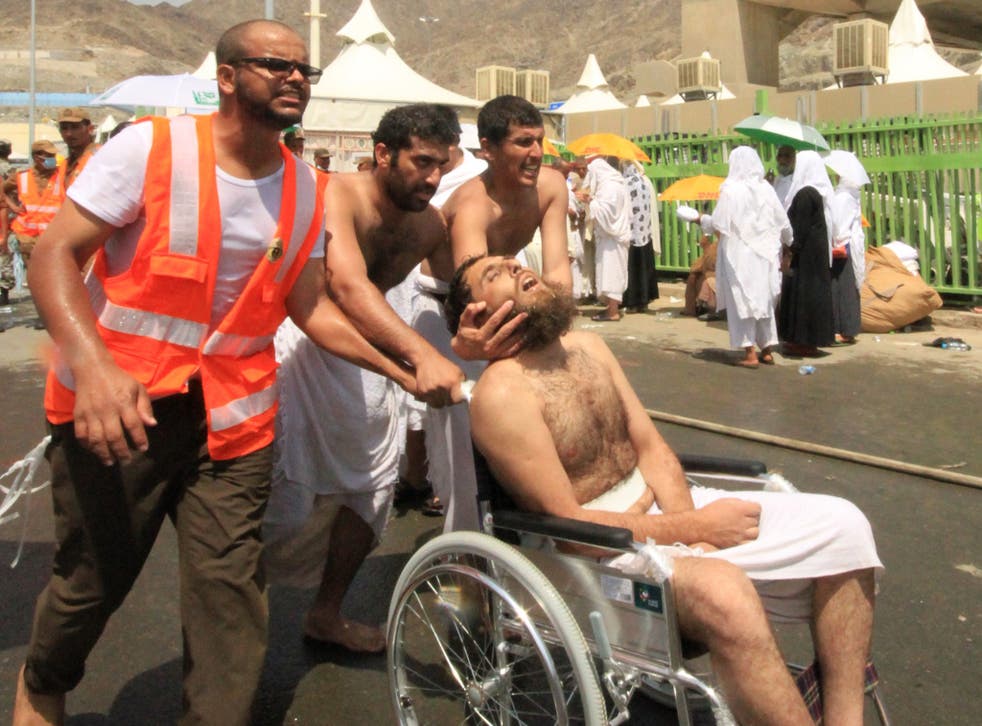 At least 310 people were killed and hundreds were injured in a stampede at the annual hajj pilgrimage, Saudi authorities said.
Follow all the latest updates on our liveblog here
The crush happened in Mina, a large valley about five kilometers (three miles) from the holy city of Mecca that has been the site of hajj stampedes in years past.
Mina is where pilgrims carry out a symbolic stoning of the devil by throwing pebbles against three stone walls. It also houses more than 160,000 tents where pilgrims spend the night during the pilgrimage.
The Saudi civil defense directorate earlier said at least 450 other pilgrims were injured in the stampede on Street 204 in Mina. It was not immediately clear if some of those previously listed as injured were included in rising death tolls.
Amateur video shared on social media showed a horrific scene, with scores of bodies - the men dressed in the simple terry cloth garments worn during hajj - lying amid crushed wheelchairs and water bottles along a sunbaked street.
Survivors assessed the scene from the top of roadside stalls near white tents as rescue workers in orange and yellow vests combed the area.
In pictures: Hajj stampede

Show all 10
Photos released by the directorate on its official Twitter account showed rescue workers helping the wounded onto stretchers and loading them onto ambulances near some of the tents.
Some 2 million people are taking part in this year's hajj pilgrimage, which began Tuesday.
Saudi authorities take extensive precautions to ensure the security of the hajj and the safety of pilgrims. But tragedies are not uncommon.
The stampede was the deadliest disaster at the hajj since 2006, when more than 360 pilgrims were killed in a stampede in the same area. Another stampede at Mina in 2004 left 244 pilgrims dead and hundreds injured.
Thursday's stampede happened less than two weeks after a giant construction crane came crashing down on the Grand Mosque in Mecca, the focal point of the hajj.
That accident, on 11 September killed at least 111 people and injured more than 390. Authorities blamed the crane collapse on high winds during an unusually powerful storm.
Reuters
Register for free to continue reading
Registration is a free and easy way to support our truly independent journalism
By registering, you will also enjoy limited access to Premium articles, exclusive newsletters, commenting, and virtual events with our leading journalists
Already have an account? sign in
Register for free to continue reading
Registration is a free and easy way to support our truly independent journalism
By registering, you will also enjoy limited access to Premium articles, exclusive newsletters, commenting, and virtual events with our leading journalists
Already have an account? sign in
Join our new commenting forum
Join thought-provoking conversations, follow other Independent readers and see their replies