Exclusive: Syrian aid in crisis as Gulf states renege on promises
Food rationing for refugees planned as $650m pledged to UN remains undelivered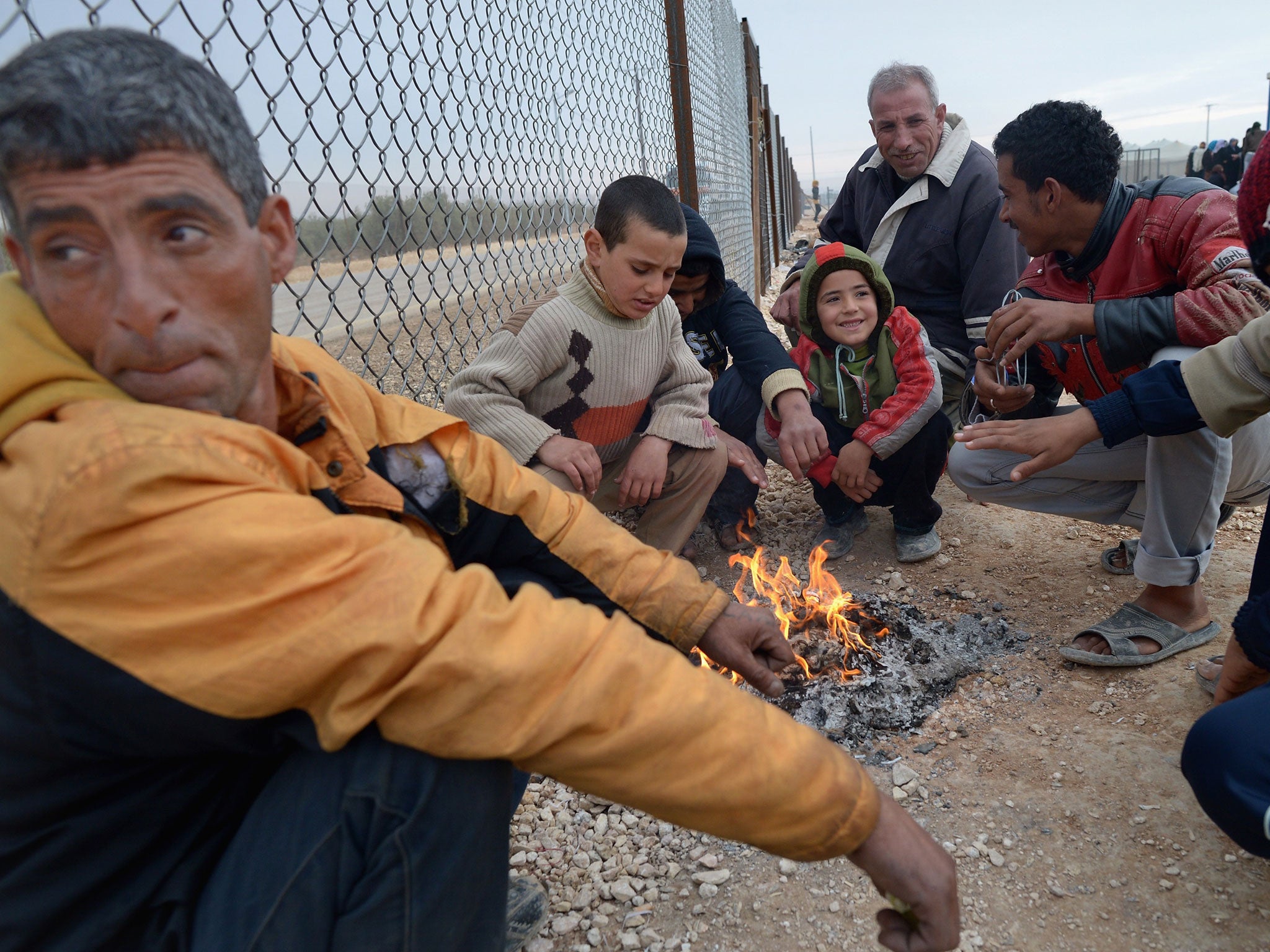 Millions of Syrian refugees face food rationing and cutbacks to critical medical programmes because oil-rich Gulf states have failed to deliver the funding they promised for emergency humanitarian aid, an investigation by The Independent on Sunday has found.
Arab states and aid groups, including Saudi Arabia, the United Arab Emirates, Qatar and Bahrain, have failed to deliver $650m (£420m) in pledges they made at an emergency United Nations conference in Kuwait four months ago.
The severe shortfall, together with predictions that the Syrian refugee crisis could triple by the end of the year, is forcing UN aid agencies to plan for food rationing and to scale back health programmes including vaccinations.
The World Food Programme (WFP), the food aid arm of the UN, says it is spending $19m a week to feed 2.5 million refugees inside Syria and a further 1.5 million who have fled to official camps in Jordan, Turkey, Lebanon and Iraq. By July, the WFP says, there is no guarantee that its work on the Syrian crisis can continue.
A spokesman said: "We are already in a hand-to-mouth situation. Beyond mid-June – who knows?"
David Cameron last night called on other governments to come good on their pledges. The Prime Minister said: "The scale of the crisis requires the international community to step up its efforts to ensure that we really are getting help to those who need it most.
"Britain was one of the first to respond to the growing humanitarian crisis and I'm proud of the role we've played since then."
The IoS investigation tracked the flow of aid money from 42 states who pledged a total of $1.5bn at a high-level donor conference in Kuwait City last January. The scale of the missing pledges has left a large hole in UN aid budgets for Syrian refugees, with pledges from rich Gulf states accounting for more than half of the Kuwaiti conference total.
Senior sources in New York close to the UN Secretary General, Ban Ki-moon, said diplomatic back channels are being used by the UN to urge those Arab countries who promised to help to fulfil their pledges.
The emergency conference in Kuwait – hosted by the Emir of Kuwait and chaired by Mr Ban – promised to bring a "message of hope" to the four million Syrian refugees. Mr Ban proclaimed the outcome a shining example of "global solidarity in action". The reality has been markedly different.
Using databases managed by the UN's Office for the Co-ordination of Humanitarian Affairs – which records reported international aid, including NGOs, the Red Cross, the Red Crescent, and private bilateral donations – the pledges made in Kuwait can be measured against what has since been contributed.
Saudi Arabia pledged $78m. As of 1 May, the kingdom was recorded as contributing $21.6m. The United Arab Emirates pledged $300m. It has given $18.4m. Qatar, which will spend tens of billions hosting the 2022 football World Cup, pledged $100m to the UN effort. It is recorded as delivering $2.7m. Bahrain, which last month hosted a Formula One grand prix at a recently built $2bn circuit, pledged $20m. There has been no recorded aid given since. Iraq pledged $10m in Kuwait; nothing has yet been recorded in aid delivered.
Alarm bells began ringing at the UN in March when only a fifth of the total pledges made at Kuwait had been delivered. Since then the United States has delivered $219m, with the UK adding $129m.
Kuwait became the single largest donor in April when it announced in Geneva that $300m had been "officially allocated".
The UN regarded the pledges made by Gulf states in Kuwait in January as a potentially significant shift in global aid. Arab nations have traditionally used their own bilateral routes to target aid and have mostly operated outside UN auspices.
Oxfam said: "The League of Arab States must urge all Arab countries that have pledged to the Syrian crisis to be transparent and to share information about their commitments, and mechanisms for fulfilling their pledges."
Mousab Kerwat, Islamic Relief's Middle East institutional funding manager, said: "It's better for countries to stay away from donor conferences than to attend and make pledges they don't intent to keep. As a minimum, they should communicate where their pledges have gone in a transparent process.
"We appreciate the support we get from the Gulf states, and they do good work that goes unrecognised, but in the case of the Syria crisis we would like to see them contribute more – particularly through NGOs that have the capacity to deliver to hard-to-reach areas."
The IoS and aid agencies contacted the London embassies of all the Gulf states behind on their Kuwait promises to ask for comment. Only Bahrain replied, saying the complexity in finding out who was responsible for aid policy meant an answer would be difficult to deliver.
Refugee camp eyewitness: Enjoli Liston in Zaatari, Jordan
Dense dust clouds swirl round Zaatari, the makeshift city of 140,000 refugees – Syrians who have fled to the Jordanian desert. Skinny boys dart between the seemingly endless rows of tents emblazoned with the blue UN logo, selling cigarettes and crisps to earn a few dinars for their families.
"The stability of the camp is extremely fragile," says Kilian Kleinschmidt, camp director. Two weeks ago, he was beaten by a gang using tent-poles distributed by his own aid agency. Riots and attacks on aid workers are not uncommon. Smuggling, trafficking and sexual violence are major problems. "Anything can happen at any time," acknowledges Mr Kleinschmidt.
Limited access to health care and a lack of work fuel tensions. A further source of resentment is the "Saudi quarter", in which some Syrian families live in prefabricated "caravans" paid for with donations from Saudi Arabia. It costs around $1m a day to run Zaatari. The World Food Programme distributes 26 tonnes of bread daily. Unicef must find 3.5 million litres of water a day for the camp in one of the world's driest countries. Meanwhile, the number of refugees in Jordan alone is set to reach one million by the end of 2013.
Join our commenting forum
Join thought-provoking conversations, follow other Independent readers and see their replies