Saudi Arabia explosion: Three injured at Remembrance Day ceremony in Jeddah
It comes after a Saudi man was arrested last month in Jeddah for attacking a guard with 'sharp tool' at the French consulate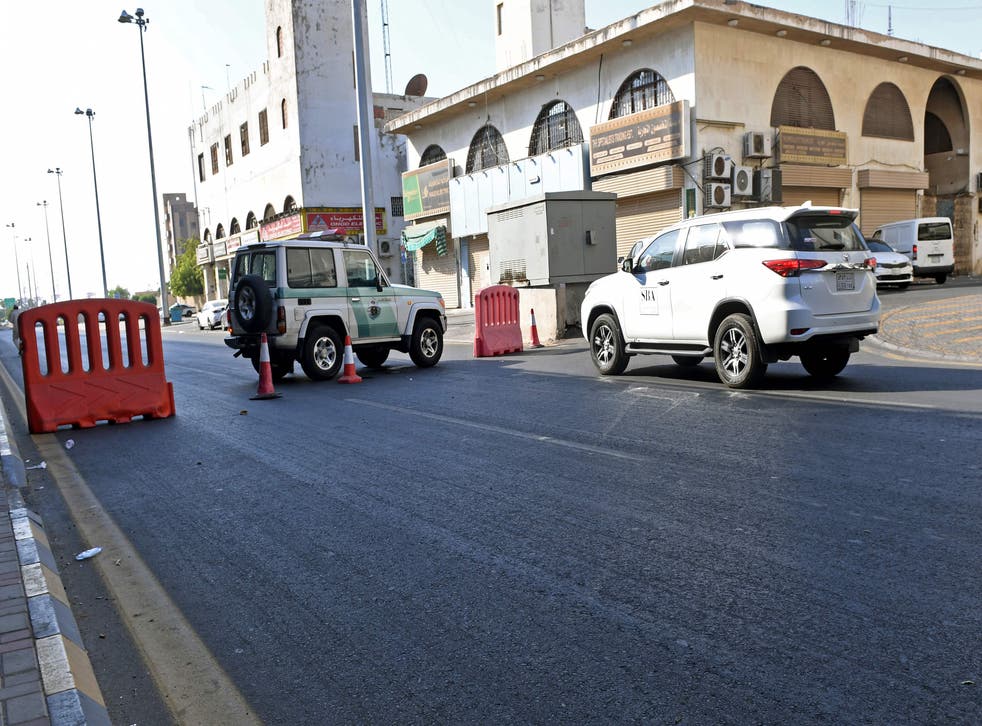 Leer en Español
Three people including a British national have been injured after an explosive device was detonated at a Remembrance Day ceremony in Saudi Arabia.
The attack took place during a First World War commemoration event attended by British, French, American, Italian and Greek officials at a cemetery in the city of Jeddah.
The government confirmed a UK national suffered minor injuries. Middle East and North Africa minister James Cleverly condemned the attack as "cowardly".
He wrote on Twitter: "This morning, a remembrance ceremony in Jeddah was the target of an improvised explosive device attack. I have full confidence the Saudi Authorities will investigate this attack and prosecute those responsible for this cowardly act."
A joint statement issued by the embassies of the five countries in attendance said: "Such attacks on innocent people are shameful and entirely without justification."
The French foreign ministry called on Saudi authorities to "hunt down the perpetrators".
Saudi state media quoted a local official as saying a Greek consulate employee and Saudi security guard also suffered minor injuries in the attack. The Saudi official added that an investigation was underway.
Greece's Foreign Ministry said a Greek police officer serving in the Greek Consulate in Jeddah was hurt.
The officer had been accompanying a consulate employee at the ceremony. The ministry said he was in hospital but his injuries were not life threatening.
Nadia Chaaya, an official who represents French citizens living in Saudi Arabia, was at the ceremony when it came under attack.
She told the Associated Press there were about 20 people of different nationalities attending.
She earlier told the French network BFM that she heard an explosion as the French consul general was nearing the end of his speech.
"We were of course in panic mode… we were most of all afraid to see if there was going to be a second wave," she said.
Pictures posted on social media of a blood spattered pavement appear to show the aftermath of the attack.
Saudi Arabia's state TV confirmed the blast had happened as it showed footage of the streets around the cemetery. Ekhbaria TV added that authorities had secured the area and the situation was "stable".
The French consulate in Jeddah urged its nationals in Saudi Arabia to exercise "maximum vigilance" following an attack.
"Exercise discretion, and stay away from all gatherings and be cautious when moving around," it said in a statement circulated to French residents in the city.
Jeddah's non-Muslim cemetery is found in the Al-Balad district near the city's docks. There are understood to be a number of British graves located there, including that of Private John Arthur Hogan, who died during the Second World War.
Last month a Saudi man was arrested in Jeddah after attacking a guard with a "sharp tool" at the French consulate.
That attack came after a knife-wielding man shouting "Allahu Akbar" beheaded a woman and killed two other people at a church in the southern French city of Nice.  
The attacks are believed to be a response to the caricature mocking Turkey's President printed on the front page of French satirical magazine Charlie Hebdo, and the recent projection of images of the Prophet Muhammad onto buildings in Paris.
Register for free to continue reading
Registration is a free and easy way to support our truly independent journalism
By registering, you will also enjoy limited access to Premium articles, exclusive newsletters, commenting, and virtual events with our leading journalists
Already have an account? sign in
Register for free to continue reading
Registration is a free and easy way to support our truly independent journalism
By registering, you will also enjoy limited access to Premium articles, exclusive newsletters, commenting, and virtual events with our leading journalists
Already have an account? sign in
Join our new commenting forum
Join thought-provoking conversations, follow other Independent readers and see their replies