'Extremist Israeli' attack: Anger grows at death of Palestinian toddler killed in firebombing
18-month-old Ali Saad Dawabsha's death has prompted a storm of online anger
Rose Troup Buchanan
Friday 31 July 2015 15:08 Comments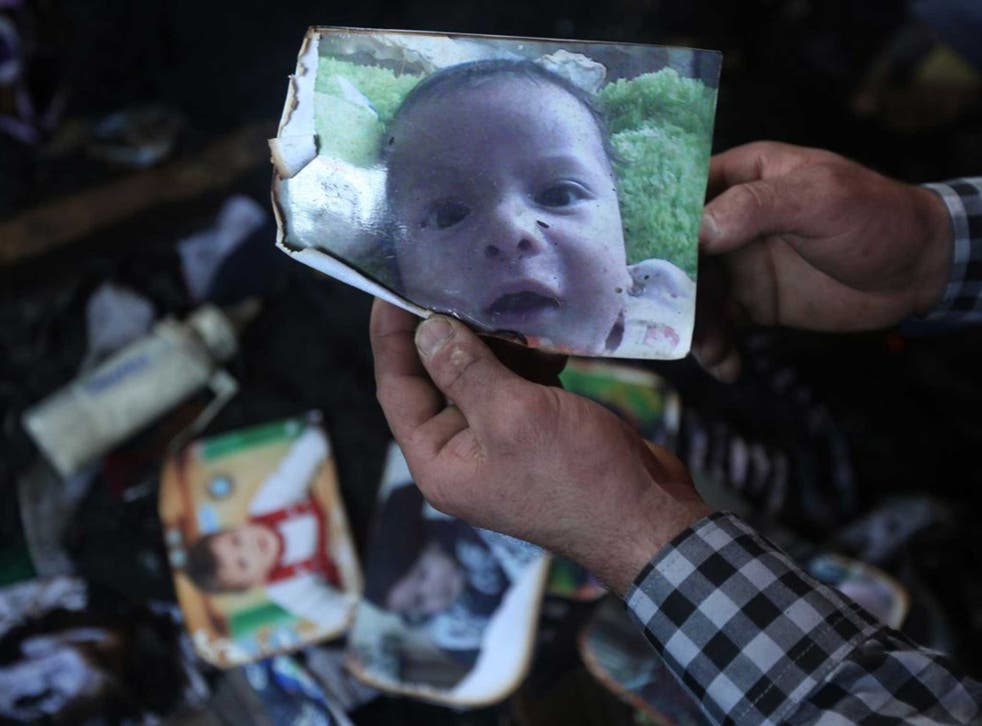 Photographs have emerged of the 18-month-old child killed in an arson attack by suspected Jewish extremists in the West Bank.
Ali Saad Dawabsha died after masked individuals reportedly threw two Molotov cocktails into his family home in Duma, near Nablus early on Friday morning.
The family of four were sleeping during the attack, with Ali's father Sa'ad able to rescue four-year-old son Ahmed, who was burnt on over 60 per cent of his body, and wife Rehan, who sustained 90 per cent burns, but unable to find his youngest son.
Images of the toddler started to emerge as outrage over the attack, just over a year since a Palestinian teenager was killed, mounted online.
Israel's defence minister confirmed the family had been taken to a hospital in nearby Nablus, but that they would be transferred to Israeli hospitals.
Israeli Prime Minister Benjamin Netanyahu condemned the "terror attack."
He told the Jerusalem Post: "Israel deals harshly with terrorism, no matter who the perpetrators are".
However, the Palestinian Liberation Organisation (PLO) tweeted on Friday morning that they held the Israeli government "fully responsible".
PLO Secretary-General Saeb Erekat called for the international community to intervene.
"We call upon the international community to end its policy of empty statements and to finally do something to protect Palestinians," he told the Jerusalem Post.
Register for free to continue reading
Registration is a free and easy way to support our truly independent journalism
By registering, you will also enjoy limited access to Premium articles, exclusive newsletters, commenting, and virtual events with our leading journalists
Already have an account? sign in
Join our new commenting forum
Join thought-provoking conversations, follow other Independent readers and see their replies