Failed bomber: 'I don't regret what I did. It was an honour'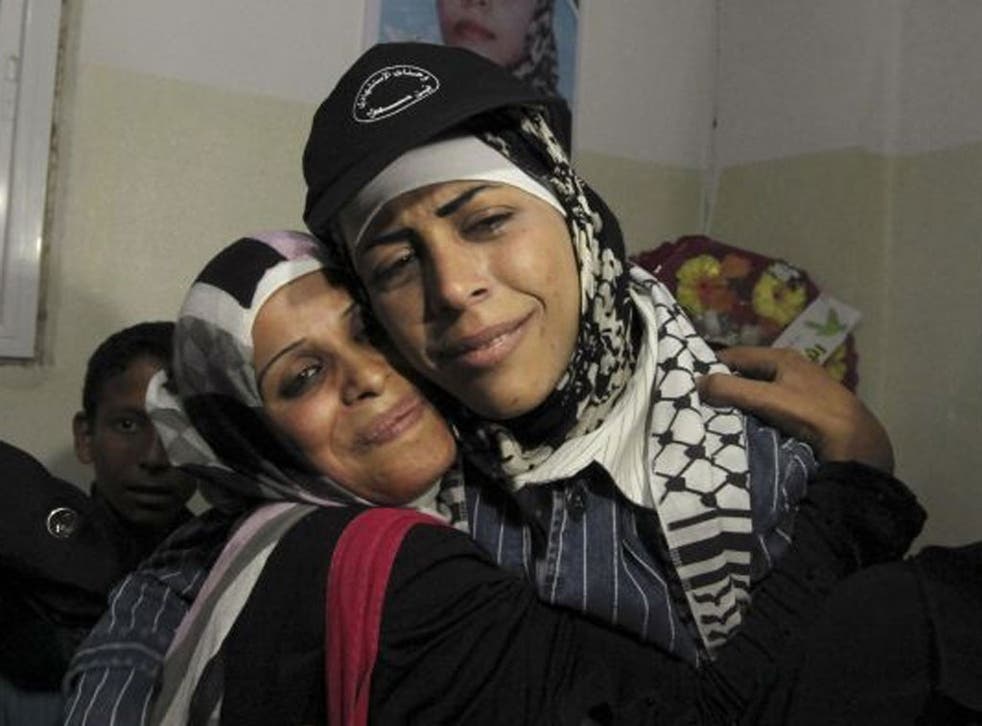 Gaunt from a 21-day hunger strike, Wafa al-Bis has something of the fanatic about her. Given the chance, she says, leaning forward, she would try to blow herself up again.
This from the woman who after six years in an Israeli jail has been given another shot at life. Her mother next door is still laughing and crying with joy and relief. "I don't regret what I did," says a defiant Ms Bis, 27. "This is my homeland. What I did was an honour."
She was just 21 years old when she failed to detonate a suicide vest at an Israeli checkpoint after it was spotted by soldiers. Her case gained particular notoriety for she was on her way to receive treatment at an Israeli hospital for disfiguring burns, raising suspicions that she intended to blow herself up there.
"It was my dream to be a martyr but God didn't grant it," she says, insisting that her target was the military, not civilians. "I wanted to kill as many Israeli soldiers as possible."
From Jabiliya refugee camp, Ms Bis was halfway through her 12-year sentence when Israel agreed to trade 1,027 Palestinian prisoners for one Israeli soldier. Latterly, she had been on hunger strike, a protest at the removal of privileges in Israeli jails.
When her mother Salma Shubeyr learned that her daughter was up for release, she could barely contain her joy. "I can't begin to describe my happiness, I kept ululating," she laughs.
But even after just six years apart, her daughter failed to recognise her mother as the nearly 300 freed prisoners arrived at Rafah border crossing yesterday. "I knew her, but she didn't know me," Mrs Shubeyr says. "Wafa fainted when I told her I was her mother. Her father picked her up, saying, 'It's your father'."
Their joy is all the more intense because they have had their daughter returned to them twice, once from the brink of death, the second from jail. But if her parents have tried to guide her on a different path, they show little sign of it. "Jihad is Jihad, it's an honourable thing," her mother says. "I was proud of her."
In the years since Ms Bis' arrest, suicide attacks by Palestinians have ceased, but that is not to say there is a lack of motivation. The Palestinians are still no closer to achieving a state, and conditions in Gaza have rapidly deteriorated following a short war and four-year blockade by Israel that has crippled the economy and denied its 1.6 million inhabitants freedom of movement.
If anything, the success of the prisoner exchange, the culmination of the capture of an Israeli tankman five years ago, has reinforced the view of some Palestinians that armed resistance is the only path. "You have to know that Palestine will never be liberated through negotiations," Ms Bis says. "This is the belief of the resistance."
Asked if she would undertake a suicide mission again, she says: "Of course. Why not?… I would be a suicide bomber three times over if I could."
Register for free to continue reading
Registration is a free and easy way to support our truly independent journalism
By registering, you will also enjoy limited access to Premium articles, exclusive newsletters, commenting, and virtual events with our leading journalists
Already have an account? sign in
Register for free to continue reading
Registration is a free and easy way to support our truly independent journalism
By registering, you will also enjoy limited access to Premium articles, exclusive newsletters, commenting, and virtual events with our leading journalists
Already have an account? sign in
Join our new commenting forum
Join thought-provoking conversations, follow other Independent readers and see their replies