Fair play questioned in game of political football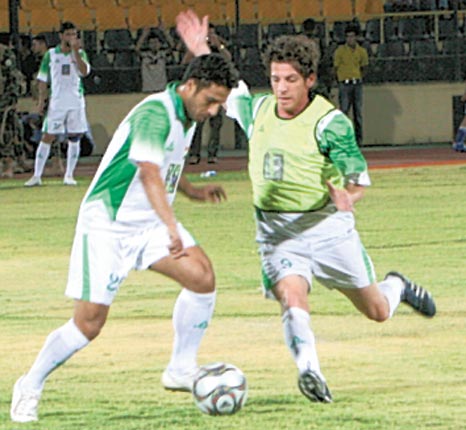 Leaders of Iraqi football will meet today in northern Iraq to try to end a dispute about who should head the sport and avoid being banned from international games.
The battle over who should lead the Iraqi Football Association underlines the extent to which sectarian divisions between Sunni and Shia affect every activity in the country, from sports to control of the government.
The battle over the leadership of Iraq's most popular sport, is being fought between Hussein Saeed, a Sunni Arab close to the old regime of Saddam Hussein, and Falah Hassan, a Shia supported by the present government.
Mr Saeed, 52, was a striker for Baghdad's al-Talaba club and had a stellar reputation as a teenager. Mr Hassan, 60, comes from the Shia stronghold of Sadr City in Baghdad and was once captain of Iraq's best team, al-Zawra.
Last weekend a body of armed men in uniform invaded the Iraqi football association's offices in Baghdad with warrants for the arrest of several officials, including Mr Saeed. Mr Saeed, who lives in Jordan, was not present. The government denies it had anything to do with the raid.
Most of Iraq's best players play outside the country and the team's only recent success was the Asia cup tournament in 2007 when it defeated Australia and South Korea. Baghdad erupted with celebratory gunfire at the time but the team has won nothing since.
Everything to do with the choice of the president of the football association is controversial. In the last two years FIFA has suspended Iraq twice because of political interference.
The Iraqi government opposed today's election taking place in Arbil, Iraqi Kurdistan, and would have preferred it in Baghdad, which it claims is stable enough for international officials of FIFA to visit. (The government may also have thought it would be easier for it to influence the result of the election in Baghdad).
With 200-300 people still being murdered every month in Iraq, FIFA opted instead for the relative safety of Kurdistan.
Sport has always been highly political in Iraq. The main power base of Uday, Saddam Hussein's elder son, was the Olympic Committee. This had a well-guarded headquarters built like a medieval fortress in Baghdad, which even had its own jail where Uday would imprison anybody he objected to.
Football players on the national team lived in fear of being beaten up or having their head shaved as punishment for losing a game.
The Iraqi government has been trying to rid sport of all associates of the old regime. But it was difficult during Saddam Hussein's years in power to get ahead or even hold a job without being a member of the Baath party. Many who did join the party now find themselves vulnerable to being purged.
Join our commenting forum
Join thought-provoking conversations, follow other Independent readers and see their replies