Father of fighter pilot captured by Isis pleads for militants to show son mercy
Militants paraded Jordanian pilot shortly after his capture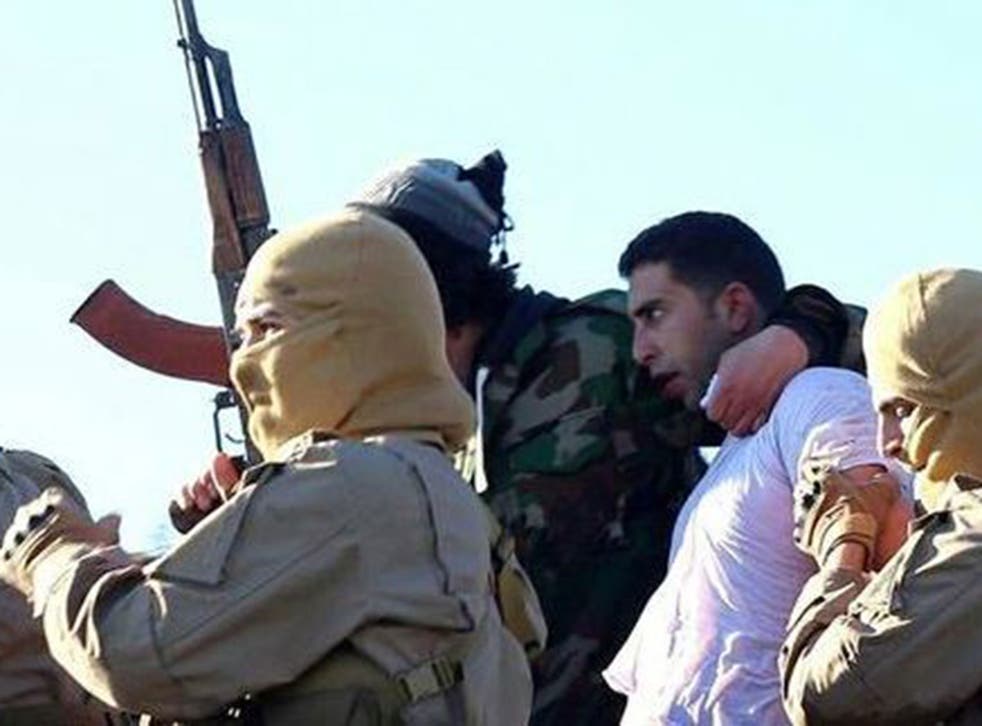 The father of a Jordanian pilot captured by Isis when his warplane crashed over Syria has pleaded for his son's life and urged militants to show "hospitality" towards him.
Flight Lieutenant Moaz Youssef al-Kasasbeh, 26, was taken hostage when his plane, which was conducting US-led air strikes against the militant group, crashed on Tuesday.
The pro-Isis Raqqa Media Center later published pictures of militants pulling him out of water and of his identity card.
His father Safi Yousef al-Kaseasbe pleaded for good treatment and reminded the militants that his son was a Muslim as he spoke with reporters in the Jordanian capital Amman on Thursday.
He also told Saraya News: 'I hope God will put mercy in their hearts and they will release my son.'
Isis says it shot down the plane with a heat-seeking missile as it was flying near its stronghold of Raqqa – a claim the US has strenuously denied.
It is the first time an aircraft taking part in the US-led bombing campaign in Iraq and Syria has been downed since strikes began.
Washington said the plane was instead lost in territory held by the group, before reiterating that it is a "terrorist organisation".
Timeline: The emergence of Isis

Show all 40
Relatives of the pilot said he was captured by fighters after his plane was downed. Two relatives told Reuters they were notified by the head of the Jordanian air force of his capture.
The Jordanian military said in a statement that its air force was carrying out a military mission against Isis "hideouts" on Wednesday morning, when "one of our warplanes crashed."
"The pilot was taken hostage by the Daesh terrorist organisation," it added, using the Arabic acronym for the Islamic State group.
It said Isis and "those who support it" will be responsible for the safety of the pilot.
There has been no word on his fate since his capture. He is the first known military member to be captured from the US-led coalition waging an air campaign against the militant group in Iraq and Syria.
Foreign Secretary Philip Hammond said the UK stands with Jordan "at this difficult time" in a tweet on Wednesday.
US Central Command says Saudi Arabia, Qatar, Jordan, Bahrain and the United Arab Emirates have all taken part in or supported the strikes against Isis targets in Syria.
Register for free to continue reading
Registration is a free and easy way to support our truly independent journalism
By registering, you will also enjoy limited access to Premium articles, exclusive newsletters, commenting, and virtual events with our leading journalists
Already have an account? sign in
Register for free to continue reading
Registration is a free and easy way to support our truly independent journalism
By registering, you will also enjoy limited access to Premium articles, exclusive newsletters, commenting, and virtual events with our leading journalists
Already have an account? sign in
Join our new commenting forum
Join thought-provoking conversations, follow other Independent readers and see their replies