Fifa must address abuse of 2022 World Cup workers in Qatar, Amnesty says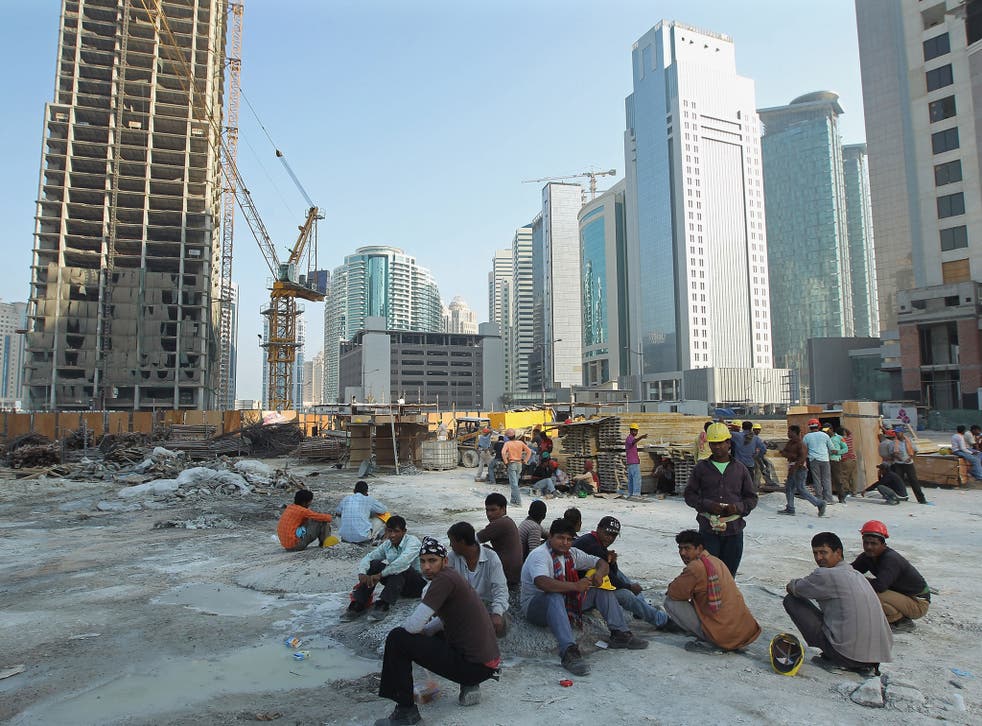 Fifa, international football's governing body, must urgently address Qatar's exploitation of migrant workers that has become "routine and widespread", a new report warns.
Amnesty International has confirmed accounts of thousands of migrants trapped inside labour camps having been "deceived" into joining the country's construction frenzy ahead of the 2022 World Cup.
The report depicts as many as 503,513 foreign workers, many of whom remain in "deplorable conditions" subject to shifts of up to 18 hours a day. Companies operating inside the Arab state are free to set their terms at will, capitalising on Qatar's "kafala" system, making the workers beholden to employers who sponsor their visas. This, the report says, is responsible for propagating a culture that is "rife with abuse".
Thomas Matthew, 59, from Chennai, India, who worked in Qatar from 2007 until March this year, says the World Cup has changed the dynamic of the country. "For the first five years, there were good conditions," he told The Independent. "But in 2012 something changed. It became horrible. I stopped getting paid; we were moved to a new villa where there were eight people in a room. Soon there was no electricity and by February there was no food. The sewage system soon stopped working."
In March this year Mr Thomas claims he was ejected from the country. "My visa was cancelled and I was told to go home. We've been told our salary is coming. We have had nothing for more than a year. Now as a family we are suffering a lot. I have three children and am staying in a rented house. I have borrowed so much money from my brother and friends but time is running out. I have to pay them back."
His testimonial is similar to many, Amnesty says, that have been lured to Doha on false pretences from regions including Nepal, Bangladesh, Egypt, India, Pakistan and Sri Lanka.
"At the recruitment stage before an individual starts work… people are given false information about the jobs and salaries," the report says. "Once in Qatar, the sponsorship system and the fact that many migrants have incurred debt to migrate makes it very difficult for migrants to challenge the deception."
Fifa has been dogged by criticism ever since it chose Qatar to hold the World Cup while the organisers of the event, the Qatar 2022 Supreme Committee, agreed to investigate complaints of those working in the country. The Amnesty report warns: "It is not enough to wait until the 2014 World Cup in Brazil is over before Fifa turns its attention to the human-rights risks associated with the staging of the World Cup construction work in Qatar.
"In fact, Fifa must engage closely with Q22 and the Qatari authorities to ensure that these issues are addressed as a matter of urgency. Preventing these abuses cannot wait. Fifa must send a strong message to the Qatari authorities and the construction sector that human rights must be respected in all World Cup-related construction projects."
Amnesty International's secretary general Salil Shetty said: " Our findings indicate an alarming level of exploitation in the construction sector in Qatar. Employers have displayed an appalling disregard for the basic human rights of migrant workers. Many are taking advantage of a permissive environment and lax enforcement of labour protections to exploit construction workers."
A spokeswoman for Fifa said last night: "Fifa has been informed by the Qatari authorities that the labour laws and labour system will be amended, a process which has already started. Special attention will be paid to the different inspections that are necessary, the government inspectors will receive more powers to enforce the labour legislation."
Register for free to continue reading
Registration is a free and easy way to support our truly independent journalism
By registering, you will also enjoy limited access to Premium articles, exclusive newsletters, commenting, and virtual events with our leading journalists
Already have an account? sign in
Register for free to continue reading
Registration is a free and easy way to support our truly independent journalism
By registering, you will also enjoy limited access to Premium articles, exclusive newsletters, commenting, and virtual events with our leading journalists
Already have an account? sign in
Join our new commenting forum
Join thought-provoking conversations, follow other Independent readers and see their replies