Dutch union suing Fifa over 'modern slavery' at Qatar 2022 World Cup sites in landmark case
Bangladeshi worker claims his passport was confiscated before he was forced into 18 months' work in harsh conditions - then deported for not earning enough money
Peter Walker
Tuesday 11 October 2016 18:28 Comments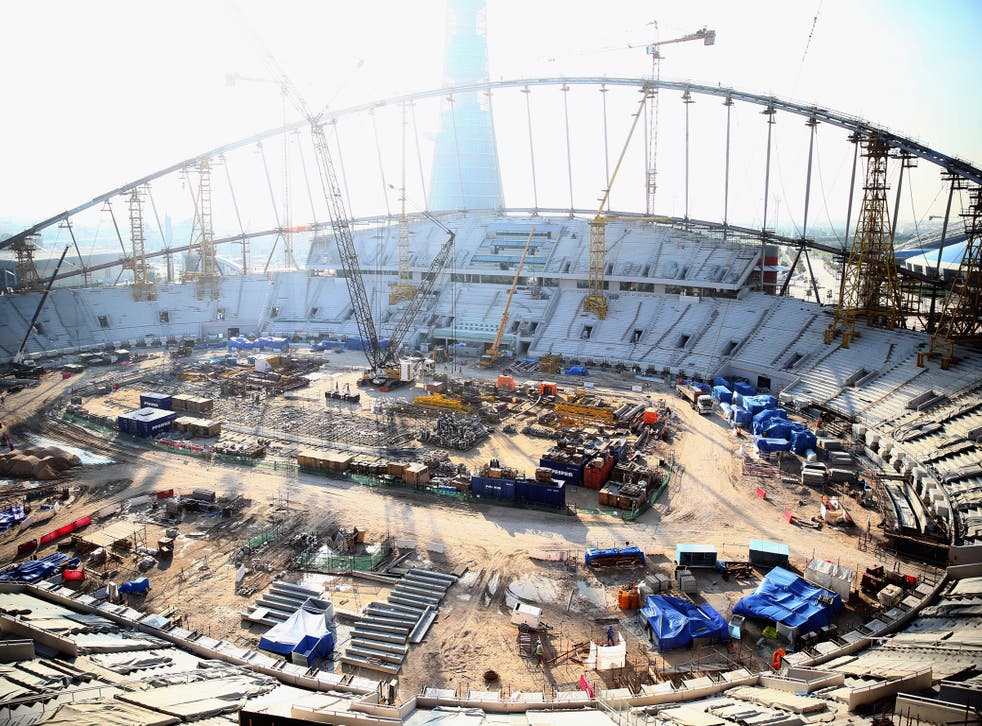 A Dutch trade union and a Bangladeshi worker are suing Fifa over the alleged mass exploitation of migrants at Qatar 2022 World Cup construction sites.
Federatie Nederlandse Vakbewegin (FNV) and Nadim Shariful Alam have gone to the Swiss courts over what human rights organisations have condemned as modern slavery.
Amnesty International has branded Qatar's treatment of migrant workers "forced labour".
Hundreds of Nepalese, Indian and Bangladeshi workers have died on the country's construction projects and an Indian worker committed suicide at the Doha Exhibition and Convention Centre last month, after asking for outstanding wages from his employer.
But in a potential watershed legal case, the legal action represents the first time football's world governing body has been targeted over the controversies in the oil-rich Gulf state.
The lawsuit, launched in Fifa's home city, Zurich, urges the institution to force Qatar to adopt "minimum labour standards" for migrant workers preparing for the tournament, including at least the right to quit a job or leave the country.
Mr Alam, who is seeking around £9,400, claims his passport was confiscated when he arrived in Qatar and that he was forced into 18 months' work in harsh conditions.
The 21-year-old, who unloaded ships carrying construction materials, says he was fired and deported because he earned too little to pay off his £3,269 recruitment fee.
The Qatar government has previously denied exploiting workers and says it is implementing labour reforms.
A Fifa spokesman confirmed it had received a legal letter and also pointed to plans under discussion to set up a group to monitor working conditions in Qatar.
But FNV lawyer Liesbeth Zegveld, who submitted the papers on Monday, said: "How difficult would it be for them to say that all companies that don't pay adequately, that force people to remain in the country when they want to leave, will face large fines?"
She also said it was likely to be more than a year before there was a judgment on the case.
Foreign workers in Qatar outnumber the local workforce by nearly 20 to one - and can be jailed or deported for forming unions or holding protests.
The population has swelled by 750,000 in the six years since the country was awarded the World Cup.
If the action is successful, it could open the floodgates to hundreds of thousands of migrant workers making similar but more lucrative claims.
Register for free to continue reading
Registration is a free and easy way to support our truly independent journalism
By registering, you will also enjoy limited access to Premium articles, exclusive newsletters, commenting, and virtual events with our leading journalists
Already have an account? sign in
Register for free to continue reading
Registration is a free and easy way to support our truly independent journalism
By registering, you will also enjoy limited access to Premium articles, exclusive newsletters, commenting, and virtual events with our leading journalists
Already have an account? sign in
Join our new commenting forum
Join thought-provoking conversations, follow other Independent readers and see their replies