For the love of Neda: Iran angered by new film
A year after footage of Neda Agha-Soltan's death in Tehran shocked the world, her mother tells Emily Dugan why she won't be cowed by threats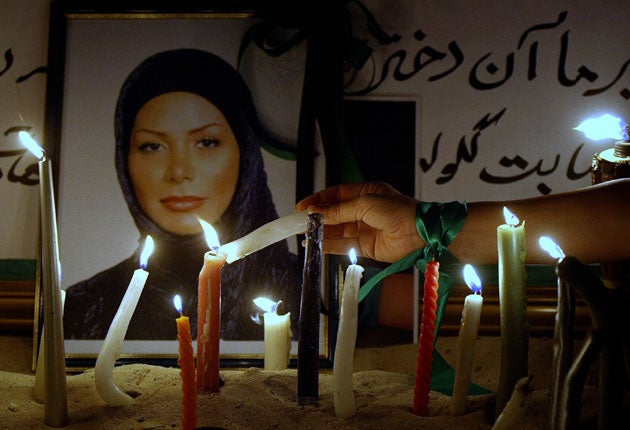 In death, Neda Agha-Soltan is the tragic symbol of Iran's struggle for democracy. Her dying moments, after being shot in the chest a year ago in the protests that followed Mahmoud Ahmadinejad's disputed election victory, were captured by onlookers on their mobile phones. That scene in a Tehran street, as fellow protesters struggled to help her, quickly went viral, spreading via computer screens across the world.
Scores of people were killed during the post-election protests but the raw, undimmed power of the 26-year-old music student's death at the hands of the Basij, Iranian government paramilitaries, gave opposition groups in Iran their most potent martyr.
It is a sign of this power that President Ahmadinejad's government has gone such lengths to jam satellite broadcasts of a new British-made documentary For Neda. So concerned were the Iranian authorities about the documentary's impact that they have released their own film – which blames the resistance movement outside Iran for Neda's death. Her family reportedly came under strong pressure to co-operate with the official version but refused. They did, however, co-operate with the British documentary that depicts her death and the impact it has had on her family, on Iran and around the world.
Neda's mother, Hajar Rostami Motlagh, spoke yesterday of the heartache and inspiration that her daughter's death has come to symbolise. Neda's death was one of many during the Iranian Green Revolution, but international coverage of her killing has left her family fearful of constant intimidation.
"It has become more difficult for us to visit Neda's grave", her mother explains. "Every time we visit, there are a couple of officers watching us from a distance. They're afraid even of her dead body."
Her death has inevitably made the family more political. "I've always been an ordinary Iranian mother, I've never been into politics... but since Neda's death, our lives have been changed," said Ms Motlagh. "People expect us to react and participate in meetings. I have been in touch with the mothers of those protesters who've been killed after the election and participated in women's rights meetings."
Speaking about the global impact of her daughter's death, she said: "It's an honour for our family. We thank everybody in the world for paying attention to Neda's story. There have been hundreds of other Nedas in Iran who were killed after last year's election, but their stories are not so well known. I hope the world would pay attention to their stories too."
She described the horror of the day her daughter went out to protest for the last time. "My stomach was churning even on the morning of the day she was killed," she said. "I begged her not to go out but she said that if I don't go out, who will? I could not stop her from going out and she went out. I rang her every half an hour.
"When I talked to her for the last time, she said that she had decided to come back home, she was on her way to reach her car when she died. I was shocked when I received the call that she was in the hospital.
"They didn't tell me that she was dead; they said that she was shot. I won't forget that day ever – how can I forget that? My daughter, my lovely daughter was killed. We think of Neda not every day but every moment, every minute. I can't believe she's dead. Sometimes I call her name in the home, when I'm alone; I feel she's looking at me."
In smear campaigns over the past year Iranian officials have tried to blame Neda's death on everyone from the doctor who held her dying in his arms to those who shot the video footage that showed the world what had happened. They even said she was alive in Greece. But her mother feels sure that their version will not be believed.
"It's too late for the government to discredit Neda's story and the film. Her moment of death is seen by the world. Every time they try to build up lies upon lies about Neda's death and they have been unsuccessful."
The Iranian opposition leader Mir Hossein Mousavi called last week for those who "committed election fraud, tortured and killed protesters" to be put on trial and for an end to the involvement of police and military forces in Iranian politics. Speaking on the anniversary of the violent protests that erupted after the disputed election results, Mr Mousavi pointedly called for the "prosecution of those in plainclothes" – a reference to the involvement of Basij militia involved in the deaths of Neda and hundreds of others.
At the same time he and his fellow opposition leader Mehdi Karroubi called off mass protests planned for the anniversary of President Ahmadinejad's re-election, saying that they wanted to avoid bloodshed.
Since the protests, hundreds of opposition supporters have been jailed and 16 condemned to death. Thousands more have fled abroad – not that exile has stopped Tehran's efforts to silence its critics. Many report that their relatives in Iran face harassment and arrest, including Arash Hejazi, the doctor who tried to save Neda's life and is now seeking asylum in the UK. As the regime blocks websites, monitors emails and telephone calls and jams foreign TV satellite stations, many fear the opposition movement will lose its momentum.
Such oppression has not deterred Neda's family. Explaining why she took the risk of being filmed for the documentary, produced by the British television production company Mentorn, Ms Motlagh said she was no longer afraid. "I lost my daughter; I don't have anything else to lose. I was not frightened at all. The least I can do is to let the world know what has happened to my daughter's life."
Join our commenting forum
Join thought-provoking conversations, follow other Independent readers and see their replies