Former prime minister of Israel, Ehud Olmert, found guilty in another case of corruption
Olmert had plans to offer 95% of the West Bank to Palestinians
Lamiat Sabin
Monday 30 March 2015 14:36 Comments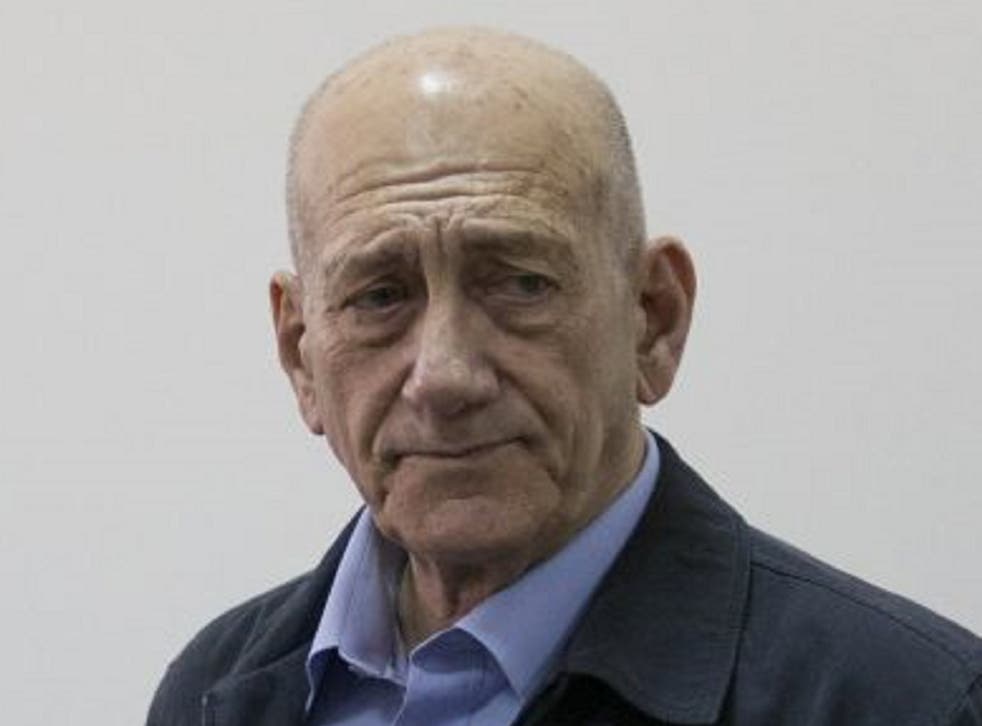 A former Israeli Prime Minister was convicted of corruption today after unlawfully accepting money from a US supporter.
Ehud Olmert hoped to lead the country to a historic peace agreement with Palestinians in the most generous deal to date before being forced to resign in 2009 over corruption allegations.
He now faces up to five years in prison in addition to a six-year sentence he received last year in a separate bribery conviction amid a Jerusalem property scandal.
"His behaviour constitutes a breach of trust which harms the public, harms morality, and harms the public's trust, in how he behaved corruptly," prosecutor Uri Korev said following the verdict at Jerusalem District Court.
Olmert's lawyers said they are "very disappointed" and would likely appeal the ruling.
A sentencing hearing is planned to take place in May.
The Art of Leadership by George W Bush

Show all 15
His departure from politics cleared the way for current Prime Minister Benjamin Netanyahu's election. Subsequent peace efforts with Palestine have not succeeded.
Olmert had offered Palestinians roughly 95% of the West Bank, a land swap covering the remaining 5% and international administration in east Jerusalem – during a year of intense negotiations before he was charged.
He is the latest in a slew of high-profile Israeli politicians who have been convicted of corruption in recent years including former Finance Minister Avraham Hirschson – sentenced to five years – and Cabinet Minister Shlomo Benizri, who was sentenced to four years.
Israeli Foreign Minister Avigdor Lieberman was in the center of a corruption probe, before being cleared and returned to office in 2013. At the end of last year, 30 public figures and politicians linked to his party were involved in an ongoing corruption investigation.
Olmert was acquitted in 2012 of a series of charges that included accepting cash-stuffed envelopes from US businessman Morris 'Moshe' Talansky when he was mayor of Jerusalem and a Cabinet minister. He was found to have received about $600,000 (around £405,000) while mayor.
He was also given additional cash amounts totalling $153,950 (around £103,000) when he was a Cabinet minister, but a court did not find proof that the money was used for unlawful personal reasons or illegal campaign financing.
Talansky, an Orthodox Jew from New York, had testified that the money was spent on expensive cigars, first-class travel and luxury hotels. He insisted he received nothing in return.
The acquittal on the most serious charges at the time was seen as a major victory for Olmert, who denied being corrupt. But his former office manager and confidant Shula Zaken offered diary entries and conversation tape recordings of Olmert about illicitly receiving cash, which triggered a retrial.
In the recordings, Olmert is heard telling Zaken not to testify in the first trial to cover his back.
The judges concluded that Olmert gave Zaken part of that money in exchange for her loyalty, and used the money for his own personal use without reporting it according to law.
Register for free to continue reading
Registration is a free and easy way to support our truly independent journalism
By registering, you will also enjoy limited access to Premium articles, exclusive newsletters, commenting, and virtual events with our leading journalists
Already have an account? sign in
Join our new commenting forum
Join thought-provoking conversations, follow other Independent readers and see their replies