Four secret Syrian chemical weapons factories are revealed
The US is worried that Isis, which has seized large parts of the country, and other terrorist groups could find any hidden stockpiles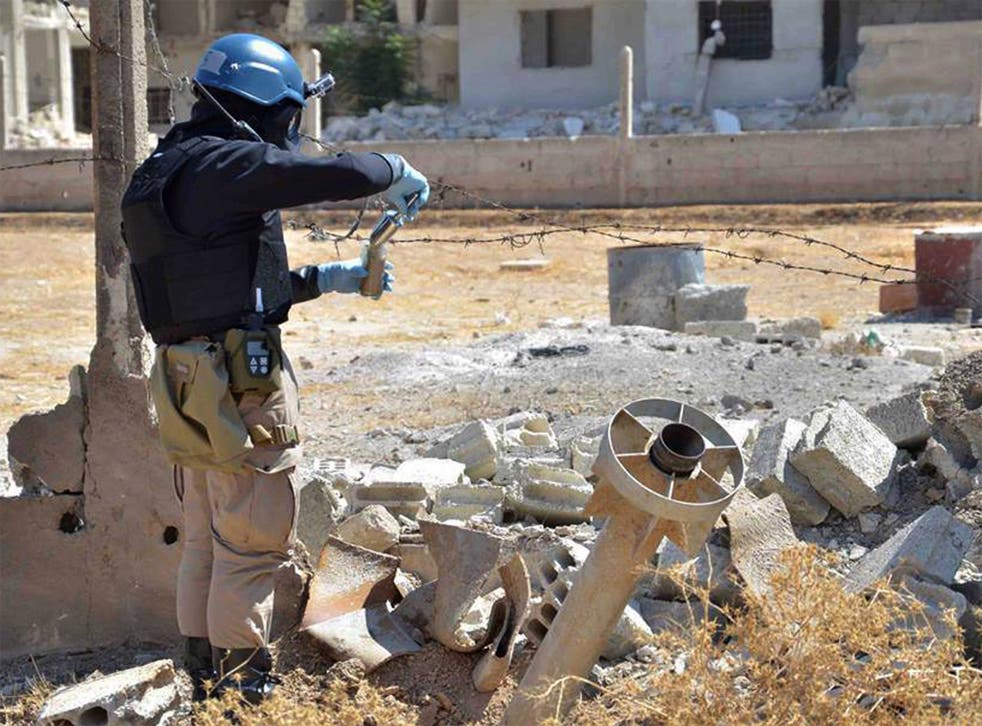 Syria has declared four chemical weapons facilities it had not admitted operating before, heightening concerns that Bashar al-Assad's regime has not been open about its weapons programme.
Sigrid Kaag, a special representative of the UN Secretary-General, told the Security Council, during closed consultations with diplomats, that three of the facilities were for research and development and one was for production. No new chemical agents were associated with the four sites.
The US ambassador to the UN, Samantha Power, tweeted that pressure must be kept on the regime to be open about its chemical weapons facilities.
Last year, a joint mission between the UN and the Organisation for the Prohibition of Chemical Weapons (OPCW) was set up to eliminate Syria's arsenals after the Security Council found rare agreement on the issue.
The deal was reached under threat of US air strikes after images of civilian victims laid out after a chemical attack on a Damascus suburb shocked the world. President Assad's government blamed rebel groups for the incident.
The UN-OPCW mission has removed all 1,300 tons of chemical weapons that the regime has declared.
Attention now turns to destroying Syria's chemical weapon facilities.
There are still concerns that Syria has not made a full declaration of its chemical weapons. The US is worried that Isis, which has seized large parts of the country, and other terrorist groups could find chemical weapons if Syria is hiding any stockpiles.
The OPCW expects to begin dismantling Syria's chemical weapons facilities this month. The first of the 12 facilities should be destroyed by the end of November.
The global chemical weapons watchdog is also working with the government to resolve discrepancies in its chemical weapons declaration.
It was not clear why Syria did not disclose the four facilities earlier.
Ms Kaag also told diplomats on Tuesday that an OPCW fact-finding mission found chlorine had been used "systematically and repeatedly" in attacks as recently as August.
Lithuania's mission to the UN tweeted: "Connect the dots." It said the OPCW was sure chlorine had been used in Syria and that witnesses saw it dropped by helicopters, which only the Assad regime had.
The OPCW mission did not assign blame, but the Foreign Secretary, Philip Hammond, said its findings "corroborate allegations that the Assad regime is continuing to use chemical weapons in Syria, in violation of the Chemical Weapons Convention".
Each side in the conflict, now in its fourth year, has blamed the another for using chlorine and other chemical weapons. The fighting has killed more than 190,000 people.
AP
Join our new commenting forum
Join thought-provoking conversations, follow other Independent readers and see their replies