France's most wanted Isis fighter killed in Iraq leaves final message accusing his leaders of hypocrisy
French national Rachid Kassim, known for his brief rap career before joining the caliphate in Syria, leaves posthumous audio message criticising Isis' leadership 
Thursday 16 February 2017 11:47
comments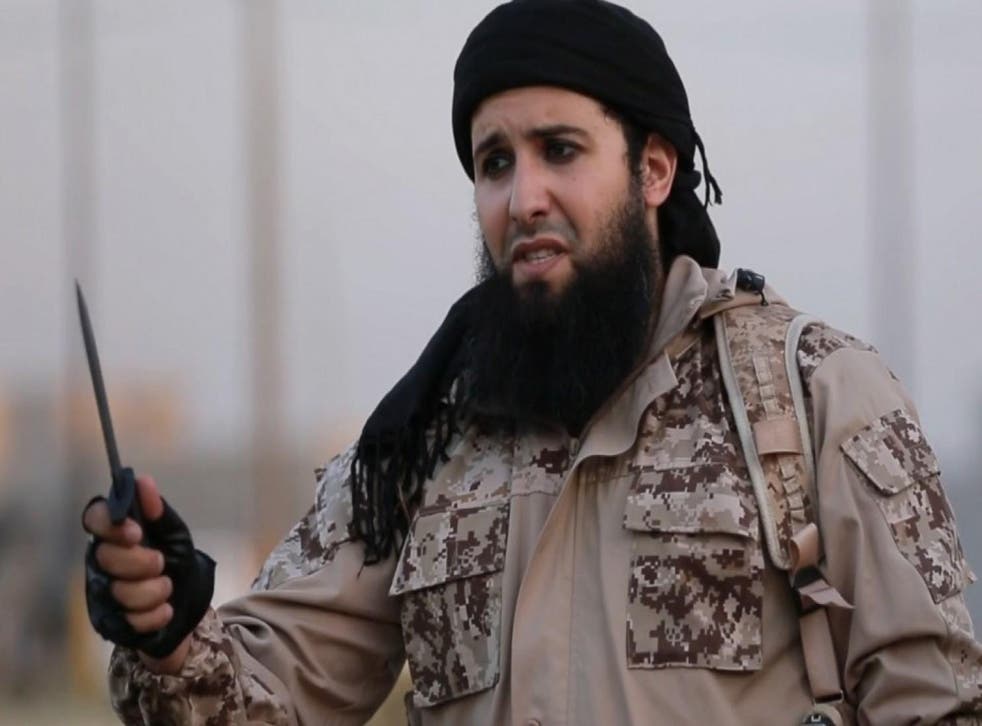 One of France's most wanted jihadis is thought to have been killed in a US air strike near the Isis-controlled city of Mosul in Iraq, both the Pentagon and social media channels used by Isis have confirmed.
Rachid Kassim, born in Roanne in 1987 to an Algerian mother and Yemeni father, was a high profile recruiter for the extremist group, encouraging attacks and linking up radicalised teenagers via his Telegram and Facebook accounts.
The French authorities suspect him of coordinating the 2016 knife killings of a French police officer and his wife in their home, and the beheading of a priest. He has been connected to several other failed plots.
An audio recording which appears to have been made in December, designed to be released after his death spread through social media channels late on Wednesday. In the message, Kassim says he has been asked to carry out a suicide attack, but condemns Isis' leaders for sending their men to the front lines, while not volunteering for fighting or suicide missions themselves.
He also implores fellow fighters to treat the wives of those killed in action better.
Donald Trump 'open to working with Moscow' to fight Isis in Syria
In July last year - just after the Bastille Day attack in Nice which killed 86 people - Kassim appeared in a propaganda video in which he beheaded a captive and called for more attacks against French citizens.
"A lot of us are jealous of brothers who attack in dar ul-kufr [non Muslim countries]," he told Jihadology, a blog which tracks Islamic extremism, in November.
"We believe that even a small attack in dar ul-kufr is better than a big attack in Syria. As the door of hijrah [migration] closes, the door of jihad opens. If I stayed in dar ul-kufr, I would do an attack there."
In pictures: Isis' weapons factories

Show all 11
The fighter was the target of a US coalition strike near Mosul in northern Iraq last week, the Pentagon said on Friday.
Both the US and French police sources have since confirmed that Kassim was killed in the February 8 strike. French media said DNA matching the fighter's was recovered from a truck hit in the drone strike.
In Paris, a high-ranking official involved in counter-terror operations told AFP there was not "absolute confirmation" of his death, but that the probability was high.
Kassim became radicalised after travelling to Algeria in 2011, the Counter Terrorism Project reports. On his return to France, he was barred from his local mosque for violent rhetoric, and turned instead to music, writing rap songs with titles such as "I'm a terrorist." He left France for Syria in 2012, taking his wife and three children with him.
While his social media accounts have been quiet since October, his last message implored "brothers in France" to "wake from their coma and attack."
Approximately 240 people have been killed in France by Isis-inspired attacks since the beginning of 2015.
The country is a major part of the US-led coalition operations to drive Isis out of their territory across Iraq and Syria.
Join our new commenting forum
Join thought-provoking conversations, follow other Independent readers and see their replies