G20 summit: David Cameron urges protection from chemical attacks in Syria's civil war as Obama arrives to awkward greeting from Putin
As the world's leaders gather - and Barack Obama and Vladimir Putin exchange a much-anticipated greeting - Mr Cameron warns of the 'worst refugee crisis this century'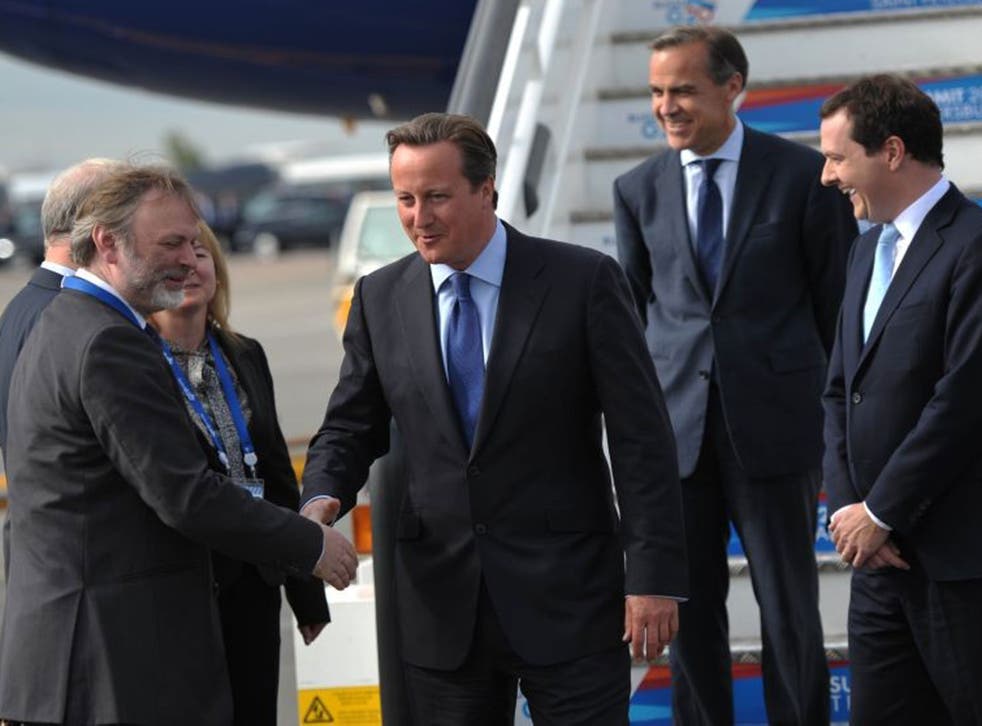 David Cameron issued an urgent call for drugs and equipment to help Syrian people survive further nerve gas attacks today as the leaders of the world's main economic powers met for the G20 summit.
Attention turned to the arrival of Barack Obama, whose handshake with host Vladimir Putin was best described as business-like. Only once they turned to pose for the world's media did the US president break into a grin.
US-Russia relations are steely at best after Washington cancelled talks between the two presidents a fortnight ago, and their co-operation - or confrontation - is set to dominate the summit.
Early briefings inevitably revolved around the ongoing Syrian crisis – for while the gathering is intended to discuss primarily economic matters, the spiral towards war in the Middle East continues to hold the attention of most of the statesmen attending.
The Prime Minister took the opportunity to urge his fellow leaders to set up a supply of antidote medicines, decontamination tents and other kit to protect opposition-held areas, fearing that they are in danger if chemical weapons are used again.
Mr Cameron also warned of the "worst refugee crisis this century" as he arrived at the St Petersburg talks and called on the other countries represented to give more money.
It came as German intelligence said they had seen phone transcripts that suggest the Assad regime resorted to chemical weapons in fear that it was losing control of major parts of Damascus to opposition fighters.
Mr Cameron warned of a "perilous" risk of another chemical attack that would mean "Armageddon" for civilian populations.
America says sarin nerve gas killed more than 1,400 people in the attack last month that triggered Mr Obama's call for military action to punish and degrade the Assad regime. British intelligence says at least 350 people died in the attack, which was "highly likely" to have been carried out by Assad.
The Prime Minister, sidelined from talks on military action following last week's vote in Parliament against war, was using the G20 to focus on humanitarian issues and to rattle the tin for more aid, challenging leaders to match the £348 million being pumped in by Britain alone.
"We are facing the worst refugee crisis of this century and millions of lives are being destroyed inside in Syria by Assad and his regime," the Prime Minister said.
"The world needs to do more to help the innocent victims of this conflict who dreamt of a democratic and peaceful future but who are now living a nightmare far from their homes and struggling to feed their families and keep them safe."
"I will be using the G20 to ensure their needs are heard and to ensure the international community responds. We must make more money available for aid agencies to help ease the suffering and we must put pressure on both sides in the conflict to improve access so aid workers can get to those who most need help."
Mr Cameron's key calls are for donor countries to fill a massive funding gap identified by humanitarian agencies. He will signal Britain will lead by example and put more money on the table but that we want others to do more too.
Pressure on Assad to give safe passage to humanitarian workers and aid convoys is seen as vital to easing the refugee crisis. As is cutting on custom rules and red tape which make it hard for aid workers to deliver swift relief on the ground.
Some 6.8 million people inside Syria need humanitarian assistance, the UN estimates – equivalent to the entire population of Scotland, Birmingham and Manchester combined.
Register for free to continue reading
Registration is a free and easy way to support our truly independent journalism
By registering, you will also enjoy limited access to Premium articles, exclusive newsletters, commenting, and virtual events with our leading journalists
Already have an account? sign in
Register for free to continue reading
Registration is a free and easy way to support our truly independent journalism
By registering, you will also enjoy limited access to Premium articles, exclusive newsletters, commenting, and virtual events with our leading journalists
Already have an account? sign in
Join our new commenting forum
Join thought-provoking conversations, follow other Independent readers and see their replies