Gaza, a year on from Operation Protective Edge: No hope and no jobs, so the young risk their lives and run for it
With youth unemployment above 60 per cent, it is no wonder that young Gazans want to escape. Sam Masters meets a man in Maghazi who scaled the fence to Israel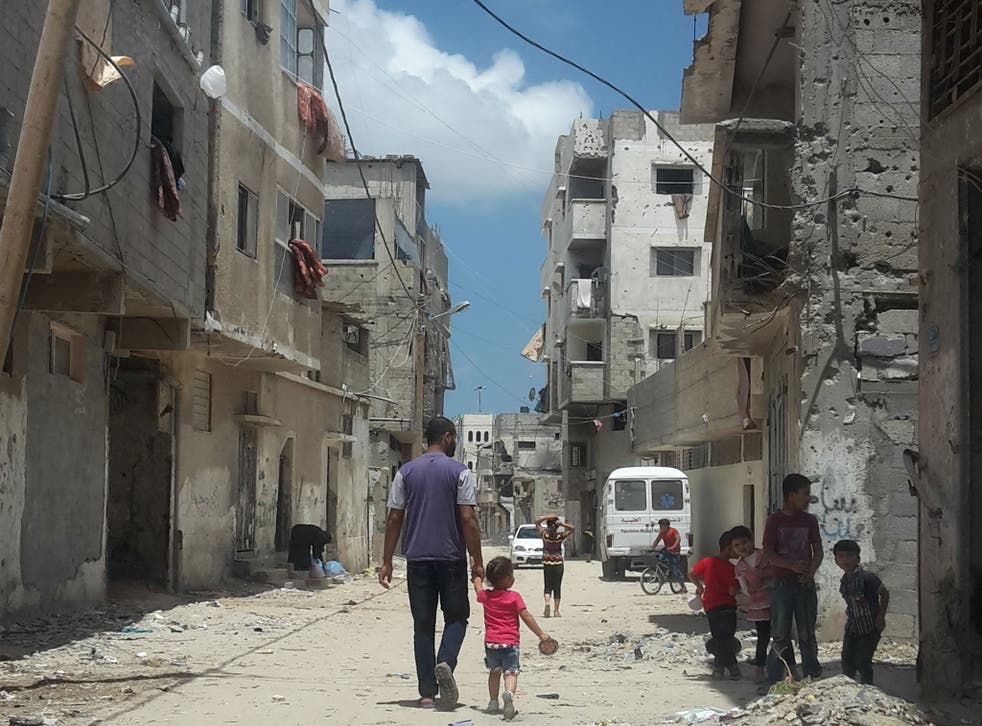 The sandy lane is lined with olive groves where cows lie in the shade. It is, by Gazan standards, idyllic; yet still Anwar al-Zawaraa, 22 but with a wispy moustache that makes him appear younger, wanted to leave.
Some three miles away, at a perceived weak point in the border between Israel and Gaza, he made his break for freedom. It was fraught with danger, as setting foot in the half a mile of open land that must be crossed to reach Israel can mean death.
"I was only worried because I did not perform prayers before I went," Mr Zawaraa recalls. "I didn't want to die without having prayed first."
He had wanted to cross into Israel to earn enough money to get married, and to have the independence aspired to by many others among Gaza's 1.8 million inhabitants, the vast majority of whom are under 30.
The World Bank estimates that unemployment in the enclave is the highest in the world, some 43 per cent. Even more alarming, it says, is the level of youth unemployment, which increased to more than 60 per cent by the end of last year in the aftermath of the latest war between Israel and the rulers of Gaza, the militant group Hamas.
In pictures: Israel-Gaza conflict

Show all 124
Mr Zawaraa's mother, Salwa, 50, and the rest of his family – two sisters and a brother – live on the outskirts of Maghazi in eastern Gaza, where they grow their own fruit and vegetables. The "access-restricted area" that separates Gaza from Israel is at the end of the sandy road.
Three times in three conflicts between Israel and Gaza, the family have been forced to leave their home for shelters. During last year's war, they had to stay away for 50 days. Asmaa, Mr Zawaraa's 17-year-old sister, said: "We were afraid the ground invasion would come here. It was very frightening." His mother said her husband – who was not at home when The Independent visited – was himself once jailed in Israel.
"None of my children work," said Mrs Zawaraa, sitting beside her daughters. "In October, Anwar said he was leaving to harvest the olives. He didn't come home that day. We didn't know where he went. Then internal security came and told us that he had tried to cross the fence and that he had been arrested.
"I started crying and continued all through the night. I couldn't stop thinking of what would happen to him in Israel. It was the worst day of my life. I prayed that he would not get a long sentence." Looking out over the kitchen garden, she added: "It was a terrible time."
Mr Zawaraa was imprisoned in the Israeli city of Ashkelon – a city that has often been the target of rockets from Gaza – for seven months and 10 days before being released. The family was permitted to visit him there. "I felt a double pain when I visited him," his mother said. "I remembered what it was like to visit my husband in the same place."
She added: "During my visits, the prison officers would ask me why the Gazans were trying to come into Israel. I told them: 'It's because of your blockades.'"
Israel has operated an economic blockade of Gaza since Hamas' rise to power in 2007, and Palestinian travel out of Gaza has been severely limited.
Sari Bashi, the co-founder of the human rights organisation Gisha, which fights for freedom of movement for Palestinian, says: "Horizons for young people in Gaza have never been more limited than they are now. More than half of young job seekers in Gaza cannot find work. Those who do overwhelmingly earn less than the minimum wage.
"Since the end of last summer's fighting, Israel's most senior military officials, including the defence minister and army chief of staff, have publicly acknowledged that economic development in Gaza enhances stability and therefore makes Israelis safer. Yet the easing of travel restrictions remains largely symbolic. By blocking movement of people and goods, Israel is narrowing the horizons of Gaza's young people."
The point where Mr Zawaraa made the crossing with a friend is about half an hour's walk from the family home in Maghazi. "There is no work here," he explained. "I told my friend I wanted to try and cross the fence and get a job. One day my friend said, 'Let's go.'
"We walked to the fence. I was not scared. When my friend tried to cross the fence he touched it and the Israelis knew we were there – it was electric. We jumped across – it was about as high as a person – and started walking. When the shooting started, we started running. First they were shooting in the air, then the bullets were coming towards us. When they were shooting at us, I thought that I might be killed but I carried on running."
Eventually, he says, three Israeli army vehicles surrounded Mr Zawaraa and his friend. "I didn't feel scared, even when they were shooting," he says. "I was so desperate I was willing to do anything to get out.
"We were bundled into the back of a Jeep and taken to a military base where we were interrogated for two or three hours. We were asked whether we'd come to commit terrorism. I told them nobody sent me, and I wanted to work in Israel. They thought I wanted to do something else."
His mother said: "Young people cross the fence with a knife so that when they are caught they will get a long sentence and not have to come back to Gaza."
Mr Zawaraa's younger brother, Anas, who is 18 and has just finished school, will never follow his lead, the family says. Asked whether her oldest son would try to get into Israel again, his mother said: "I'm not sure. One thing I do know is he will never need to if the blockades are lifted. Then we will all have work."
Nor is it just Israel that restricts travel in and out of Gaza; the official crossing into Egypt at Rafah is also closed for long stretches. For three days last month, Egyptian President Abdel Fattah al-Sisi ordered it to be opened for the first time in three months, in "solidarity with Palestinian brothers in the Gaza Strip, in order to relieve their suffering", and some Gazans seeking work were able to enter Egypt.
But the crossing was soon closed again. Standing by it, Nissam, 25, said he had been trying to cross into Egypt for a week. "I want to go for work," he says. "I don't want to live in Gaza any more."

Hosam Al Galazin, 16, who uses a wheelchair, has little hope that he will ever get out of Gaza. The UNAID-funded Society of Physically Handicapped People in Gaza City was badly bombed last summer.
"There's nothing for young people here, I don't know what is in my future," Hosam said. "There is no way out of here for me or anyone else.
"Every day is now hard. I don't blame the Israelis. I hope one day that we will find the whole situation is not there any more. I hope to travel. I would beg anyone to let me get out. I have been trying for seven years to have an operation which the doctors say would mean I could walk again. My dream is to travel, to leave here."
Back in Maghazi, would Anwar al-Zawaraa try to jump the fence again? He mentions his friends who have done so and have been injured by Israeli bullets. Preparing his answer, he does not make eye contact with his mother, who is paying particularly close attention to what he says. "No," he says. "It's too dangerous."
His answer, given the slim prospects for the future in Gaza, is difficult to believe.
Register for free to continue reading
Registration is a free and easy way to support our truly independent journalism
By registering, you will also enjoy limited access to Premium articles, exclusive newsletters, commenting, and virtual events with our leading journalists
Already have an account? sign in
Register for free to continue reading
Registration is a free and easy way to support our truly independent journalism
By registering, you will also enjoy limited access to Premium articles, exclusive newsletters, commenting, and virtual events with our leading journalists
Already have an account? sign in
Join our new commenting forum
Join thought-provoking conversations, follow other Independent readers and see their replies