Gaza a year on: The shelling may have stopped, but there's little relief for those left behind
The destruction last only 50 days, yet many are still lacking basic facilities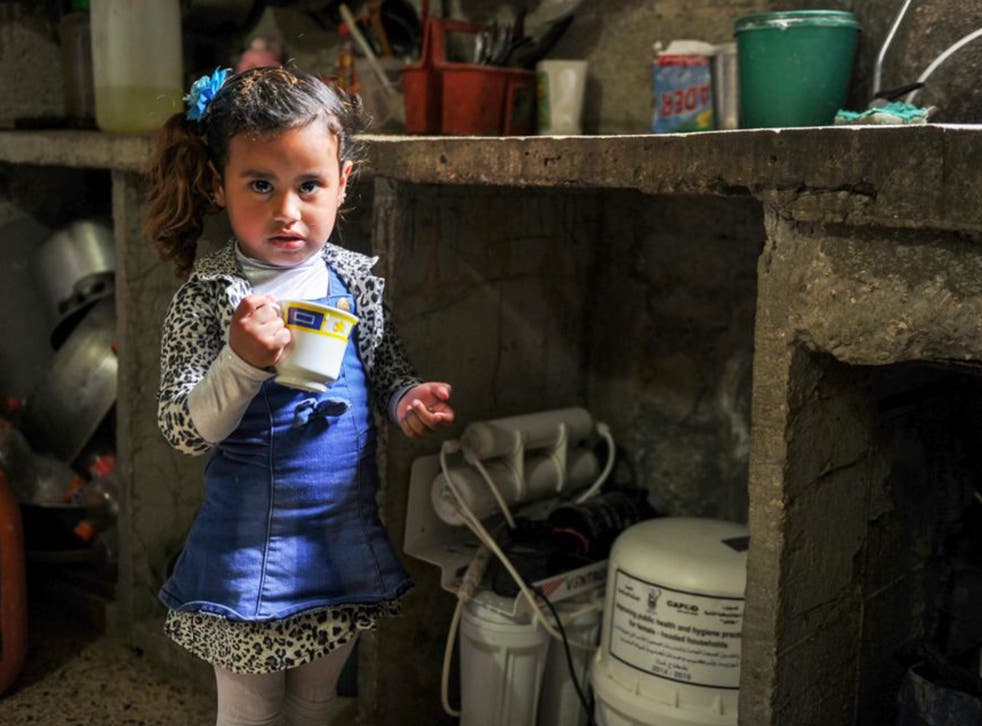 No human being is advised to go for more than 24 hours without water, especially in an area like Gaza where summer temperatures regularly climb above 30C. But during the 50-day conflict with Israel that erupted a year ago this week, to seek water was to risk death.
That was what killed Doha's parents. They went out at night at the height of Israel's aerial bombardment. "It was dangerous on the streets," said the shy 17-year-old, "but they had to make the journey so that we had some water to drink. They were very near our house when the bomb hit them. They were both killed in a huge blast."
Between 8 July 2014, when Israel launched Operation Protective Edge against militants in Gaza, and 26 August, when it declared a ceasefire, more than 2,200 Palestinians – most of them civilians, including 551 children, according to the UN – were killed. The toll on the Israeli side was 73, six of them civilians, including one child. Some 11,000 Palestinians were wounded and 500,000 displaced.
A year on, much of Gaza remains in ruins but nowhere is the destruction worse than around Rafah. There are whole streets where nothing moves except the Palestinian flags fluttering among the heaps of rubble. During the conflict more than 12,600 houses in Gaza were destroyed and another 6,400 rendered uninhabitable. One of them belonged to Doha's family. Now the schoolgirl lives in a single room of a relative's house with her brother Mohammed, 10, and a disabled woman who Doha looks after. "Life here is desperate," she said. "We have lost our parents and our house. We have very little."
One thing Doha and Mohammed do now have is clean water. The Catholic aid agency, Cafod, supports the work of the charity Islamic Relief in the region and has funded it to install a water filter in the home. "There was a time before the filter that we didn't have clean water for five days," she said.
On top of all the other miseries inflicted by the Israeli blockade on Gaza since 2007, water has declined in both quantity and quality. What supplies there are can be expensive or dirty. "The issue of water in Gaza is beyond what you can imagine," said an Islamic Relief worker. "There is high salinity and it is full of nitrates." But with a "reverse osmosis" filter fitted to the tap and connecting pipes, any water that a family can obtain can be purified for drinking and cooking.
Doha's story is just one of many in which the inhabitants of Gaza faced the choice last summer between mortal danger and going without water. On many occasions Israel warned residents to stay indoors or to evacuate certain areas, after which anyone on the streets would be a legitimate target.
Maha 19, a neighbour of Doha, described how she and her sisters risked their lives to keep clean. They fled their home after a bomb destroyed the room in which her parents and eldest brother were eating a meal, killing all three. "We couldn't see anything, it was dark," said Maha. "Everyone was shouting and screaming. I thought, 'We have to get out to the street'." It was only when she slipped in her mother's blood that she realised what had happened.
In pictures: The children of Gaza

Show all 30
The eight remaining children of the family took refuge in a school but the facilities, especially for women, were bad to non-existent. "We would come back home to get clothes and to wash," said Maha. "There was nothing else for it, our clothes were sticking to our skin. We used to come back home in small groups. We didn't want to risk us all dying at once."
After the ceasefire the children returned to their bomb-damaged home but the rust-filled water that came out of the taps was not safe to drink. "Sometimes we got sick from the water – diarrhoea and worms," said Maha. "We had to pay for medication but often that didn't cure it. The problem would go, only to come back." On one occasion, lacking the money to buy bottled water, the family did not drink for two days. Life has improved since Islamic Relief installed a water filter and provided advice on good hygiene. "We don't have to spend so much on water now," said Maha.
If the sisters could have been safer by sacrificing washing during the conflict, for 36-year-old Foz Boyouk there was no choice. Her father needs kidney dialysis three times a week and he can only drink purified water. "We had to risk our lives during the fighting to ensure he got his treatment," she said. "We had to go to the hospital. There was no help from ambulances – it was too dangerous for them. If you were injured, you died." Two neighbours were killed, one as he was going to the local mosque, the other when he went to tend his fields.
Mrs Boyouk lives with her disabled parents and her family in Mawassi, a hard-to-reach area on Gaza's southern coast. Thanks to a mobile clinic set up by Caritas Jerusalem, part of the Cafod network, her mother gets help for her diabetes and she herself has been diagnosed with hypertension. Without the clinic, she says, "we would have so many problems". But she adds: "Yesterday we sold some of our things to buy water."
The mobile clinic also helps Yousef Hussain N'ajjar, 46. He is blind and had to be told by neighbours that nothing remained of his house when he sought to return after the ceasefire. He now lives near his old home, west of Khan Younis, but in a changed landscape.
A displaced-persons' camp has been set up near a destroyed mosque. The local water tower was also felled, adding to the wretchedness of the camp. A bitter twist is that the temporary dwellings – Mr N'ajjar shares his with his wife, Kamlaa, their four children and his mother – are often flooded, both in winter and during summer thunderstorms. "We couldn't sleep, because we were throwing water out," he said.
The harsh conditions exacerbate the medical problems suffered by many inhabitants of the camp. One 30-year-old was diagnosed three years ago with cancer in her breast, uterus and stomach. The nearest hospital is seven kilometres away, an hour by road in densely-populated Gaza, but few living in the camp can pay for transport. "I once went a week without treatment," said Mr N'ajjar. "With the [mobile] clinic, life is better."
A year since the bloodshed and destruction, Gaza has barely begun to rebuild and a political settlement to the conflict looks as distant as ever. It is even harder to say how long it will be before people can do such a simple thing as turn on a tap and expect clean water to come out.
Register for free to continue reading
Registration is a free and easy way to support our truly independent journalism
By registering, you will also enjoy limited access to Premium articles, exclusive newsletters, commenting, and virtual events with our leading journalists
Already have an account? sign in
Register for free to continue reading
Registration is a free and easy way to support our truly independent journalism
By registering, you will also enjoy limited access to Premium articles, exclusive newsletters, commenting, and virtual events with our leading journalists
Already have an account? sign in
Join our new commenting forum
Join thought-provoking conversations, follow other Independent readers and see their replies