Gaza border protests: Palestinian woman killed as Israel launches airstrikes 'in response to violence'
Gaza's health ministry says 25 injured in Friday's protests, which Israel said turned violent prompting wave of airstrikes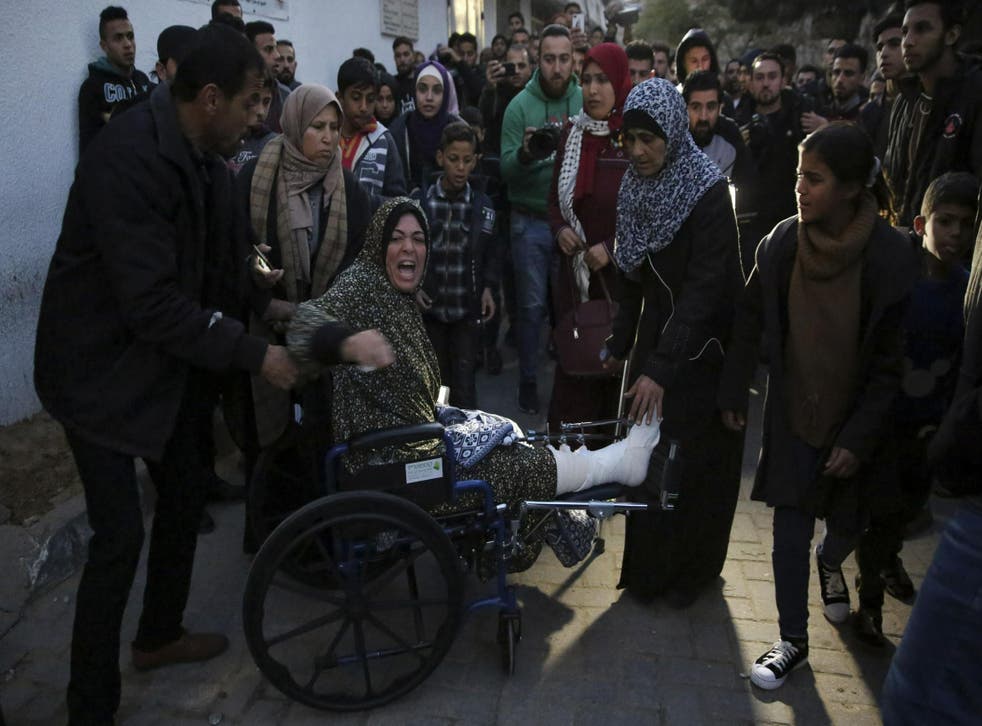 A Palestinian woman has been shot dead by Israeli forces in Gaza during protests on the border fences, according to local health authorities, as the Israeli military said its aircraft struck two Hamas positions in response to "violent" rioting.
Ashraf al-Kidra, a spokesman for Gaza's Health Ministry, said Amal al-Taramsi, 43, was shot in the head during the rallies, which have been held regularly since last March. Mr al-Kidra added that a further 25 Palestinians were wounded by gunfire.
A witness to Friday's killing, the first of the year, said that Ms al-Taramsi, from Sheikh Radwan north of Gaza city, was standing about 150 metres away from the fence when she was gunned down.
"She took a flag from a youth and before she moved, three gunshots rang out ... she fell down," Umm Yazan said, speaking from Gaza's main al-Shifaa hospital.
The Israeli military said 13,000 people participated in several demonstrations along the fence on Friday which turned violent. It said there were three incidents of Gazans breaking through the border fence and that its airforce retaliated with airstrikes on positions belonging to Hamas, the militant group that runs the enclave.
"In response to the violence … aircraft targeted two Hamas military posts. The [Israeli army] holds Hamas responsible for all violence that emanates from the Gaza Strip," they said in a statement.
There were no reports of casualties from the airstrikes.
Hundreds of thousands of Gazans have marched towards the fences with Israel each week since last March demanding the end of a crippling 11-year Israeli-enforced blockade and the right to return to the lands they were forced from during the 1948 conflict which surrounded the creation of Israel.
More than 220 Palestinians have been killed by Israeli fire in the protests, according to Gaza's health ministry.
The Israelis have defended their use of force saying demonstrators, encouraged by Hamas, have repeatedly attempted to break through the fences and have taken to flying burning kites and balloons tied with explosives towards Israel, endangering lives.
The escalating violence pushed both sides to the brink of war on numerous occasions last year. Egypt repeatedly stepped in to broker ceasefires and is still hammering out a long-term peace deal.
On Friday, two senior Egyptian security officials left the territory after meeting with officials from Hamas, as part of Cairo-led efforts to reconcile the Islamist group with its rival in the West Bank, Palestinian president, Mahmoud Abbas.
Tensions reached breaking point earlier week when forces loyal to Mr Abbas and his Palestinian Authority (PA), withdrew from the Rafah border crossing in Gaza, accusing Hamas of interference.
Gaza crisis: heavy cross-border fire in pictures

Show all 23
The crossing is the only way for Palestinians to leave the enclave without going through Israel.
Egypt has prevented Gazans from leaving the enclave since PA staff left.
The Egyptians were also in Gaza to discuss the ongoing peace efforts between Gaza and Israel.
A Palestinian official said Egypt's message was that Israel sought no escalation.
"Factions here are also committed to calm as long as the Israeli occupation abides by it," the official told Reuters.
Register for free to continue reading
Registration is a free and easy way to support our truly independent journalism
By registering, you will also enjoy limited access to Premium articles, exclusive newsletters, commenting, and virtual events with our leading journalists
Already have an account? sign in
Register for free to continue reading
Registration is a free and easy way to support our truly independent journalism
By registering, you will also enjoy limited access to Premium articles, exclusive newsletters, commenting, and virtual events with our leading journalists
Already have an account? sign in
Join our new commenting forum
Join thought-provoking conversations, follow other Independent readers and see their replies