Gaza fuel crisis forces UN to stop food aid deliveries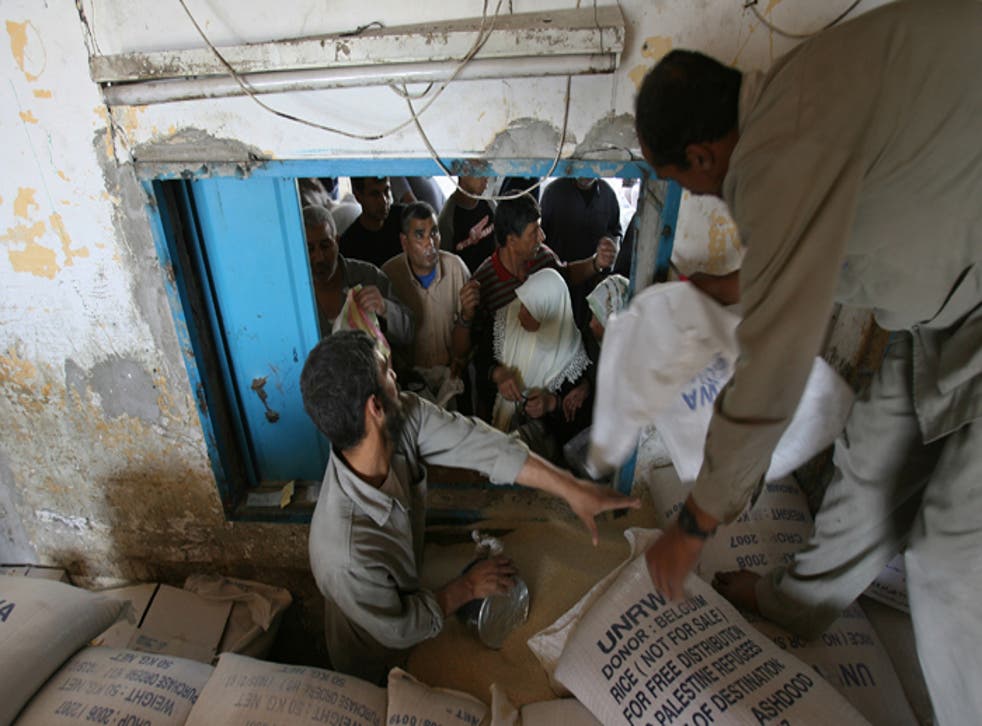 The United Nations has suspended food aid to 650,000 Palestinian refugees in the Gaza Strip after it ran out of fuel for its delivery vehicles. At the request of the UN Relief and Works Agency (UNRWA), distributors sent an emergency tanker to the Nahal Oz terminal through which Israel transfers petrol and diesel, but it was turned back by 1,500 farmers protesting that they needed fuel just as urgently. The driver was held for three hours, and then forced to return empty.
Palestinian distributors have been on strike for the past four weeks, demanding that Israel step up supplies and guarantee a steady flow. Both sides agree that storage tanks on the Gaza side of the terminal are full, with stocks of up to 1 million litres of fuel. But Mahmoud Khozendar, the distributors' vice-chairman, said that was only enough to meet three or four hours' demand. They needed at least 10 times as much as Israel was prepared to deliver. "If we bring the fuel it would be very dangerous for us," he claimed. "People would fight over who should get it first. Filling stations would be destroyed."
Last night Hamas proposed a six-month cease-fire with Israel, saying the Gaza Palestinian group would stop firing rockets into the Jewish state if Israel lifts its blockade of the coastal strip at the same time, Egypt's state run Mena news agency reported.
The report came after a day of closed-door meetings between Egypt's powerful intelligence chief Omar Suleiman, who has been mediating between Hamas and Israel, and Hamas' strongman, Mahmoud Zahar.
Under the international boycott imposed after Hamas seized Gaza by force last June, Israel's declared policy has been to allow in enough fuel, food and medical supplies to keep people alive, but not enough for them to live well. Local journalists report that bakeries and snack bars are closing for want of fuel. The roads are almost empty. Motorists who converted their cars to drive on cooking gas are running out of that too.
John Ging, director of the UNRWA in Gaza, said: "People are desperate. Everybody needs fuel. If the farmers can't get fuel, they can't pump water to irrigate their crops. About 70,000 people are without water in their homes; 25 per cent are getting water once every four days because of electricity cuts. All the hospitals are below the critical mark in their fuel resources.
"The laundry service in Gaza's biggest hospital has been reduced by 50 per cent, with all the unhygienic consequences. Teachers have no fuel to drive to their schools. It's not the distributors' responsibility to decide between hospitals and municipalities, or whether a doctor should get fuel."
Israel responded by accusing Gaza's de facto Hamas government of "fabricating" a crisis for political purposes. Aryeh Mekel, the Foreign Ministry spokesman, alleged that Hamas had sent the protesting farmers to block UNRWA's shipment.
"Three weeks ago we sent in one million litres of fuel," he said. "Hamas refuses to take it in order to create an artificial so-called humanitarian crisis. They are trying to break the so-called blockade. They have enough fuel to meet all the humanitarian needs."
The spokesman insisted that Israel wanted to send more, but couldn't because the tanks were already full. He blamed earlier disruptions on security concerns. On 9 April, Palestinian mortar shells killed two Israeli civilian workers at the Nahal Oz terminal. Last Saturday, Hamas suicide bombers wounded 13 Israeli soldiers at the Kerem Shalom humanitarian aid terminal.
Robert Serry, the UN special coordinator for the Middle East peace process, accused Israel on Wednesday of collective punishment, but also urged Hamas to end all attacks against the crossings. "These attacks endanger both international and Israeli civilians, and cannot possibly contribute to Palestinian efforts to ease the blockade of Gaza," he said.
Hamas leaders have called for Gazans to march on the two passenger terminals out of Gaza, the Erez crossing into Israel and the Rafah crossing to Egypt, after Friday prayers today to protest at the continuing siege. They stopped short of ordering them to break down the barriers as they did at Rafah in January.
At the UN in New York, the United States, Britain and France walked out of a closed meeting of the Security Council after Libya compared the situation in Gaza to Nazi concentration camps. The council's South African president, Dumisani Kumalo, closed the meeting.
Register for free to continue reading
Registration is a free and easy way to support our truly independent journalism
By registering, you will also enjoy limited access to Premium articles, exclusive newsletters, commenting, and virtual events with our leading journalists
Already have an account? sign in
Register for free to continue reading
Registration is a free and easy way to support our truly independent journalism
By registering, you will also enjoy limited access to Premium articles, exclusive newsletters, commenting, and virtual events with our leading journalists
Already have an account? sign in
Join our new commenting forum
Join thought-provoking conversations, follow other Independent readers and see their replies