Gaza sees fiercest Hamas crackdown on internal dissent in a decade, Amnesty warns
'The crackdown on freedom of expression and the use of torture in Gaza has reached alarming new levels', says the charity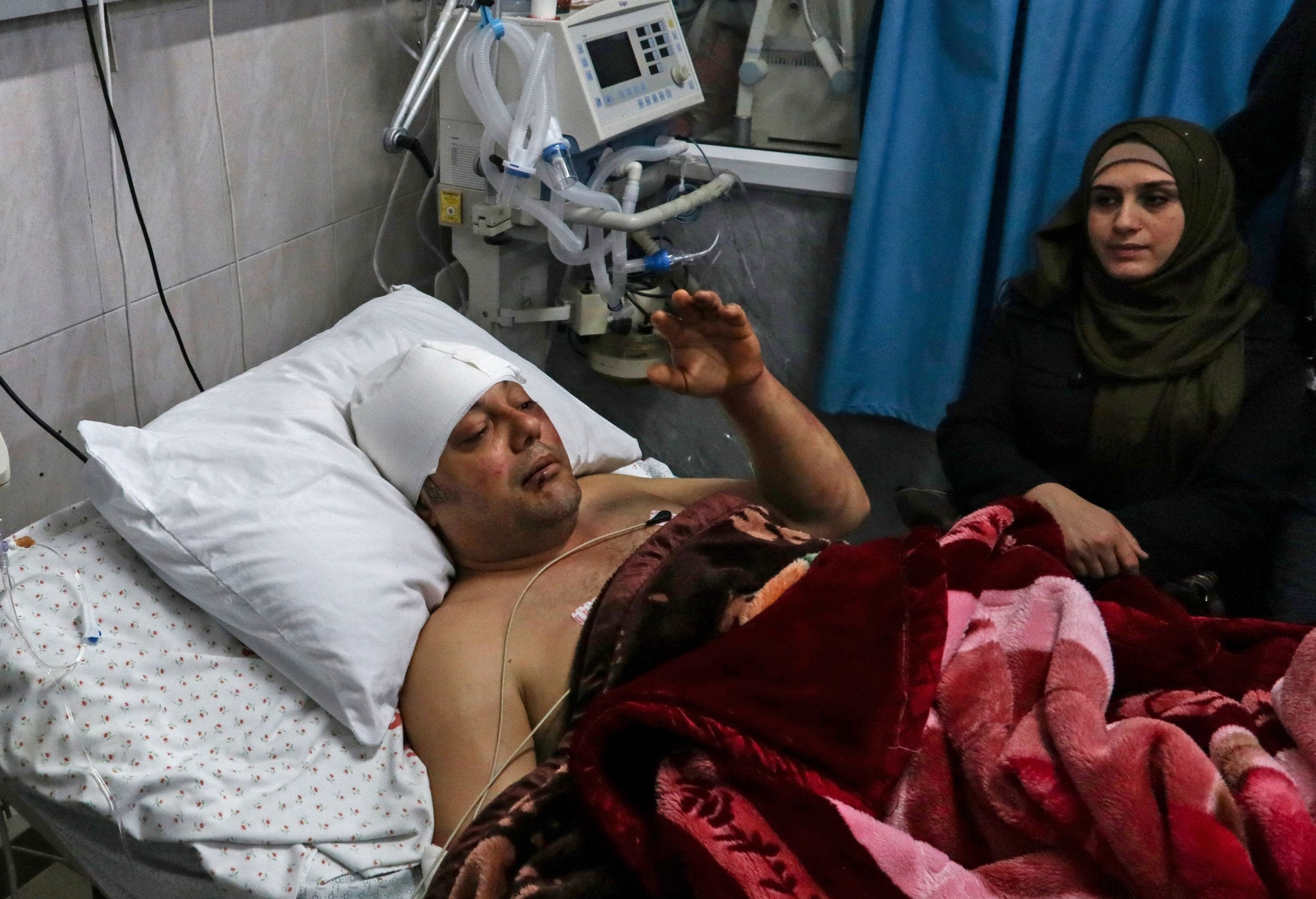 Hamas has arbitrarily arrested and tortured hundreds of protesters, rights workers and journalists in Gaza in the most severe crackdown on dissent in a decade, a rights group has warned.
Amnesty International urged the militant group that runs the strip to immediately stop the attacks on those behind "the revolt of the hungry".
Residents have been holding rallies against tax hikes and the soaring cost of living in the besieged enclave.
Amnesty said their own consultant Hind Khoudary was detained and interrogated by the Hamas-run Ministry of Interior due to her work with the group. In the three-hour ordeal, male interrogators treated her poorly and threatened to prosecute her for being a foreign agent, Amnesty added.
It comes days after the United Nations' Middle East envoy Nickolay Mladenov said he was "alarmed" by the brutal beating of journalists and protesters.
Residents of the strip told The Independent that many people had been arrested at their homes, badly beaten and held illegally for expressing support for protests on social media or joining rallies that were violently cleared.
On Monday night, activists sent photos and videos purportedly showing the spokesperson for Fatah, the political rival to Hamas, unconscious in hospital. Masked gunmen, believed to be linked to Hamas, had attacked Atef Abu Saif outside his home.
"The crackdown on freedom of expression and the use of torture in Gaza has reached alarming new levels," said Saleh Higazi, Amnesty International's Middle East and North Africa deputy director.
He added: "Over the past few days, we have seen shocking human rights violations carried out by Hamas security forces against peaceful protesters, journalists and rights workers.
"The Hamas de facto administration must immediately launch an independent, thorough and transparent investigation into the unnecessary and excessive use of force, arbitrary arrest and detention, and torture and other ill-treatment by security forces."
Gaza suffers from one of the highest youth unemployment rates in the world, while over half its 2.2 million population live under the poverty line.
The 25-mile long enclave has been crippled by an 11-year-long Israeli siege and a sporadic blockade by Egypt, imposed after Hamas seized control of the territory in 2007. Three wars with Israel over the last decade have also destroyed the economy.
Hamas's mismanagement and corruption has also been blamed for contributing to the widespread misery.
Anger at worsening conditions has simmered since Palestinian President Mahmoud Abbas slashed salaries to government employees in Gaza two years ago, and access to electricity, in an apparent bid to force Hamas from power.
While that rage has been directed outside the strip, particularly with weekly marches on the border fences with Israel, over the last month protesters have tried to hold rallies within Gaza expressing anger at the authorities.
Footage shared online this week purportedly showed Hamas security officers forcibly clearing protests with batons and live ammunition. Photos and videos were shared with The Independent, apparently showing Mr Abu Saif in a hospital bed.
"His legs and arms were apparently broken," one Gaza resident told The Independent, on the condition of anonymity for fear of arrest.
"Many local journalists and activists have been arrested and severely attacked for covering what's going on. People we know were kidnapped and brutally attacked just for writing on Facebook," the local added.
Hamas has not directly referenced the crackdown or the protests. However, on Sunday they released a statement saying the group had "prioritised the humanitarian needs of the Palestinian people".
The statement added that Hamas "fights with all means possible to restore the Palestinian rights".
Amnesty said the round-up started on 10 March when 13 activists planning rallies against the soaring cost of living were arrested during a private meeting at a house in the town of Jabalya, in northern Gaza.
The group had launched social media campaigns called "The Revolt of the Hungry" and "Down with Price Hikes".
Security forces stormed into the house without an arrest warrant, and the activists were subjected to torture and other ill-treatment in detention. On 12 March, they were released with a warning not to continue with their plans.
Two days later Amnesty said Hamas security forces – some dressed in civilian clothes – attacked hundreds of peaceful demonstrators in Jabalya refugee camp Deir al-Balah, using sound grenades, batons, pepper spray and live ammunition. They also attacked al-Boreij camp and the city of Rafah.
After that, they beat and hospitalised a local journalist as well as Jamil Sarhan, director of the Independent Commission for Human Rights and the group's lawyer, also in Deir al-Balah camp.
Since then, several journalists, lawyers and rights workers have been beaten and detained for covering the rallies, Amnesty added.
Meet the young musicians of Gaza fighting the siege to play
UN envoy Mladenov expressed his concerns on Sunday, saying he "strongly" condemned a "campaign of arrests and violence used by Hamas security forces against protesters, including women and children".
"I am particularly alarmed by the brutal beating of journalists and staff from the Independent Commission for Human Rights and the raiding of homes," he said.
"It is their right to protest without fear of reprisal," he added.
Meanwhile, the West Bank-based Palestinian Journalists Syndicate demanded "accountability" for the attack on Mr Abu Saif.
It said it held Hamas responsible for the crimes and demanded the attackers be punished, according to a statement carried by Wafa, the Palestinian news agency.
Join our commenting forum
Join thought-provoking conversations, follow other Independent readers and see their replies