AP cameraman shot in leg while covering Gaza protests despite wearing 'Press' on flak jacket
Veteran photojournalist Rashed Rashid was far away from the protesters and packing up for the day when he was hit by fire from the Israeli side, co-workers say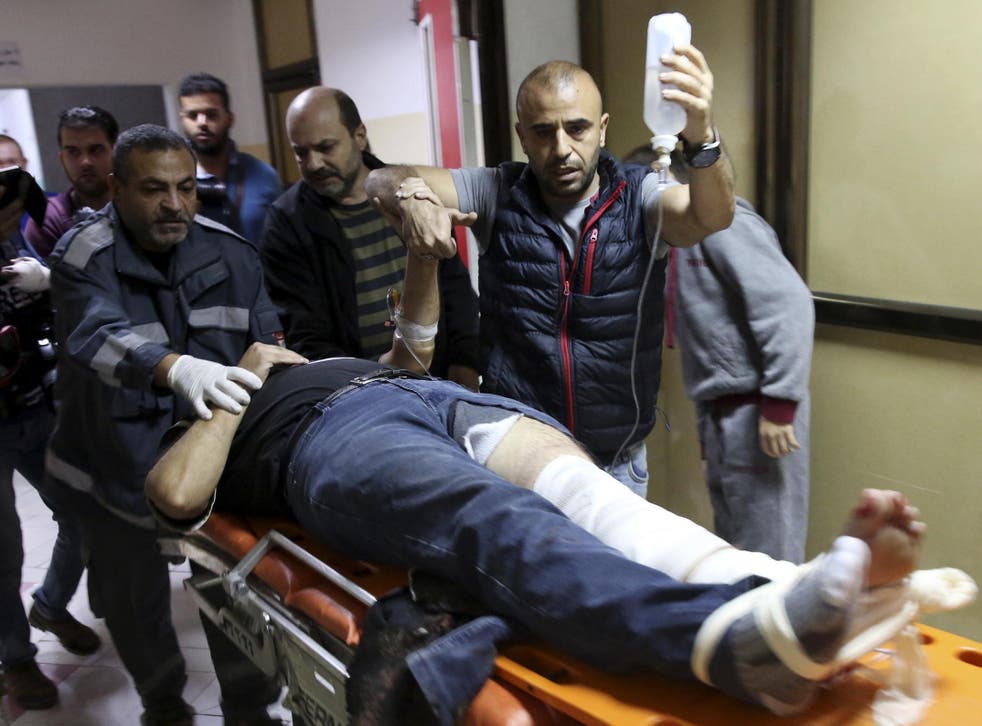 An Associated Press cameraman has been shot and wounded in Gaza while covering a demonstration in the north of the enclave, despite wearing protective clothing identifying him as a member of the press.
Rashed Rashid, 47, a veteran employee of the American newswire, was hit in the leg on Monday during a weekly protest next to the border fence with Israel. He underwent surgery on Wednesday after suffering multiple bone fractures above the ankle.
He was struck even though witnesses said he was about 600m from the fence and far from the protesters. Co-workers said he was also wearing a blue helmet and brown protective vest with the word "PRESS" written in white.
Mr Rashid was operating a live camera and was on the phone with AP's senior producer when he was hit by the fire, which appeared to come from the Israeli side. The Israeli military said it is investigating.
Dozens of rockets being fired from Gaza at Israeli civilians
"While with me on the line, I heard him shouting 'I'm hit, I'm hit'," recounted Najib Jobain, AP's senior producer, who said Mr Rashid told him the protest was ending and he was going to stop the transmission.
Majed Hamdan, AP's driver, said they were winding down for the day and so were collecting equipment to load into their vehicle when the bullet hit.
"I began putting some of our stuff in the car when I heard Rashed screaming," he said.
The Foreign Press Association in Israel said it "deplored" the shooting and called for a credible investigation.
"At no point did [Mr Rashid] pose a threat to the military or the protesters. It is hard to understand how or why someone taking so many precautions would be shot," its statement read.
The group added: "We deplore the shooting of any journalist and urge the army to conduct a thorough and credible investigation. We expect serious disciplinary action if wrongdoing is discovered."
It is not the first time this year that a journalist has been shot during the Gaza protests. In April two Palestinian journalists were shot dead while covering the rallies.
In mid-April Ahmed Abu Hussein, who was working for Gaza's al-Shaab radio, died from gunshot wounds to the stomach, which he sustained while covering the protest.
A few weeks earlier Yaser Murtaja, 30, a cameraman for Palestinian Ain Media, had also been shot and died the next day. After his death, the Israeli military said it does not intentionally target journalists and that it would look into the circumstances of the shooting. Israel later accused Murtaja of not being a civilian.
For nearly eight months, tens of thousands of Gaza residents have marched towards Israel in protests demanding the right to return to their ancestral lands, which they were forced from or fled during the 1948 conflict which surrounded the creation of Israel.
More than 218 Palestinians have been killed by Israeli fire in that time.
Facing mounting criticism for its use of live fire, Israel defended its actions by saying that protesters have launched burning kites and balloons tied with explosives at Israel in an attempt to break the border fence and attack civilians.
Gaza crisis: heavy cross-border fire in pictures

Show all 23
The protests had begun to quieten down amid reports Hamas, the militant group that runs the enclave, had reined in the violence ahead of an imminent long term truce between the two sides.
Violence flared, however, after a botched Israeli intelligence raid into southern Gaza earlier this month turned into a firefight which left seven Palestinians and one Israeli lieutenant colonel dead.
Gaza's fighters hit back by launching at least 460 rockets at southern Israel in the heaviest bombardment since the 2014 war.
Israel retaliated by pounding over 160 targets in Gaza with airstrikes.
Egypt brokered a fresh truce to end the cross-border exchange of fire, but it remains unclear if both sides will adhere to a long term solution.
Register for free to continue reading
Registration is a free and easy way to support our truly independent journalism
By registering, you will also enjoy limited access to Premium articles, exclusive newsletters, commenting, and virtual events with our leading journalists
Already have an account? sign in
Register for free to continue reading
Registration is a free and easy way to support our truly independent journalism
By registering, you will also enjoy limited access to Premium articles, exclusive newsletters, commenting, and virtual events with our leading journalists
Already have an account? sign in
Join our new commenting forum
Join thought-provoking conversations, follow other Independent readers and see their replies