Gaza's housing crisis: 'Is much worse than the war'
Rents in Gaza City have risen sharply with the destruction of buildings and influx of refugees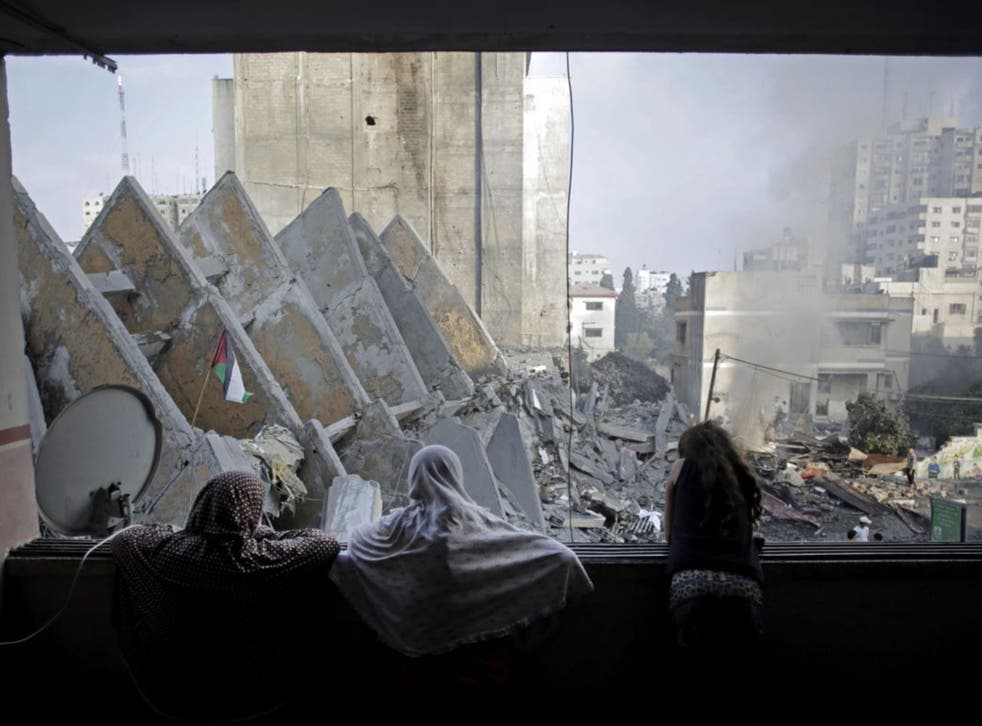 It was a good house, Yousif Qirshalli said, staring at the rubble baking in the sun. He had built it over three decades. But its destruction, which occurred on a mid-July day in an Israeli airstrike, wasn't the worst part.
That came after a ceasefire between Israel and Hamas nearly a month later, when Qirshalli learned he and his family had to leave a relative's place. It was when they pitched a tent on the dusty ground outside their demolished house, where they've spent many nights since. It was when Qirshalli, 65, inquired about local rent prices — and learned there was no way he could afford them.
Official numbers are few in Gaza City, a densely populated seaside enclave of 600,000. But businessmen, rights groups and economists agree that apartment rents here have more than doubled since the war ended, as thousands of displaced residents elbow into an already saturated housing market. Before the war, experts said, an average two-bedroom apartment went for $200 per month; now it can rent for as much as $500.
Israel-Gaza conflict: One of Gaza's tallest buildings destroyed in Israeli air strike

Show all 12
The surge in rent underscores a housing problem that has plagued Gaza for years: There simply is not enough. Even before the recent war — which the United Nations says destroyed or severely damaged 17,000 houses — the housing market in Gaza was squeezed by Israeli restrictions on imports of construction material, land scarcity and rapid population growth. The U.N. expects Gaza's population to swell by nearly one quarter by 2020, from around 1.7 million today to 2.1 million.
Rebuilding from ruins
Nearly every conversation here about Gaza's housing market begins with the year 2007, which is when Hamas — considered a terrorist group by the United States, Israel and the European Union — violently seized power in Gaza.
In response, Israel imposed a blockade, restricting the movement into Gaza of goods including construction materials, which it categorizes as "dual-use" items — things that could be used to make apartments but might also be used to build the tunnels that militants used to infiltrate Israel this summer. Egypt also keeps a tight grip on its border crossing with Gaza.
Hamas went on to build hundreds of smuggling tunnels between its southern border and Egypt — some big enough to enter with cement-laden trucks — and the construction sector boomed. But after Egypt's military toppled the nation's Islamist president last year, the new government blamed Hamas for a rise in militant activity in the Sinai Peninsula and began destroying tunnels. By March, Egypt announced it had demolished nearly 1,400 tunnels.
"Imagine what Hamas could build with these resources instead of tunnels," the Israeli military said in a July statement. "Hundreds of homes and civilian structures for the residents of Gaza."
An Israeli official, who spoke on the condition on anonymity because of the sensitivity of the issue, said last week that Israel is in talks with the Palestinian Authority and the U.N. to formulate a plan to transport construction materials into Gaza for rebuilding. But the official said it is unclear when that will happen.
"We need to first have mechanisms in place that will ensure the cement that is supposed to go to hospitals and to schools will actually reach those hospitals and schools," the official said. "And not be used for Hamas's terror infrastructure."
Whatever the contributing factors, today's housing crisis in Gaza has sent rent prices soaring.
"This is the big problem right now," said Iyad Abu Haman of Shelter Cluster, a U.N. organization. "Because of scarcity, landlords are raising the rents."
'Business is business'
But war has always presented business opportunity, and it's no different in Gaza.
Many pockets of Gaza now hum with business talk. One Palestinian owner of an aluminum company clasped his hands behind his desk and predicted the destruction could double his profits. On the outskirts of town, the owner of a major brick factory named Mohammed Marouf settled into a plastic chair.
The devastation to housing, he sighed, could make him "a rich man." Marouf said he would not hesitate to profit from the misfortune of others.
"Business is business," he said. "This is the way the world works. I'm a practical man and I have my business, and the reconstruction could make me a lot of money."
But this is Gaza City, where almost nothing is simple. Talk of riches is couched in hypotheticals. Money can only be made off reconstruction if Israel lifts the blockade, smuggling tunnels again start bringing in construction materials via Egypt and international aid organizations deliver cement.
Marouf's brick factory, which his father founded, now sits empty and darkened, populated not with clanging machinery but farm animals and men drinking coffee.
"I haven't made anything in more than a year," he confessed, gesturing at a horse inside the factory. "My factory is worth more than $5 million, but since the tunnels closed we haven't worked at all."
Local economists estimate that more than one third of Gazans work in construction, and they say the destruction of the tunnels and tightening of the borders have suffocated an already ailing economy.
"When we say lift the siege, what we mean is that everyone in every neighborhood could get to work and everyone would make money, and then those people would go shopping," said Nabil Abu Muaileq, chairman of the Palestinian Contractor's Union, which represents more than 300 companies in Gaza.
Among the first things those workers could do, Shaban said, is complete the "thousands" of nearly finished apartments around the city, which have languished since the flow of construction materials dried last year.
Completing them, Shaban said, wouldn't be a "final solution" but it could help ease the housing demand.
And it might help Gazans like Qirshalli, who on a recent Tuesday afternoon picked his way through the detritus of his old life — an overturned refrigerator here, a blackened bicycle there — to arrive at the home's gap-mouthed entrance. It was the first time he's had the courage to enter his old home since its destruction.
The inside was gutted and black with soot. Placing his hands on his hips, Qirshalli was quiet for a long moment. Then he said he wished he had been killed in the blast that claimed his house.
"The most difficult questions for us weren't about the war," he said. "But about what comes next. Where will we stay? Where will we go? How will we live? This is much worse than the war."
Register for free to continue reading
Registration is a free and easy way to support our truly independent journalism
By registering, you will also enjoy limited access to Premium articles, exclusive newsletters, commenting, and virtual events with our leading journalists
Already have an account? sign in
Register for free to continue reading
Registration is a free and easy way to support our truly independent journalism
By registering, you will also enjoy limited access to Premium articles, exclusive newsletters, commenting, and virtual events with our leading journalists
Already have an account? sign in
Join our new commenting forum
Join thought-provoking conversations, follow other Independent readers and see their replies