Palestinian toddler dies from wounds in Gaza as premature Israeli baby killed after West Bank shooting
Funeral held for toddler in Gaza just hours before Israel's prime minister announces the death of an Israeli baby, born prematurely during a Palestinian shooting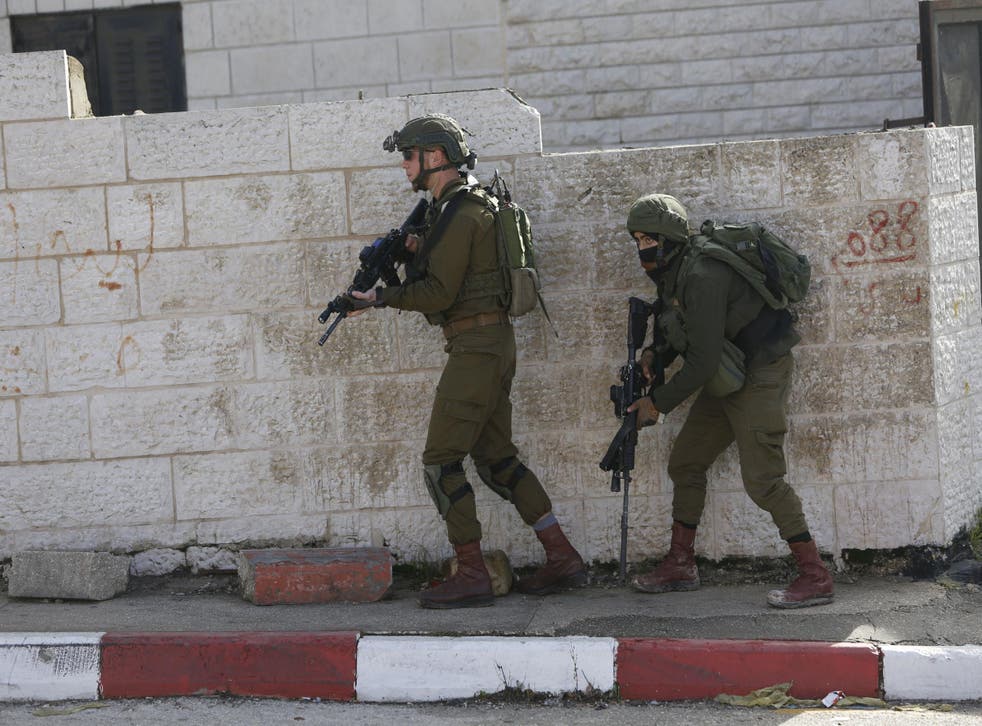 Hundreds of Palestinians in Gaza attended the funeral of a four-year-old boy who died after being injured by Israeli gunfire during a protest at the border, health officials have said.
On the same day 70 miles away a baby, who was delivered prematurely to an Israeli woman wounded in a Palestinian drive-by shooting in the West Bank, also died.
Israeli pregnant mother Shira Ish-Ran, her husband and five others were injured in an attack at a bus stop outside the illegal Israeli settlement of Ofra in the West Bank on Sunday.
Doctors said she was shot in the abdomen and that her son was born in critical condition. The Palestinian gunman apparently fled the scene.
Prime Minister Benjamin Netanyahu confirmed on Wednesday evening that the baby, who was delivered by emergency Caesarean section, had died in hospital.
"My heart, our hearts, are with Shira and Avihai at the death of a four-day-old baby who does not even have a name," Mr Netanyahu told foreign media and diplomats in a speech. "The security forces are in pursuit of the murderer."
Meanwhile in Gaza, Palestinian health officials reported that Ahmed Abu Abed, 4, had succumbed to his injuries apparently sustained by Israeli fire. He was buried in Khan Younis, at the southern end of the strip on Wednesday afternoon.
Gaza health ministry spokesman Ashraf Al-Qidra said he "was hit by shrapnel from Israeli gunfire" during protests near to the border fence with Israel on Friday.
Reuters footage from the protest showed the boy being carried by a medic into a field hospital not far from the border after being injured.
World news in pictures

Show all 50
"There was one piece of bullet shrapnel in the eye that settled at the bottom of the brain, that was the most serious of all, and that what most likely killed him," said Mohammad Abu Hilal, director of emergency department at Khan Younis hospital.
The boy's father, Yasser Abu Abed, who suffered a leg injury, said they were among a hundred other protesters nearly 300 metres from the fence when Israeli forces opened fire. "We did not expect anything bad would happen as things were calm," he said.
Israel's military said it did "everything possible to avoid harming children" and accused Hamas, the militant group that runs the strip, of "cynically" using Gaza's residents as human shields.
"[It] places them at the forefront of the violent riots, terrorist attacks and the terror of arson, demonstrating their contempt for human life," the statement added.
Hamas denies the allegations and together with rights groups has accused Israel of using excessive force against protesters
More than 220 Palestinians have been killed by Israeli troops since March according to health ministry in Gaza.
Support free-thinking journalism and attend Independent events
Palestinians have been marching regularly on the border since March, protesting against an 11-year-old Israeli siege of Gaza and for the right to return to the ancestral land they fled or were forced from during the 1948 conflict that surrounded the creation of Israel.
After Mr Netanyahu spoke about the West Bank incident, Israel's Shin Bet security service said troops shot and wounded a suspected militant who tried to evade arrest near the Palestinian city of Ramallah. It said he was in custody, but did not immediately confirm or deny Israeli media reports that he was sought in connection with the Ofra attack.
Register for free to continue reading
Registration is a free and easy way to support our truly independent journalism
By registering, you will also enjoy limited access to Premium articles, exclusive newsletters, commenting, and virtual events with our leading journalists
Already have an account? sign in
Register for free to continue reading
Registration is a free and easy way to support our truly independent journalism
By registering, you will also enjoy limited access to Premium articles, exclusive newsletters, commenting, and virtual events with our leading journalists
Already have an account? sign in
Join our new commenting forum
Join thought-provoking conversations, follow other Independent readers and see their replies