Ghassan Abu Jamal: Israel demolishes family home of man behind deadly Jerusalem synagogue attack
Government's 'response to terror' leaves 23 homeless after blast triggered by security forces damages adjacent flats
Ben Lynfield
East Jerusalem
Tuesday 06 October 2015 19:45 Comments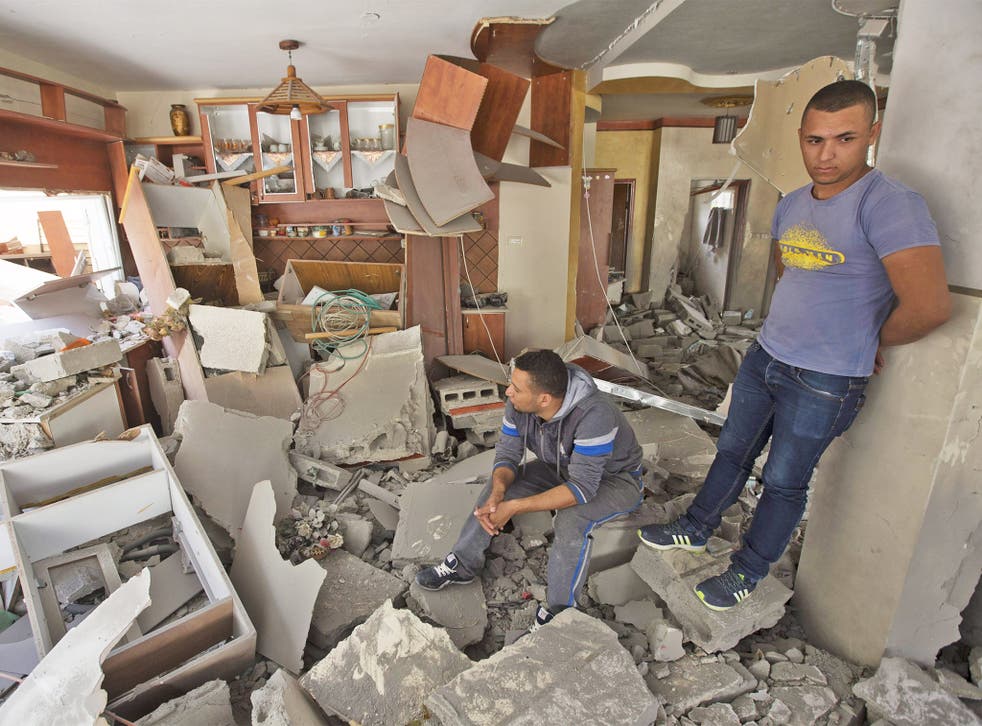 Ghassan Abu Jamal died carrying out an attack on a Jerusalem synagogue that claimed five Israeli lives last November. On Tuesday, in East Jerusalem, it was time for his family to pay.
In addition to obliterating the family home where Abu Jamal had lived with his wife and three children, a blast, triggered by Israeli security forces, also destroyed most of an adjacent flat in which his brother Muawiya lived with a wife and three children.
The destruction of these homes created fresh bitterness in the lower-income Palestinian Jabal Mukaber neighbourhood, with relatives pointing to cracks they said were caused by the explosion in other flats in a building that was home to 23 people.
Amid escalating tensions, Israeli officials said the demolitions are aimed at clamping down on Palestinian violence. Critics of the government said that demolishing the family home was aimed at accommodating the clamour of right-wingers for tough steps, than restoring security. They claimed the demolitions were a "collective punishment" that would backfire.
"What has Muawiya done? Now I'm afraid to sleep here or have the children sleep here because of the cracks," said Abu Jamal's mother, Zakia. His father, Mohammed, standing outside the rubble near a concrete frame that looked like it could collapse at any moment, added: "I believe Netanyahu made the most stupid decision. He thinks he can deter people but every action begets a reaction."
Israeli forces also destroyed the East Jerusalem family home of Mohammed al-Jaabis, who died carrying out a deadly attack in which he rammed a bus with a tractor in Jerusalem last year. Troops also sealed a room in the home of Mu'taz Hijazi, who was shot dead last October after he opened fire and wounded a right-wing Israeli activist. The moves came hours after Prime Minister Benjamin Netanyahu vowed to expedite home demolitions and other measures following a surge in attacks that claimed the lives of four Israelis in the past five days. Three Palestinians have died in clashes with security forces in Jerusalem and the occupied West Bank in that period, and hundreds have been injured amid high tensions around Islam's third holiest site, Haram al-Sharif, which is sacred to Jews as the site of the biblical temples.
Zakia Abu Jamal said the family had built the home gradually since 1974 by "adding one room after another". "We are still in debt to pay for this house. They have destroyed us. Why punish a whole family?" she asked. She said she would have stopped her son from carrying out the attack had she known about it. "I'm a mother. Will a mother accept for her son to go and die?"
The demolition did not seem to be having a deterrent effect, at least immediately. On the wall of a neighbouring house fresh graffiti was chalked calling Abu Jamal and his cousin Uday, who carried out the synagogue attack with him, "the heroes of the generation of martyrs".
Mr Netanyahu's spokesman, Mark Regev, said of the demolitions: "We believe it's an important deterrent. It's a tool that is used only in extreme cases. Unfortunately there are all sorts of incentives for people to become terrorists – financially and socially – with them being considered heroes. Demolitions are one tool to make people realise there are not only positive consequences to cold-blooded murder."
Speaking to The Independent, Tamar Zandberg, an MP for the dovish Meretz party criticised the demolitions as "unjust, illegal and unwise".
She said: "The assessments of security personnel are that house demolitions do not deter and merely add to the cycle of enmity. I suspect this was done out of a desire to satisfy the shrill voices on the right rather than out of a security assessment. Demolitions do not punish the person who carried out the attack.
"A state of law brings to justice and punishes the terrorists but should not carry out collective punishment against those who are not involved."
Register for free to continue reading
Registration is a free and easy way to support our truly independent journalism
By registering, you will also enjoy limited access to Premium articles, exclusive newsletters, commenting, and virtual events with our leading journalists
Already have an account? sign in
Join our new commenting forum
Join thought-provoking conversations, follow other Independent readers and see their replies