Handshake to further peace talks: John Kerry oversees breakthrough handshake between Shimon Peres and Mahmoud Abbas
US Secretary of State's push for renewed peace talks between Israel and Palestine leads to promising moment at World Economic Forum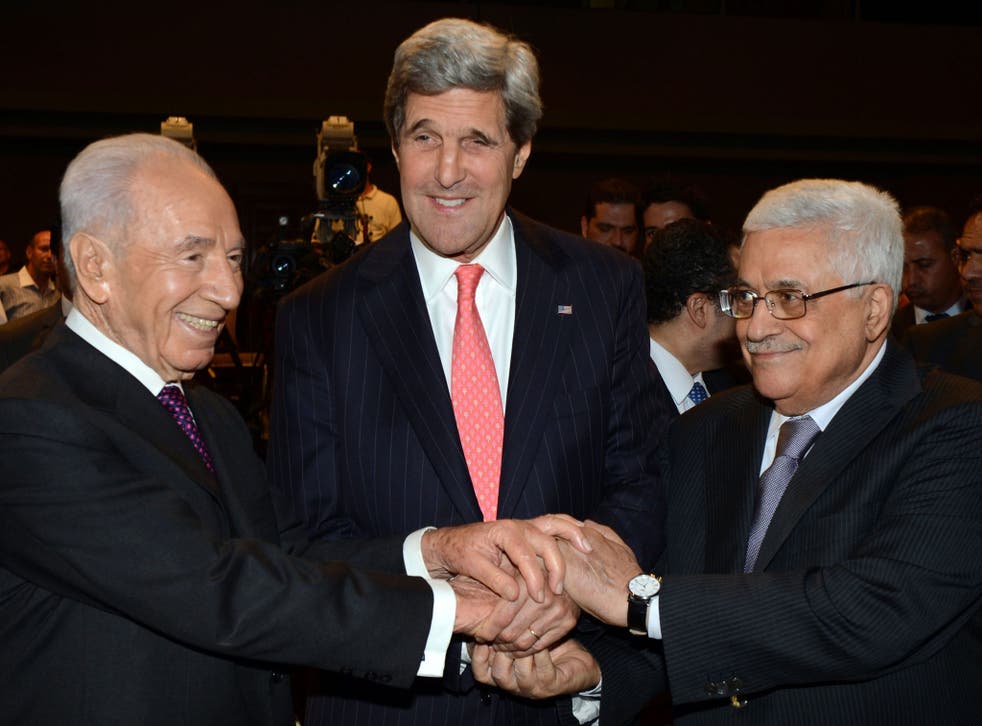 While there appears so far to be little substantial progress in US Secretary of State John Kerry's push for renewed peace talks between the Israelis and Palestinians, there was at least a breakthrough with a handshake between Shimon Peres and Mahmoud Abbas.
The two sides have not met for direct talks since 2010, but both the Israelis and the Palestinians have expressed hope that Mr Kerry's latest initiative - which has seen America's leading diplomat visit the region four times in the last two months - will lead to fresh peace talks, and ultimately a lasting settlement.
The handshake took place at the World Economic Forum meeting in Jordan and followed conciliatory speeches by the two men. Mr Peres, the Israeli president, in his speech, said: "President Abbas, you are our partner and we are yours. You share our hopes and efforts for peace, and we share yours. We can and should make the breakthrough. We should not permit the hurdles to overcome us. History will judge us not by the process of negotiations but by its outcome. The today obstacles will pale in the light of peace."
It came as Mr Kerry shed some light on what his peace plan might entail, as he unveiled a $4bn investment plan for the Palestinian economy. The initiative, which will be led by the former Prime Minister Tony Blair, will bring together private sector investors. Mr Kerry said he believed that the Palestinian economy could grow by 50 per cent in three years - a growth rate that would outstrip even the world's most buoyant economies.
That matched the mood of the event, which earlier in the day, saw Mr Peres tell reporters, "It's time for peace. It shouldn't be so complicated…. I do believe it is a real possibility."
Those words were attacked by several right-wing politicians in Israel. The country's Tourism Minister, Uzi Landau, invoked Auschwitz to dismiss the idea that any new talks would be based on 1967 borders. Quoting Abba Eban, an Israeli foreign minister who served in the late 1960s, Mr Landau said: "Eban once said that the 1967 border is the border of Auschwitz. What country would like to achieve borders which make it impossible to defend itself?"
Another cabinet minister, Yuval Steinitz, criticized Mr Peres saying the president does not have the authority to express opinions on the objectives of the peace process.
"I didn't know Peres aspired to be the government's spokesman," he said sarcastically before the weekly Israeli cabinet meeting. "Any statement on the eve of negotiations of this sort - how shall we put this gently? - is unhelpful."
Mr Abbas - the president of the Palestinian Authority - said that any deal must be lasting and that any offer of temporary borders would be insufficient. Temporary borders, "will not end the conflict," he said. "They will prolong it."
Join our new commenting forum
Join thought-provoking conversations, follow other Independent readers and see their replies