'He will be punished severely': Free Syrian Army vows to hunt down rebel commander Abu Sakkar filmed eating government soldier's 'heart' in gruesome propaganda video
Syria's largest rebel group says they will punish the prominent founder of rebel group Farouq Brigade, who admitted he was the abuser in the video clip during an exclusive interview with TIME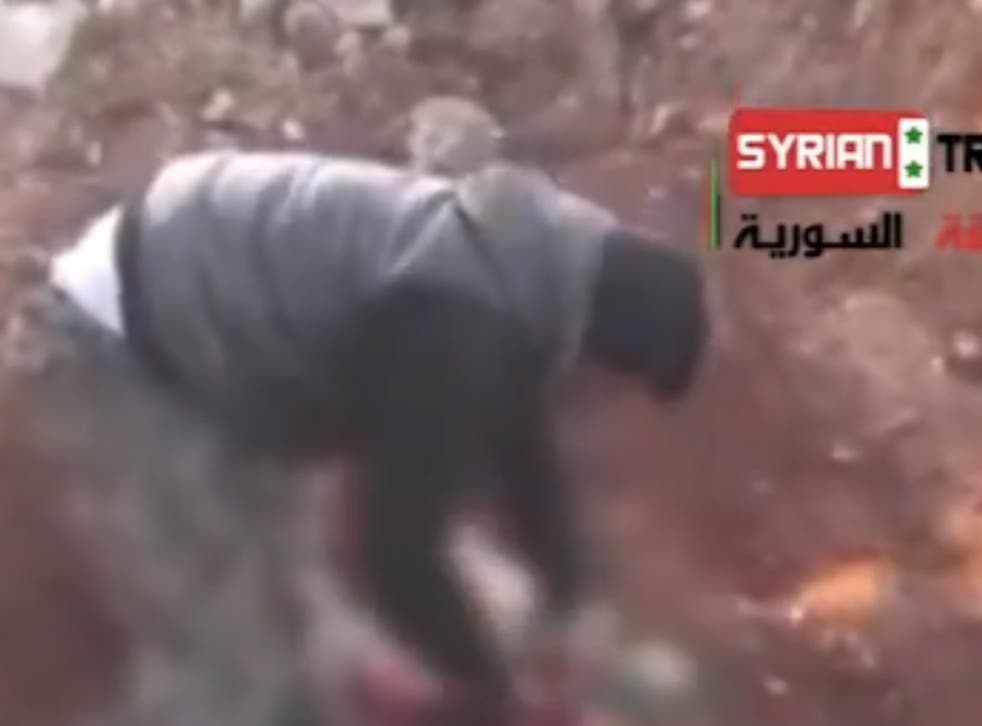 The leaders of Syria's largest rebel group, the Free Syrian Army, have vowed to hunt down and "severely" punish the man filmed cutting out and eating an organ from a government soldier's chest.
In a statement, the FSA leadership said: "Any act contrary to the values that the Syrian people have paid their blood and lost their homes to will not be tolerated, the abuser will be punished severely even if they are associated with the Free Syrian Army.
The comments come the day after a shocking video was released showing Khalid al Hamad (who goes by the nom de guerre Abu Sakkar) - a rebel commander with the Homs-based Farouk Brigades - cutting into the chest of a government solider, cutting out his organs and biting into them.
As he committed the gruesome act, Sakkar threatened to eat the hearts and livers of all those who fight for and support the Assad government.
In an exclusive interview with TIME, Sakkar confirmed he was the man in the video and revealed he had another as-yet-unreleased graphic propaganda showing him sawing a government soldier into pieces.
Sakkar said: "Hopefully we will slaughter all of them [Alawites]… I have another video clip that I will send to them. In the clip I am sawing another Shabiha [pro-government militiaman] with a saw. The saw we use to cut trees. I sawed him in small pieces and large ones"
He goes on to defend his actions, saying his brutality stems from a fundamental belief in the eye for an eye principle, and accusing the dead soldier in the video of having had footage on his mobile phone of him abusing and humiliating a naked women and her two daughters
Today's FSA statement comes as 'wanted' posters appeared in rebel-held areas, calling for Sakkar to be brought to justice "dead or alive".
It also emerged that the 27-second video had first been seen by TIME in April, and they obtained an actual copy a few weeks later. Despite several witnesses stating its authenticity, TIME said they set about independently authenticating the video, which led to Sakkar admitting responcicilty.
TIME reported that Sakkar had originally thought he was biting into the dead soldier's liver, despite widespread initial reports that the organ in question was his heart.
Sakkar now admits the organ was in fact one of the man's lungs – a claim substantiated by a surgeon who TIME showed the footage to.
Register for free to continue reading
Registration is a free and easy way to support our truly independent journalism
By registering, you will also enjoy limited access to Premium articles, exclusive newsletters, commenting, and virtual events with our leading journalists
Already have an account? sign in
Join our new commenting forum
Join thought-provoking conversations, follow other Independent readers and see their replies