Palestinian man who filmed IDF soldier shooting attacker dead 'threatened with arrest while reporting death threats'
Imad Abushamsiya's footage sparked international condemnation and is evidence in ongoing trial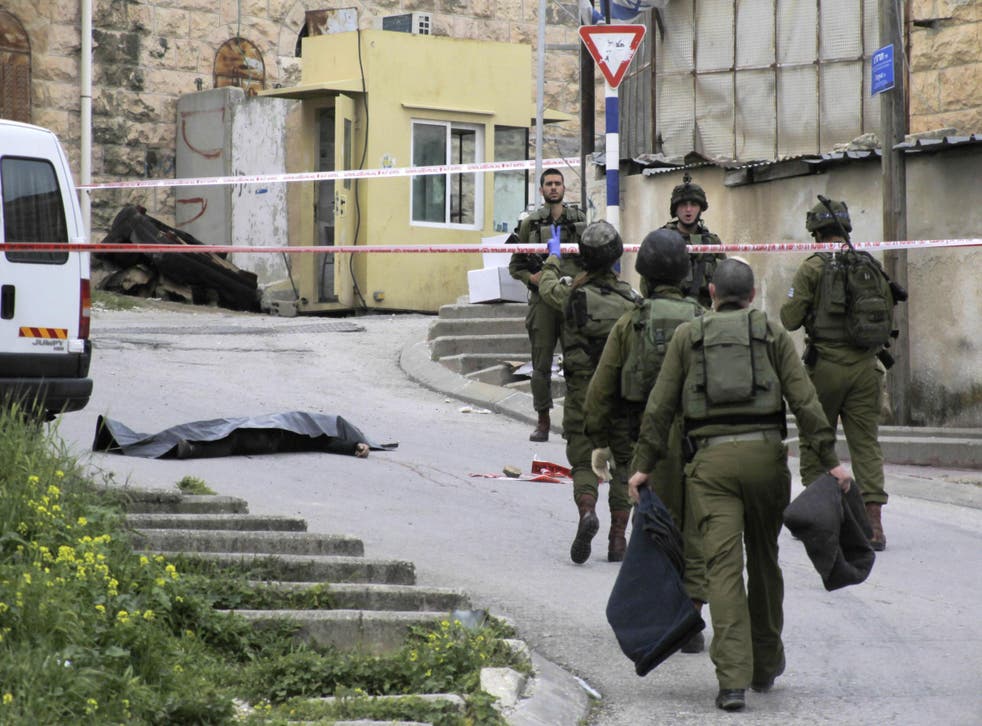 The man who recorded the moment an Israeli soldier shot a disarmed Palestinian man in the head says he has been threatened with arrest for attempting to report death threats.
Imad Abushamsiya's footage of Sergeant Elor Azaria shooting a knife attacker in the head as he lay motionless on the ground in Hebron sparked outrage around the world in March.
Azaria is now on trial for manslaughter in a case that has exposed deep divisions in Israel and the Occupied Palestinian Territories about the military's use of force.
Israeli soldier to stand trial in shooting death of Palestinian
Earlier this year, Mr Abushamsiya revealed he had received death threats from Israeli settlers living in the volatile West Bank city of Hebron.
He told The Independent posters had been distributed displaying his photo calling for his death, adding: "I live only 100 metres from the settlers and I am scared for my and my family's safety."
The Israeli human rights group B'Tselem has now lodged a complaint with Israel Police over officers' alleged treatment of Mr Abushamsiya.
It said that after threats intensified with a barrage of messages on Facebook, he went to Hebron Police station on 28 August.
After a lengthy wait, the officers told him he would not be able to file the complaint because they were too busy and to return the next day, B'Tselem said.
He returned as told but was again denied after several hours, but promised a named officer coming into work the following day would handle the matter.
But when Mr Abushamsiya visited again on Tuesday, the officer could not see him and he was forced to wait outside the station.
"Later, another police officer [name redacted] approached him," a spokesperson for B'Tselem said.
"When Mr Abushamsiya tried to explain the matter to him, the officer told him to leave, and even threatened to arrest him if he did not."
The group's lawyer, Gaby Lasky, has sent police a letter on behalf of the Palestinian man and B'Tselem demanding officials launch an investigation into Mr Abushamsiya's complaint and "properly address the death threats he has received".
"There is no need to elaborate on the egregious conduct of the police, which has obstinately refused to fulfil its fundamental duty and admit my client's urgent complaint using a variety of different excuses, and has treated my client with brazen disrespect, seriously violating of his dignity," the letter reads.
The Israeli–Palestinian conflict intensifies

Show all 10
"There is no doubt that the conduct of the police amounts to serious disciplinary offenses against my client, and even the criminal offence of abuse of power".
Mr Abushamsiya, an activist with the Palestinian Human Rights Defenders group, told The Independent he had previously been threatened and harassed for filming and photographing security forces in occupied areas of Hebron.
The city is split between Israeli and Palestinian Authority control, with thousands of Israelis living in heavily guarded settlements that are regarded as illegal under international law.
Hebron has become a focal point for a renewed wave of Palestinian attacks that have killed more than 30 Israelis and two American citizens since last September.
More than 200 Palestinians have been killed by Israeli security forces in the same period. Officials said the majority were carrying out or attempting attacks, while the rest were killed in clashes with Israeli forces, prompting the UN to raise concerns over proportionality.
The trial of Azaria, the soldier filmed shooting Abdel Fattah al-Sharif, has become a lightning rod for tensions in Israel and the West Bank, seeing angry protests over the killing followed by large rallies by supporters demanding he be freed.
The court case adjourned on Thursday, when a lieutenant said the rare manslaughter charge has made soldiers more hesitant to shoot Palestinians when they feel in danger.
Previously, the IDF presented an official pathologist for the prosecution saying Mr al-Sharif was alive and had a good chance of surviving his original wounds if Azaria had not shot him on 24 March.
Azaria claims he thought the Palestinian man was wearing a suicide vest after he and another man attempted to stab an IDF soldier, but other witnesses insist he posed no risk after being initially shot and left lying incapacitated in the road.
Mr Abushamsiya's footage show soldiers and paramedics bustling around Mr al-Sharif, but not treating him, before Azaria shouts "stand back!" and shoots him in the head at close range.
The video sparked international condemnation and a rare statement from the Israeli authorities criticising a "grave breach of IDF values, conduct and standards of military operations".
The Israeli Embassy in London has not responded to The Independent's request for comment.