How the killing of an 18-month-old boy in the West Bank exposed the Israeli authorities' failure to stem tide of Jewish extremists
The attack points out the vulnerability and helplessness of Palestinians in the face of settler violence
Ben Lynfield
Friday 31 July 2015 19:48 Comments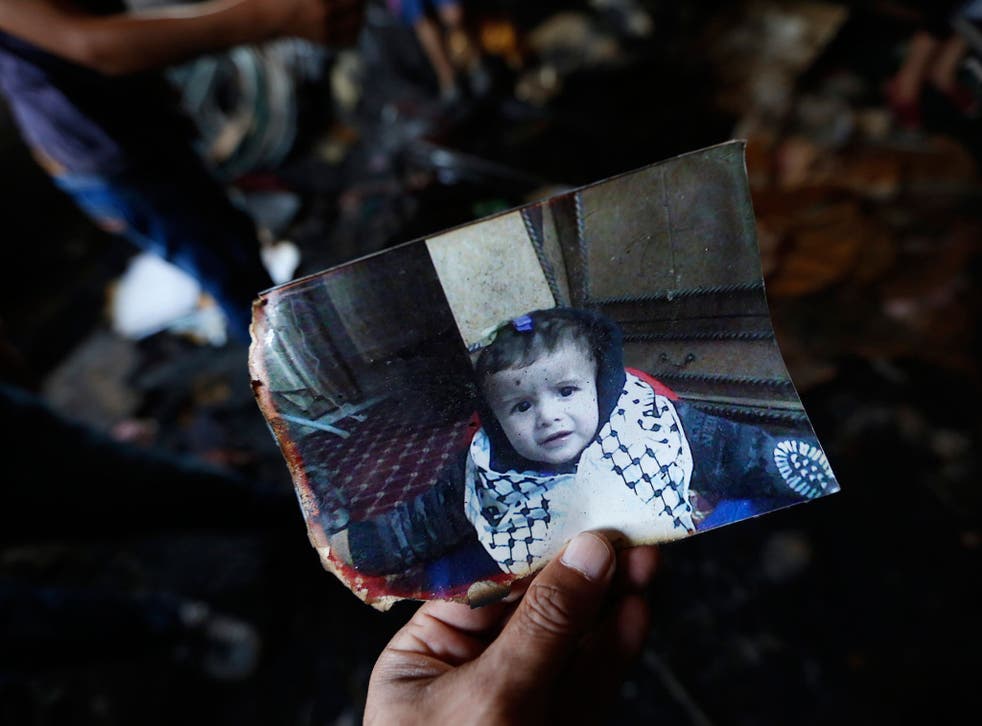 Hours after Jewish extremist settlers burned alive Ali Dawabsha, an 18-month-old Palestinian, some in the poor West Bank village of Duma, where some Arabs make a living by working on nearby Israeli settlements, took refuge in their religion.
Mourners at the child's hastily-arranged funeral were at a loss for words. Mahmoud Aloul, a leader of Palestinian President Mahmoud Abbas' Fatah movement, quoted from the Koran. "Don't think that those who died in the path of Allah are dead. He lives with God sustaining him."
A few mourners held up harrowing posters proclaiming the smiling toddler a "martyr"' and juxtaposing him against that most powerful symbol of Palestinian nationalism, the Dome of the Rock mosque in Jerusalem. "With blood and spirit we will redeem you, oh martyr," some mourners shouted, using the same chant heard at funerals of young men shot for throwing stones elsewhere in the West Bank or victims of the Israeli bombardments in Gaza last summer.
The attack on the Palestinian home in the occupied West Bank killed the infant and injured his parents and brother.
Their house in Duma had its windows smashed and fire bombs thrown inside before dawn as the family slept. Graffiti in Hebrew reading "revenge" was scrawled outside, below a Star of David. No arrests have been made.
The attack will be viewed as a tragic point in local history not only because of the boy's age, but because it points out the vulnerability and helplessness of Palestinians in the face of settler violence, which Israeli authorities have been "lax" in stemming, as the Israeli President, Reuven Rivlin, conceded.
Ali's parents Sa'ed and Riham and his four-year-old brother Ahmed, were taken by helicopter to Israeli hospitals after suffering serious burns at around 2am.
Neighbours said they saw two masked men at the scene. Another home in Duma was also attacked but its residents were away.
"I feel terrible, awful, disgusted and, of course, frightened," said Mahmoud Maklouf, who works in information technology and travelled to the funeral from his village of Asira Qabaliya which, like Duma, is near the northern West Bank city of Nablus. "If it happened here, it could happen anywhere. No one is safe," he said.
The Israeli Prime Minister, Benjamin Netanyahu, voiced his shock over the crime, condemning it as "an act of terror in every respect". He said: "The state of Israel takes a strong line against terror regardless of who the perpetrators are."
But Mr Maklouf told The Independent: "The Israeli government is indirectly responsible. Without their encouragement, the settlers would not commit these crimes. They come out of the hate atmosphere against Palestinians that this government promotes."
Sa'ed Dawabsha, 31, works in Israeli settlements. Riham, 27, the toddler's mother, is a school teacher.
There was a burnt smell in the air as their neighbour, Ibrahim Dawabsha, also a relative, recounted to The Independent how he rushed to the home after hearing calls for help. "Help me, they are slaughtering me'," the 23-year-old recalled Sa'ed screaming. He added: "When I got there, the father was in the yard. His clothes were on fire. I took clothes off his body, went with him and slowly put him in the entrance to our house. Then I went to see what was happening with his wife because he kept saying to me 'my wife, my wife.'
In pictures: Israel-Gaza conflict - summer 2014

Show all 18
"I went to look for her and found her unconscious. I tried to wake her – all her clothes were burnt. She awoke and I told her: 'I came to help you.' She was afraid I was one of the settlers. I told her: 'I am your neighbour'. I lifted her slowly, she said: 'Go to my son Ahmed, he is in the second room.' I went back for the boy but I couldn't see him because of the smoke. I managed to take him out. He was burned in the hands and legs. Then I was told there was another child inside.
"I tried with my brother to go in but it was difficult. We heard an explosion and then we went back outside. We didn't succeed in going in. Civil defence people took the boy out. He was covered and we knew he was dead."
Ibrahim Dawabsha's sister, Haneen, rode in the ambulance with Sa'ed and Riham Dawabsha. "All the time they asked about their children and they screamed in pain," she said. "I knew the boy was dead but I told them they are fine and in my house."
Israel's Public Security Minister Gilad Erdan said: "The signs point to this attack being carried out by Jews. A nation whose children were burned in the Holocaust needs to do a lot of soul searching if it bred people who burn other human beings."
Mr Abbas told reporters that by constantly expanding the Israeli settlements in the West Bank, the Israeli government "encourages the settlers to perpetrate what they do".
He termed the attack a "war crime and a crime against humanity".
Register for free to continue reading
Registration is a free and easy way to support our truly independent journalism
By registering, you will also enjoy limited access to Premium articles, exclusive newsletters, commenting, and virtual events with our leading journalists
Already have an account? sign in
Join our new commenting forum
Join thought-provoking conversations, follow other Independent readers and see their replies