Syria crisis: Boy filmed weeping over brother's body after dozens of civilians killed in Aleppo
Bashar al-Assad's regime is accused of being behind strikes that hit a hospital and civilian areas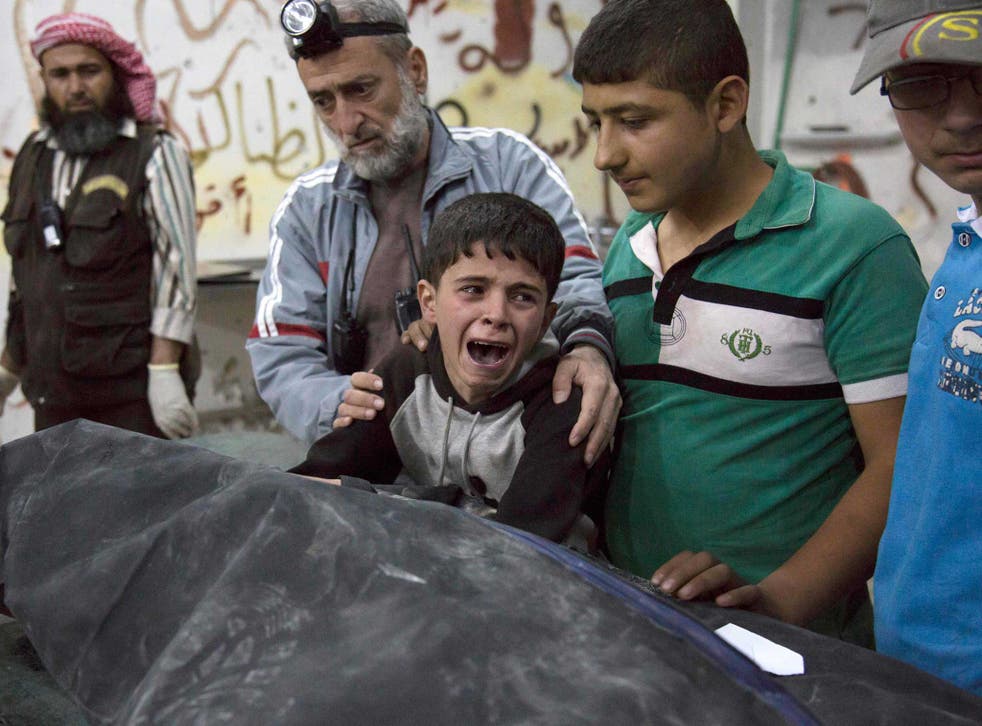 "I wish it was me, not you" a young boy cried as he wept over his brother's body after a wave of air strikes in Aleppo.
Dozens of civilians have been killed in bombing raids on rebel-held areas of the city, including one that killed more than 50 people at a hospital.
A young boy was filmed crying next to his dead brother in the al-Soukour district.
He was seen stroking his face and calling him "the love of my father" before rescuers zipped up the body bag and took it away.
Warning: Video contains distressing scenes
Dozens killed in wave of air strikes in Syria's Aleppo
A fresh round of bombardment started on Wednesday, shattering an increasingly fragile ceasefire struck between the Syrian regime and opposition rebels with UN support.
Air strikes and artillery rained down on Aleppo amid reports that forces are gathering on the city's outskirts, raising fears of an assault on rebel areas by Bashar al-Assad's forces and allies.
Video posted online by opposition activists showed rescuers pulling bodies from shattered buildings in the neighbourhoods of al-Soukour, Kallasa and Bustan al-Qasr.
The Al Quds hospital was reduced to flaming rubble by strikes on Wednesday night, killing at least 55 and injuring 60 more according to the Syrian Civil Defence group, including children, patients and vital doctors.
Footage showed children's bodies being pulled from the rubble, some of them horrifically mutilated.
In pictures: Syria conflict

Show all 40
Mothers were seen crying and searching for their children as some were found alive to huge cheers from crowds of rescuers.
The hospital was supported by Doctors Without Borders (MSF) and the International Committee for the Red Cross (ICRC), who both condemned the "carnage".
"MSF categorically condemns this outrageous targeting of yet another medical facility in Syria," said Muskilda Zancada, MSF's head of mission in Syria.
"This devastating attack has destroyed a vital hospital in Aleppo, and the main referral centre for paediatric care in the area."
An estimated 250,000 people remain in Aleppo, where regime forces are close to completely encircling rebel areas, leaving only one major road in and out.
Over the last week, several other medical structures have been attacked and destroyed in the city and five rescue workers from the Syrian Civil Defence organisation have been killed, MSF said.
John Kerry, the Secretary of State, said American authorities were still gathering information but believed the hospital strike was a "deliberate" attack by Syrian forces, adding: "This follows the Assad regime's appalling record of striking such facilities and first responders."
A Syrian military official in Damascus denied the government had hit the hospital and Major General Igor Konashenkov said Russian planes had not flown any missions in the region for several days.
The US-led international coalition conducting air strikes against Isis in Iraq and Syria also said it was not involved.
Syrian state media said more than 1,000 mortar rounds and rockets were fired at government-held districts, killing 22 people during the same period.
Humanitarian organisations have warned of an impending humanitarian crisis in Aleppo as stocks of contingency food and medical aid run out with little prospect of being replenished if fighting continues.
The "cessation of hostilities" that started on 27 February excluded internationally designated terrorist groups including Isis and its rival al-Qaeda branch, Jabhat al-Nusra.
Operations against the two groups continued but wider violence has been rising in recent weeks around Aleppo and northern Syria, with almost 200 people dying since 19 April including in an air strike on a market.
Staffan De Mistura, the UN envoy to Syria, told the Security Council that the truce "hangs by a thread."
Peace talks stalled last week after the opposition's High Negotiating Committee suspended its formal participation to protest alleged ceasefire violations by the government, a drop in humanitarian aid deliveries and no progress in winning the release of detainees.
Register for free to continue reading
Registration is a free and easy way to support our truly independent journalism
By registering, you will also enjoy limited access to Premium articles, exclusive newsletters, commenting, and virtual events with our leading journalists
Already have an account? sign in
Register for free to continue reading
Registration is a free and easy way to support our truly independent journalism
By registering, you will also enjoy limited access to Premium articles, exclusive newsletters, commenting, and virtual events with our leading journalists
Already have an account? sign in
Join our new commenting forum
Join thought-provoking conversations, follow other Independent readers and see their replies