'We are preparing to die': Idlib's 3m residents in fear ahead of final Assad regime assault on Syrian rebels
With most opposition pockets destroyed and Turkey's borders sealed, residents of Syria's Idlib province say there is nowhere to hide from the bloody battle ahead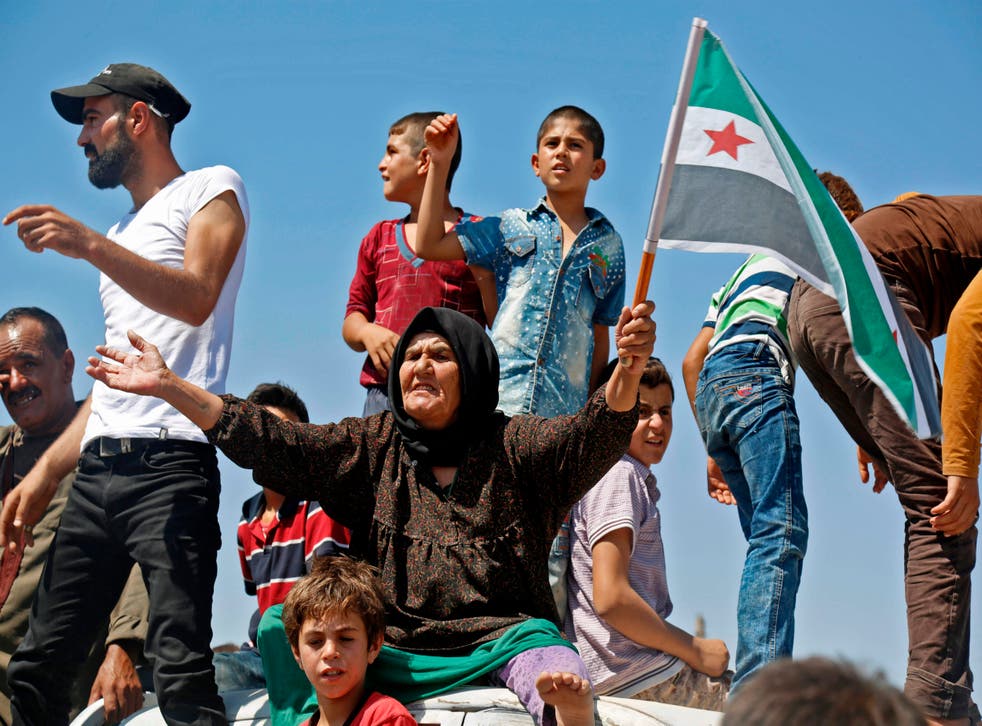 For Alaa, a young father in Idlib – the last remaining rebel stronghold in Syria – there is nothing left to do but wait to die. The former volunteer medic said he has no money to escape and nowhere else in the country to hide his family.
Backed by Russia, the forces of Syrian president Bashar al-Assad have conquered swathes of territory in recent months. In a now-familiar pattern of evacuation agreements, they have effectively corralled fleeing civilians, moderate rebels and also hardline jihadis into the northern province. The battle Assad is expected to launch on Idlib will likely be one of the final showdowns against the embattled opposition, and possibly mark a bloody end to the civil war.
The United Nations has expressed deep concern for the nearly 3 million people trapped in Idlib. Half of them, like Alaa, have been displaced from elsewhere within the country.
Alaa's family survived for years under a regime siege in rebel-held Zabadani near Damascus, where they nearly died from hunger before moving to the comparative safety of Idlib.
Alaa, whose baby daughter was born just two months ago, said he felt like a rat trapped in a box running from place to place for shelter. But now, with most opposition pockets destroyed and Turkey sealing its borders, there is nowhere left for families to go.
"I have no plan at all for the coming offensive. I have no money even for tomorrow, there is literally nothing I can do. I would prefer to die with my family than be displaced again," he told The Independent.
"If Idlib falls, my family and I will go with it. I'm tired of poverty and running from place to place seeking 'safety'. We are just preparing to die," he added.
More than 400,000 people have been killed since the start of bloody Syrian civil war in 2011. An additional 5 million have sought refuge abroad and over 6 million are displaced internally, according to the United Nations.
Fears for 3m people in rebel-held Idlib ahead of regime offensive

Show all 13
The UN said this week it was bracing for "the most horrific tragedy" in Idlib and dubbed it a "dumping ground" for fighters and civilians. Staffan de Mistura, the UN envoy for Syria, warned on Thursday that as many as 800,000 people could be displaced if the fighting does begin. He said he feared the potential use of chemical weapons by the regime and al-Qaeda.
On Friday, UN High Commissioner for Refugees Filippo Grandi said that an offensive on Idlib is "going to be very difficult". He added he has appealed to the government in Syria to find a way forward for the area, packed with civilians and armed groups, that "spares civilian lives".
No one knows when the anticipated offensive will start but a source said on Wednesday that Assad, who has amassed troops near Idlib, was preparing a phased offensive there, starting initially in the southern and western parts of the rebel-held territory.
Russian media, meanwhile, reported this week that Moscow had sailed at least 10 warships, armed with long-range missiles, and two submarines, to the Syrian coast in one of Russia's largest naval deployments since it intervened in the Syrian war in 2015.
Russian foreign minister Sergei Lavrov further banged the drums of war on Wednesday, saying that the militants in Idlib had to be liquidated, describing them as "a festering abscess". He seemingly tried to temper these words on Friday by saying negotiations are underway to establish a humanitarian corridor for civilians to be able to leave Idlib.
Fearing the worst, the UN's Mr Mistura called Idlib a "perfect storm" and said the UN was trying to table an evacuation plan with regional players including Russia, to allow civilians to leave the death trap.
"Short of going to Turkey, the civilians have no other option in order not to be where fighting may take place," he added.
Turkish president Recep Tayyip Erdogan said on Thursday his country was engaged in talks with Iran and Russia to avoid a humanitarian disaster in Idlib, which is supposed to part of a de-escalation deal Ankara agreed with Tehran and Moscow. The leaders of the three countries are slated to meet next week in Iran's Tabriz to discuss the mounting crisis.
But the situation in the northern province is complicated by the high concentration of jihadi fighters including al-Qaeda-linked groups like Hayat Tahrir al-Sham (HTS), which have in many areas eclipsed the moderate opposition.
The UN estimates some 10,000 al-Qaeda-linked fighters and their families are located in the densely populated region.
Many civilians fear the presence of the extremists will give the regime and its backers a carte blanche to crush the entire region using any means possible including chlorine or sarin gas. Idlib residents spoke of an atmosphere of terror in the towns.
"I don't think the regime cares if we are HTS, al-Qaeda or just civilians, Assad will not tolerate rivals," said Khalid, 32, a teacher who said his family was resigned to its fate.
Mohamed, 30, a father-of-two, nearly died of starvation in Madaya, a rebel-held town near Damascus, before he was evacuated to Idlib last year. He said his family had no way of protecting themselves against a chemical attack or the coming assault.
‪"Literary I have no backup plan if the regime entered Idlib," he added.
Rebel commanders told The Independent they were preparing for the assault by bolstering defence Iines and training light infantry for surprise attacks. On Friday Islamist factions from the National Liberation Front (NLF), the main non-jihadi alliance in Idlib, blew up two key bridges in a bid to hamper the expected government assault.
The bridges over the Orontes river link areas of neighbouring Hama to Idlib, and so could be one of the first targets of the regime offensive.
However, Idlib commanders admitted they had pretty much no defence against a chemical attack.
US State Department officials threatened this week to respond swiftly to any use of chemical weapons by Syria and warned Russia it would be held responsible. Both the Russians and the Syrians have repeatedly denied the use of chlorine or sarin gas during the war despite documented evidence of several regime assaults.
Captain al-Razzaq, a member of an Islamist rebel group in Idlib, said that no one in the province had a gas mask and they did not have chemical detectors or specialists on the front lines.
He said he expected a bloody battle as the regime considered "everyone in Idlib a terrorist" but maintained his men were ready.
"We don't have the means of protecting ourselves from mass destruction weapons like chemicals. But we are teaching civilians how they can best keep themselves safe," he told The Independent.
"We are in a battle where we have nothing to lose, the only choice we have is to fight."
Register for free to continue reading
Registration is a free and easy way to support our truly independent journalism
By registering, you will also enjoy limited access to Premium articles, exclusive newsletters, commenting, and virtual events with our leading journalists
Already have an account? sign in
Register for free to continue reading
Registration is a free and easy way to support our truly independent journalism
By registering, you will also enjoy limited access to Premium articles, exclusive newsletters, commenting, and virtual events with our leading journalists
Already have an account? sign in
Join our new commenting forum
Join thought-provoking conversations, follow other Independent readers and see their replies