IEDs: The 'weapon of choice' inflicting mass casualties around the world
IEDs killed nearly 23,000 civilians last year – and the global toll is rising, writes Cahal Milmo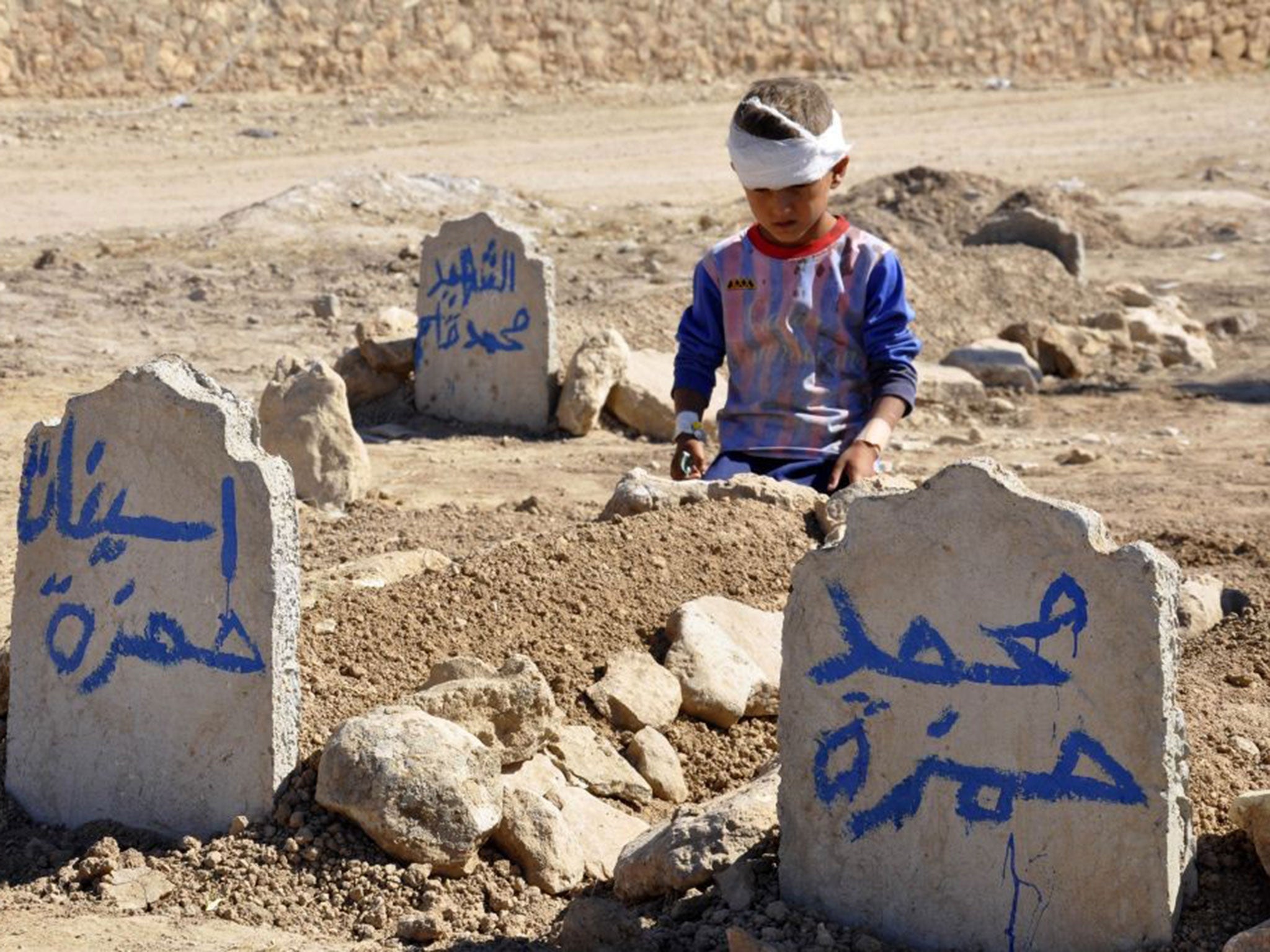 The pupils at Qabak's primary school were already at their lessons on 6 October last year when a truck drove unexpectedly into the playground at 9.30am. Moments later 13 students lay dead, their bodies destroyed by a suicide bomber seeking martyrdom by murdering children.
The force of the explosion from the bomb-laden lorry collapsed part of the single-storey school in a small, mainly Shia village in northern Iraq and also claimed the life of its male headteacher. A further 80 people, most of them from among the six- to 12-year-old students, were injured, some horribly maimed.
As a fleet of ambulances arrived to deal with the casualties, one of the casualties, a small boy called Ali who had suffered wounds to his head and legs, was found crying. He said: "I don't remember what happened. I just want to see my mother."
The attack was part of an orgy of violence which has dragged Iraq back to the dark days of the mayhem of 2008, when the country was on the brink of civil war.
The number of civilians killed or injured by explosive weapons in Iraq last year rose by 91 per cent to 12,799. According to the organisation Iraq Body Count, some 9,500 Iraqis died violent deaths in 2013, double the toll for 2012.
But the attack at Qabak was also evidence of another murderous – and disturbingly global – trend: the emergence of the improvised explosive device (IED) as the dominant means by which terrorists, and even governments, inflict mass casualties on civilian populations.
From suicide belts in Mali and car bombs in Pakistan to barrel bombs or jerry-rigged hot water boilers filled with explosives and shrapnel flung from helicopters by troops loyal to Syrian President Bashar al-Assad (inset), IEDs are now the weapon of choice for those hell-bent on killing others going about their daily lives.
A study by Action on Armed Violence (AOAV), a British campaign group which is part of a coalition of prominent charities seeking the strengthening of international curbs on the use of explosive weapons, has found that IEDs accounted for nearly three-quarters of non-combatants killed across the world last year by such weaponry.
This toll of 22,829 civilians killed or maimed by IEDs represents a 35 per cent increase in the number of casualties caused in 2012.
With at least one casualty caused by an IED in 41 different countries last year, from the pressure cooker bombs used in the Boston marathon to the targeting of a snooker hall in Pakistan, campaigners say there is an urgent need for a more coherent strategy tackle their spread.
Iain Overton, AOAV's director of policy and investigations, said: "IEDs are increasingly a weapon of choice. Almost every day the media reports on a bombing somewhere in the world, but unless it's a particularly shocking incident it only merits a mention in the news in brief column or an afterthought on the evening news.
"Everyone shrugs sadly like it's just business as usual. But the hard reality is that these attacks are on the rise and it's happening on our watch. A lot can be done to tackle the harm of IEDs and suicide bombings. But first we need to recognise that there's a problem."
For those whose lives were irrevocably changed last year by an IED, the purpose served by the weapons is all too clear: to turn normality into atrocity and in so doing spread terror and division.
Just short of two-thirds of IED explosions last year took place in populated areas such as town centres or public gatherings.
Markets and places of worship were particular targets, with the worst single attack on a market taking place in the Pakistani city of Quetta in February when a suicide attacker detonated 1,000kg of explosive in a tanker. The blast killed 89 people and levelled 40 shops.
A twin car bombing at two mosques in the Lebanese city of Tripoli took 47 lives and left 500 injured in the deadliest attack of its nature since the end of the civil war there nearly 25 years ago. The development of the IED has delivered into the hands of attackers a means of inflicting mass casualties without the need of direct confrontation with a superior force.
As a result, the increasing number of insurgencies, insurrections and repressions conducted around the globe are being intensified as knowledge of how to build a car bomb or suicide vest proliferates. Last year, suicide bombings were conducted in countries as diverse as China, Niger and Turkey.
Peter Neumann, professor of security studies at King's College London, said: "The use of IEDs is not new as such ... but many insurgencies are becoming more visible, more frequent and more intense, which means that – correspondingly – the numbers of IEDs are increasing, too. "
Campaigners believe that despite the insidious and random nature of IED attacks, all too often by fanatics, more can be done to reduce their toll on civilian victims.
The British and American military in places such as Afghanistan have been locked in a race with their Taliban attackers to develop electronic countermeasures to block remote-controlled IED detonations or detect concealed explosives.
All of which is of no comfort or advantage to the children of Qabak. Speaking in the aftermath of the attack, Abdul Aal al Obedi, Mayor of the adjoining town of Tel Afar, said: "These innocent children were here to study. What sins did they commit?"
Maximum mayhem: a race to the death
The rise of the improvised explosive device has also brought with it a "race to the bottom" as attackers seek new ways to inflict maximum casualties and generate outrage.
The AOAV study found that the deadliest type of IED attack involved the detonation of multiple devices, often timed to inflict casualties by blowing up second bombs among rescuers.
After a car bomb ripped the roof from a popular restaurant in the Somali capital of Mogadishu last September, those responsible ensured they had a suicide bomber ready to detonate his device as people flooded to the scene. Fifteen people were killed and dozens injured.
On average, such "multiple device" attacks result in 43 deaths and injuries.
The countries where IED use was highest last year - Iraq, followed by Pakistan, Syria and Afghanistan - have become synonymous with mass-casualty attacks inflicted by vehicle bombs or suicide attackers.
Organiser of IED attacks are also willing to target mentally ill individuals, including schizophrenics, to act as suicide bombers.
Join our commenting forum
Join thought-provoking conversations, follow other Independent readers and see their replies