Iran to release crew of UK-flagged tanker, as Tehran's vessel goes off grid near Syria
Reports and ship-tracking data suggest Adrian Darya 1 has moored off Syrian coast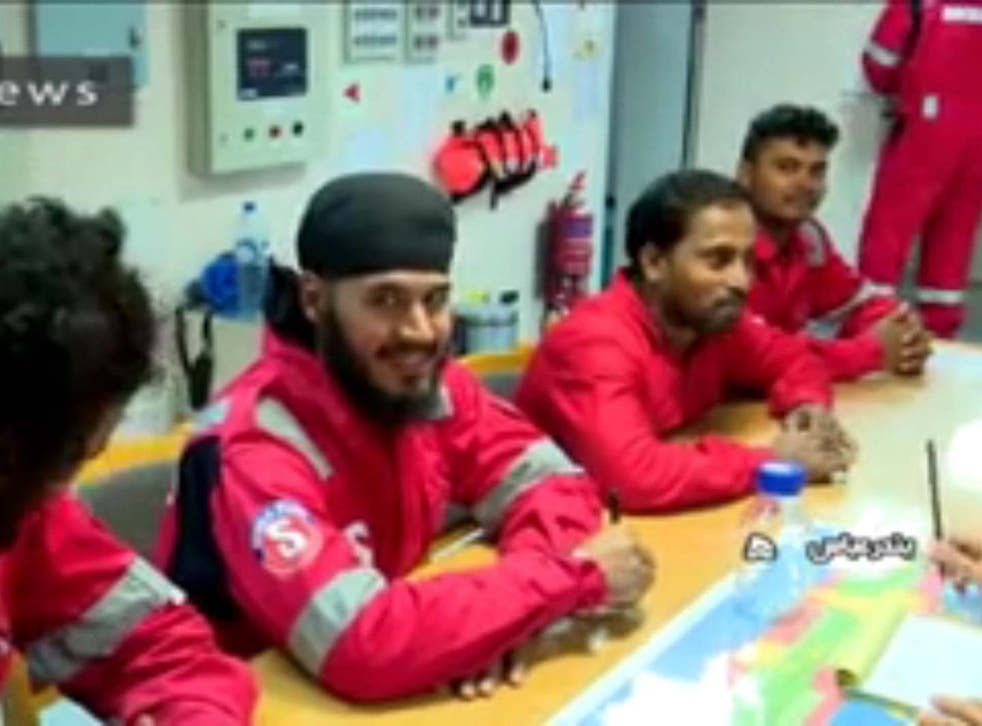 Iran will release seven crew members of the British-flagged tanker it captured in July on vague charges of violating maritime law, a fortnight after Gibraltar released an Iranian supertanker it had held at the behest of the US.
Iran's foreign ministry spokesman said Iran would release five Indians, one Russian and a Latvian who are crew members aboard the Stena Impero, which Iran seized in 19 July along the Strait of Hormuz in apparent response to Gibraltar's earlier capture of an Iranian oil tanker, the Grace 1, now renamed the Adrian Darya 1.
"They have left the vessel and the final procedures are underway to send them back to their countries," Seyyed Abbas Mousavi, the Iranian foreign ministry spokesman, said in a televised appearance.
The UK and Gibraltar seized the Adrian Darya 1 following allegations the ship was taking its load of 2.1 million barrels of oil to a refinery on the Syrian coast, in violation of European Union sanctions.
Gibraltar, backed by the UK, agreed to release the ship after Iran formally promised the oil would head elsewhere.
In photos: British-flagged tanker seized by Iran

Show all 13
But reports and ship-tracking data on Tuesday suggested that the Adrian Darya 1 had moored off the coast of Syria and was unloading its oil onto smaller vessels to take them to port.
Iran has said that it has sold the ship's cargo to a private buyer. It reportedly had turned off its GPS tracking, a move ships make when they are attempting to hide their activity.
The US Treasury last week placed sanctions on the Adrian Darya 1 and its crew.
Iranian supertanker released from Gibraltar
"The US will not idly watch the Assad regime use Iranian oil to terrorise its own people," Mike Pompeo, the US secretary of state, wrote in a tweet.
"Stop nagging Secretary Pompeo," Iran's foreign minister Mohammad Javad Zarif wrote in response. "We will sell oil to any and all buyers."
The Stena Impero, owned by the Swedish firm Stena Bulk, remains held by Iran.
Register for free to continue reading
Registration is a free and easy way to support our truly independent journalism
By registering, you will also enjoy limited access to Premium articles, exclusive newsletters, commenting, and virtual events with our leading journalists
Already have an account? sign in
Register for free to continue reading
Registration is a free and easy way to support our truly independent journalism
By registering, you will also enjoy limited access to Premium articles, exclusive newsletters, commenting, and virtual events with our leading journalists
Already have an account? sign in
Join our new commenting forum
Join thought-provoking conversations, follow other Independent readers and see their replies