Iran's supreme leader bans holding 'any US talks' after Trump offer
Ayatollah Ali Khamenei says reneging of nuclear deal shows Washington cannot be trusted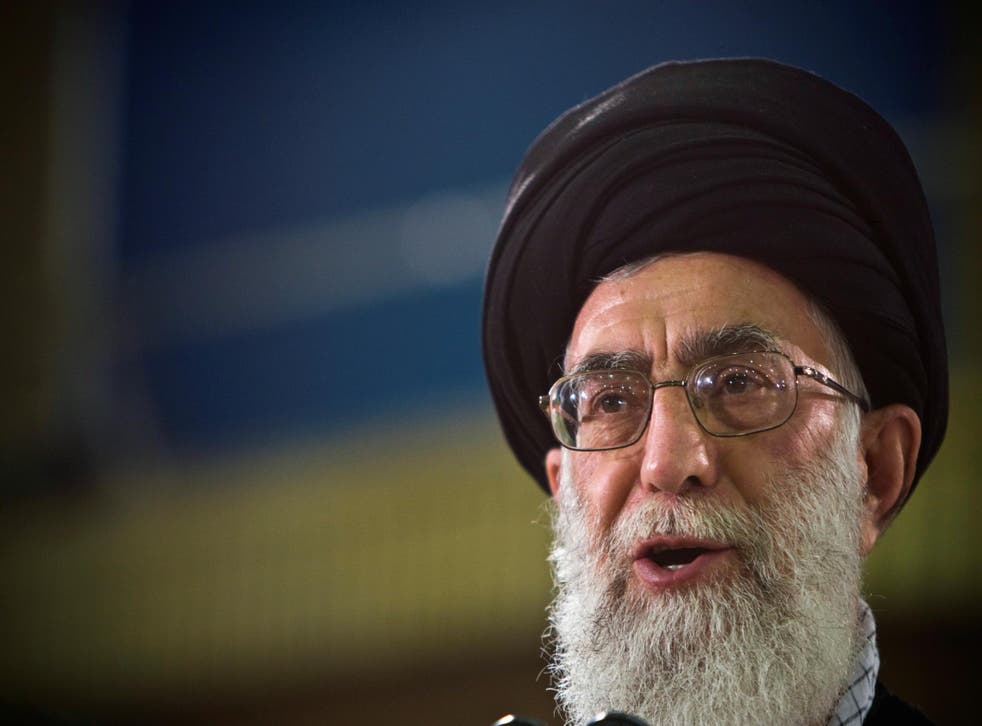 Iran's supreme leader has banned holding "any talks" with the US following Donald Trump's offer of unconditional dialogue in a bid to improve bilateral ties.
Ayatollah Ali Khamenei, who has the final say on policy in the Islamic Republic, said Mr Trump's reneging of the Obama-era nuclear deal was evidence America cannot be trusted.
He also accused the Iranian government of economic mismanagement in the face to new US sanctions.
Washington reimposed sanctions last week after pulling out of the 2015 international deal aimed at curbing Iran's nuclear programme in return for an easing of economic sanctions.
Mr Trump has also threatened to penalise companies, including ones from the EU, that continue to operate in Iran.
Woody Johnson, the American ambassador to the UK, urged the British government to rethink its support for the "flawed 2015 deal" in a recent article in the Sunday Telegraph.
"I ban holding any talks with America... America never remains loyal to its promises in talks," state TV quoted Mr Khamenei as telling a gathering attended by thousands of Iranians. "America's withdrawal from the nuclear deal is a clear proof that America cannot be trusted."
Trump says he would meet with Iran's leaders without preconditions
The sanctions target Iran's trade in gold and other precious metals, its purchases of US dollars and its car industry.
Washington had said Iran's only chance of avoiding the sanctions would be to accept Mr Trump's offer to negotiate for a tougher nuclear deal. Iranian officials already rejected the offer but it is the first time Mr Khamenei has publicly commented.
However, Mr Khamenei ruled out the possibility of war with the US.
"They (the Americans) are exaggerating the possibility of a war with Iran. There will be no war... We have never started a war and they will not confront Iran militarily," he said.
Mr Khamenei, whose remarks on Monday come amid a sharp fall in the rial currency that has prompted angry protests, criticised the government of president Hassan Rouhani, a pragmatist cleric who championed the 2015 deal aimed at ending Iran's political and economic isolation.
"More than the sanctions, economic mismanagement (by the government) is putting pressure on ordinary Iranians... I do not call it betrayal but a huge mistake in management," state TV quoted Mr Khamenei as saying.
"With better management and more efficient planning we can resist the sanctions and overcome them," Mr Khamenei said, in an apparent effort to deflect public anger over the deteriorating economy towards Mr Rouhani's government.
European countries, which still back the 2015 deal, fear Mr Trump's moves will undermine Mr Rouhani and strengthen the hand of his hardline rivals in the clerical establishment.
Iran parliament reacts after Trump's withdrawal from nuclear deal

Show all 10
The rial has lost about half of its value since April in anticipation of the renewed US sanctions, driven mainly by heavy demand for dollars among ordinary Iranians trying to protect their savings.
Iranian officials have blamed "enemies" for the fall of the currency and a rapid rise in the price of gold coins, and more than 60 people, including several officials, have been arrested on charges that carry the death penalty.
"The corrupt people (officials) should be punished firmly," Mr Khamenei said on Monday.
Thousands of Iranians have protested in recent weeks against sharp rises in the prices of some food items, a lack of jobs and state corruption. The protests over the cost of living have often turned into anti-government rallies.
Defying US demands to curb its missile programme, Iran unveiled a new generation of its "Fateh Mobin" short-range ballistic missile on Monday, state TV reported.
"Our will to enhance our defence power in all fields will increase if the pressure mounts on Iran," defence minister brigadier general Amir Hatami said after unveiling the "fully home-made precision-guided" missile.
Mr Trump has said Iran must also stop meddling in conflicts in Syria and Yemen, but foreign minister Javad Zarif struck a defiant tone on Monday, telling Qatar's al Jazeera TV: "Iran will not change its policies in the region because of US sanctions and threats."
Additional reporting by Reuters
Join our new commenting forum
Join thought-provoking conversations, follow other Independent readers and see their replies