Iran-Iraq earthquake: Israeli offers of help to victims 'turned down'
'I've said many times that we have no quarrel with the people of Iran ... Our quarrel is only with the tyrannical regime that holds them hostage and threatens our destruction,' says Prime Minister Benjamin Netanyahu
Wednesday 15 November 2017 13:16 Comments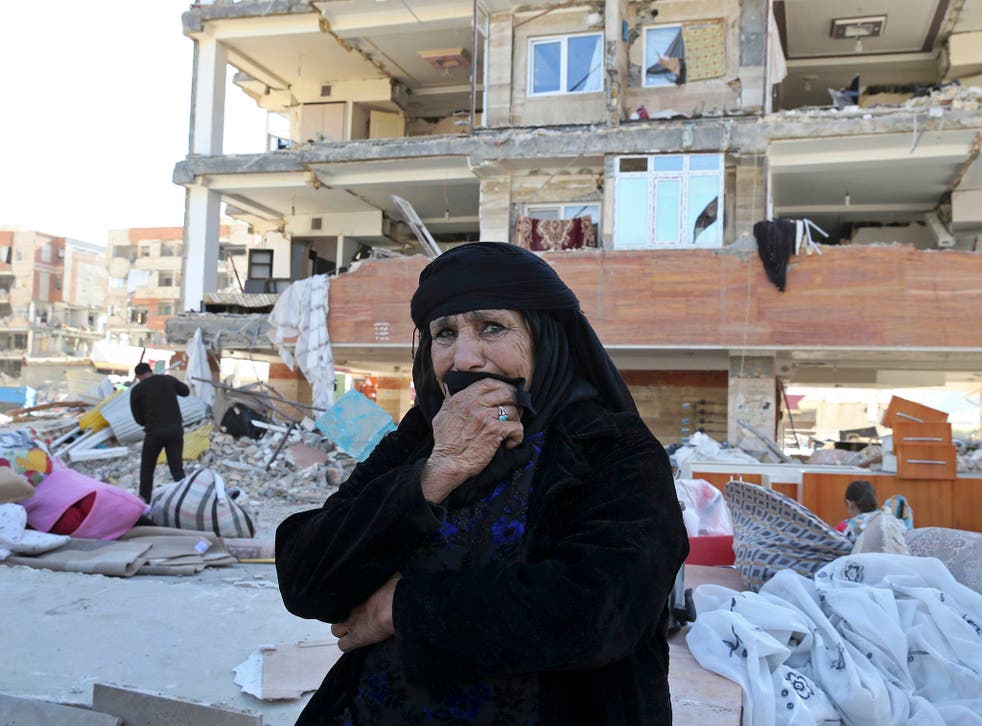 Offers from Israel of humanitarian aid for those affected by the devastating earthquake in Iran and Iraq were rejected, Israeli Prime Minister Benjamin Netanyahu has said.
Addressing an event in Los Angeles for Jewish diaspora leaders in the US on Tuesday, Mr Netanyahu said that he had personally decided to offer help after being shaken by news of the quake, which killed more than 530 people and left 70,000 homeless.
"I just saw the pictures of the destruction in Iran and Iraq from this week's earthquake. And I saw these heartbreaking images of men and women and children buried under the rubble," Mr Netanyahu told the event via a video link, The Times of Israel reported.
"I am proud to announce tonight that a few hours ago, I directed that we offer the Red Cross medical assistance for the Iraqi and Iranian victims of this disaster."
Deadly earthquake on Iran-Iraq border disrupts live interview
The Prime Minister added: "I've said many times that we have no quarrel with the people of Iran.
"Our quarrel is only with the tyrannical regime that holds them hostage and threatens our destruction. But our humanity is greater than their hatred. Israel continues to be a light unto the nations and this is what I am proud of. And all of you can be proud of Israel's morals, and Israel's might."
Mr Netanyahu said the offer was made via the International Committee of the Red Cross. A spokesperson from his office said later on Tuesday that the assistance had been "immediately rejected".
"This shows the true face of the Iranian regime," the official said.
Damage caused by Iran earthquake: in pictures

Show all 17
Several Home Front Command officials told Israeli media they were not previously aware of any proposed aid packages. The Red Cross has been contacted for comment.
In Sarpol-e Zahab, the Kurdish majority town in western Iran which borne the brunt of the damage, rescue workers continued to look for survivors amid the rubble for the third day in a row, but hope is fading in the cold November temperatures.
Relief workers said there is still an immediate need for blankets, children's clothes, medicine and large cans to store drinking water.
Sunday's magnitude 7.3 quake was centred 31 kilometres (19 miles) outside the eastern Iraqi city of Halabja, the US Geological Survey said.
It struck at a relatively shallow depth of 23.2 kilometres (14.4 miles), which usually leads to broader surface-level damage; tremors were recorded as far west as the Israeli coast of the Mediterranean and as far south as Baghdad.
Across the border in Iraq, the earthquake killed at least seven people and injured 535 others, all in the country's northern, semi-autonomous Kurdish region, according to its Interior Ministry.
Iran, which sits on several geological fault lines, is prone to earthquakes. A magnitude 6.6 quake in 2003 killed 26,000 in the city of Bam.
Israeli help then was also rejected, which led the the country not to offer assistance following two quakes in 2009 which killed 300 people.
Register for free to continue reading
Registration is a free and easy way to support our truly independent journalism
By registering, you will also enjoy limited access to Premium articles, exclusive newsletters, commenting, and virtual events with our leading journalists
Already have an account? sign in
Join our new commenting forum
Join thought-provoking conversations, follow other Independent readers and see their replies