Iranian Man jailed for protesting against acid attacks goes on hunger strike for 65 days
'My son is not a killer, he's not a criminal,' his mother says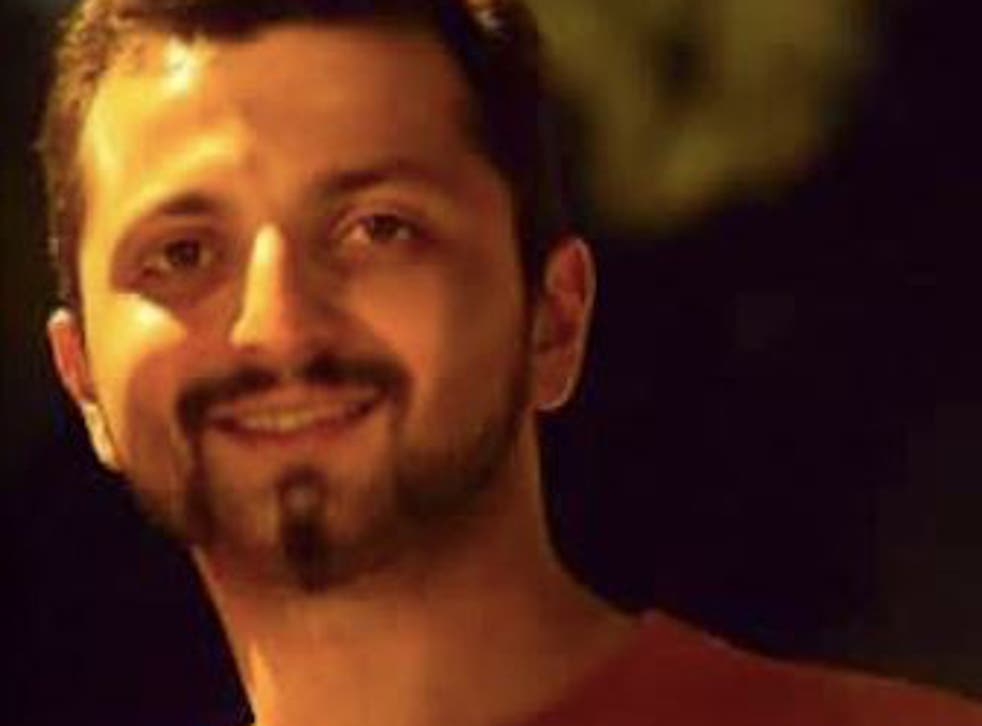 A man has spent 65 days on hunger strike in an Iranian prison to protest against his five-year sentence for taking part in a demonstration against acid attacks on women.
Ali Shariati's health has deteriorated as his weight dropped dramatically, his mother said.
The 30-year-old was sentenced to five years in September 2015 for attending a demonstration against government inaction following a spate of acid attacks in a number of Iranian cities.
Women were reportedly targeted women for not being properly veiled.
One woman died and another, Soheila Jokesh, lost the sight in one of her eyes after having the corrosive substance poured over her face.
Iranian authorities made four arrests but said there was not enough evidence to charge anyone, sparking protest rallies in the capital Tehran and Isfahan where Mr Shariati was arrested.
The charges against him were unclear but he was sentenced seven months later in September 2015.
In an interview with Persian language channel Manato TV, Mr Shariati's mother Shayesteh Shahidi said her son's weight had dropped from 70kg to 50kg since he began his fast.
"Last week, during contact visitation, he collapsed on the ground in the visitation room," she said
Iranian women continue to defy cycling ban
"It was hard for me as a mother to see [my] child collapsing on the ground in front of [my] eyes
She also alleged Mr Shariati had been denied water by the prison authorities.
"My son is not a killer, he's not a criminal," she added. "I want them [Iranian politicians] to save my child I want them to hear his voice."
Amnesty International's Iran Researcher Raha Bahreini also appealed for Mr Shariati's immediate release.
"Ali Shariati has been unjustly imprisoned for peacefully protesting," she said in a statement. "He's a prisoner of conscience who shouldn't even be in prison in the first place.
World news in pictures

Show all 50
"His terrible predicament is part of a very disturbing pattern: the Iranian authorities punish those who bravely speak out against human rights abuses, but do little or nothing about the primary abuses themselves.
"Instead of watching Ali Shariati go to the brink of death on hunger strike, the authorities should release him immediately and unconditionally."
Outspoken Iranian politician Ali Motahari has also condemned the treatment of Mr Shariati and other political prisoners.
"I hope judicial officials resolve this issue wisely to prevent human rights excuses for the enemies of the Islamic revolution," he wrote in a social media post, alongside a photo in which Mr Shariati looked malnourished.
Mathias Zwick: Skateboarders of Iran

Show all 11
Earlier this week, another political activist in Iran, who is serving 15 years in prison for charges of conspiracy against President Hassan Rouhani's regime, ended a 70-day hunger strike after authorities agreed to temporarily release his wife from prison.
Arash Sadeghi's wife Golrokh Ebrahimi Iraee is serving six years for "insulting Islamic sanctities" and "spreading propaganda against the regime".
Ms Iraee was imprisoned in October after Iranian authorities discovered an unpublished story she had written about a woman being stoned to death.
In December President Rouhani unveiled a bill of rights that would protect freedom of speech, protest, fair trials and privacy, in an apparent effort to appeal to progressive supporters ahead of a re-election bid in May.
Join our new commenting forum
Join thought-provoking conversations, follow other Independent readers and see their replies