Iran under pressure over missiles as western countries refine their own rockets
Spate of launches may undermine drive to get Iran to scale back its programme
Borzou Daragahi
Istanbul
Thursday 07 February 2019 20:44 Comments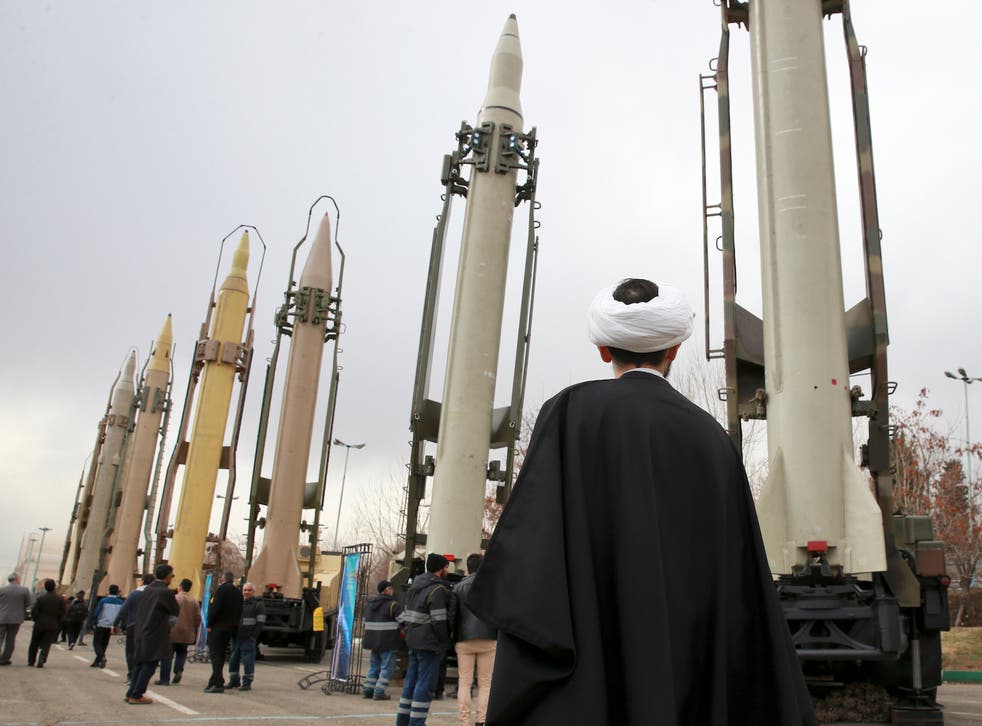 On the same day Donald Trump called out Iran in his State of the Union address as a major target of his administration, Tehran test-fired a satellite rocket in defiance of US warnings not to do so.
Satellite images released on Thursday by the firm DigitalGlobe suggested Iran sought to launch a satellite into orbit on Tuesday as part of its space programme. It remained unclear if the launch was successful, though nonproliferation experts say it was likely a failure because it has not been spotted by amateur satellite observers or appeared on a US registry of space objects.
Western powers have recently upped pressure on Iran over its missile programme, even as they themselves abandoned long-standing deals over the testing and refinement of long-range weaponry. Although ostensibly for civilian purposes, such launches have worried western powers because the same rocket technology used to put devices into outer space can be repurposed for intercontinental ballistic missiles.
Iran has curtailed its nuclear programme after a 2015 deal with the western powers that the US later abandoned. The images from the Imam Khomeini Spaceport show what appear to be scorch marks on a launch pad where a missile had earlier been spotted. The launch appeared to be the second attempt by Iranians in less than a month to fire off a satellite.
Earlier this week Iran successfully launched a long-range surface-to-surface missile with a range of 1,350km (839 miles). The US says Iran's rocket launches violate the UN Security Council resolutions which call on Iran to refrain from developing ballistic missile technology that could be used with an atomic warhead. Europeans say Iran's attempts to expand it's missile programme unnecessarily raise regional tensions.
"The missile launches are provocative for sure," said one western diplomat. "They are a way to manage domestic and international pressure of the nuclear deal that provides no benefit for the Iranian economy."
But Iran, which was scarred by Saddam Hussein's missile attacks on its cities during the 1980s war with Iraq, says the UN Security Council language does not forbid launches and they are not linked to Iran's nuclear programme.
Iran says its missile programme is an essential part of its defence in a hostile region. It has vowed to continue pushing ahead with the programme regardless of western complaints. The collapse of the Itermediate-Range Nuclear Forces (INF) Treaty, a major 1987 US-Russian accord on potential nuclear missile technology, this week may hamper any efforts to convince Iran to scale back its own programme.
"The US abandoning the nuclear deal and Saudi Arabia's missile programme are bigger obstacles but it doesn't help to have a reputation for walking away from agreements," said Jeffrey Lewis, a scholar at the James Martin Centre for Nonproliferation Studies. "Leaving the INF leaves the impression that we're not worth negotiating with."
Recent launches of weaponry across the globe could also discourage Iran from restraining its programme. France, the US and Russia all test-fired nuclear-capable missiles on Tuesday. Meanwhile, Iran's regional rival Saudi Arabia, on the same day, launched a surveillance and communications satellite into orbit aboard a French rocket fired from a space centre in South America.
Iran's Supreme Leader, Ali Khamenei, has reportedly placed a 2,000km limit on the range of missiles Iran's military can develop. EU officials, led by foreign relations chief Federica Mogherini, have begun a series of talks with Iranian diplomats about the missile programme.
On Thursday, Brigadier General Amir Ali Hajizadeh, commander of the Revolutionary Guard's aerospace division, was quoted as saying that Iran would never negotiate away its missiles, regardless of the ongoing negotiations.
"The missile key is not in the hands of the government," he said, in reference to President Hassan Rouhani's administration. "This preventive power has been made available to the country and we do not negotiate over it with anyone. Missile tests do not fall within the scope of the government's authority."
Iran celebrates the 40th anniversary of its 1979 revolution on 11 February, a major national holiday in the Islamic Republic. The run-up to the day is typically filled with announcements of new weaponry and scientific achievements.
Iran's army on Thursday announced a new tank transporter, mobile border control units and communications vehicles, which an Iranian commander said were built with parts that were "100 per cent indigenous". In a dramatic segment shown on state television, the Revolutionary Guard unveiled what it described as a secret facility where it was building a precision surface-to-surface ballistic missile with a range of 1,000km.
Mr Lewis said it remained increasingly unrealistic to expect Iran and other countries to abide by limits on their missile programmes when the great powers continued to refine their own technologies.
"The big countries still have these capabilities and find them useful," he said. "It's pretty hard to tell Iranians, Brazilians, South koreans that they can't have them. There's not a very persuasive argument you can make that you can't have these technologies, but we can. There's only coercion"
Register for free to continue reading
Registration is a free and easy way to support our truly independent journalism
By registering, you will also enjoy limited access to Premium articles, exclusive newsletters, commenting, and virtual events with our leading journalists
Already have an account? sign in
Join our new commenting forum
Join thought-provoking conversations, follow other Independent readers and see their replies