Iranian morality police beat and detain 14-year-old girl 'for wearing ripped jeans'
'I still carry the bruises sustained from their beatings on my face ... my ribs still hurt'
Lizzie Dearden
Wednesday 15 February 2017 17:27 Comments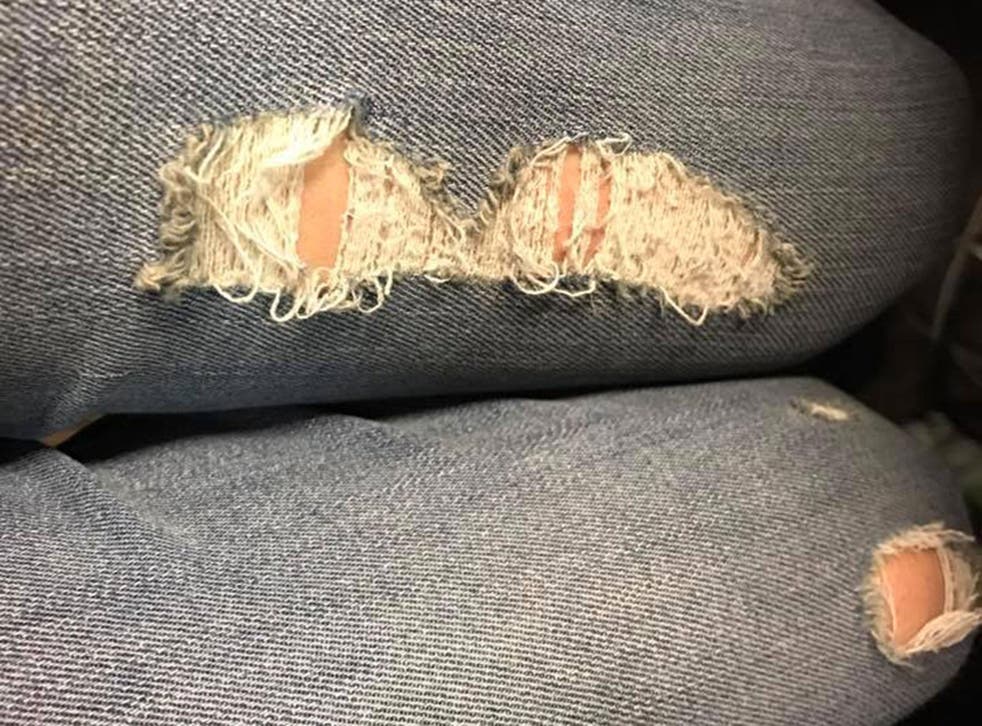 A 14-year-old girl has been beaten and detained for wearing ripped jeans in Iran in the latest incident of police brutality against women and girls.
Zahra*, who The Independent is not identifying for fear she may suffer reprisals, was celebrating her birthday with friends last week when a patrol of "morality police" pulled up.
The teenager said officers tried to force her and her friends into their car in the city of Shiraz, beating them when they resisted.
"There were two women and two men in a huge van and they pushed us into it with the force of their beatings," she recalled. "Their objection was to the ripped jeans that we were wearing. There were really no other issues concerning my friends and I."
​Zahra and the other girls were released after being made to sign written pledges that they would not wear the trousers again and adhere to Iran's strict interpretation of "modest" dress codes in the future.
"I still carry the bruises sustained from their beatings on my face," she said. "I still feel their pressure on my arm and my ribs still hurt."
In an exclusive interview with The Independent, her mother described the ordeal as "the worst day of my life, as if the world has ended for me".
"I know my daughter feels the same," she added, recalling how she helplessly followed the morality police car to the station.
Zahra's mother, who suffers from multiple sclerosis, said male officers had threatened the girls with pepper spray to get them into the car, while female officers hit them and pulled their hair.
"It was unbelievable," she added. "When I entered the room, they were saying that these girls are not children any more and should wear proper clothes.
"Signs of bruises are still visible all over her body. My daughter and her friends were wearing ordinary clothes, it was just that they were wearing ripped jeans."
Masih Alinejad, who runs the My Stealthy Freedom rights campaign for Iranian women, said many others had gone through similar experiences.
"In the 21st century it is shameful to hear that a government makes decisions on how women should dress," she added.
"There are many women sharing stories showing that they got lashes just because of attending a mixed party with men or dancing with men at a birthday party."
Ms Alinejad, who left Iran in 2009 and now works as a journalist in New York, called on female politicians in her home country to fight "discriminatory laws" on Islamic dress codes.
Rules are enforced by thousands of visible and undercover religious or "morality" police, who patrol the streets to check for violations.
Women found to have their hair or bodies inadequately covered can be publicly admonished, warned, fined or even arrested, while vigilantes are also active.
The countries with anti-women laws

Show all 5
Iranians attempting to resist the draconian enforcement patrols started a phone app called "Gershad" to report their locations last year, but authorities in Tehran went on to deploy a new unit of 7,000 officers.
The internet has increasingly moved into the firing line for the country's government, which claims to base its legal code on Islamic sharia law.
There have also been frequent crackdowns on social media, with several women arrested last year for sharing "vulgar" photos on Instagram, including one who was made to issue a public apology on state television.
Travel advice issued to British citizens by the Foreign and Commonwealth Office urges visitors to respect Iran's traditions and laws, while "ensuring actions do not offend".
It recommends that women wear headscarves in public places, along with trousers or full-length skirts and long-sleeved tunics and coats.
Relationships between non-Muslim men and Muslim women are also illegal in Iran and punishable by whipping (for the women), although few Westerners have been prosecuted.
Homosexuality, adultery and sex outside of marriage are also against Iranian law and can carry the death penalty, while access to Western women's magazines and films is strictly controlled.
Alcohol is also strictly forbidden, with exceptions covering religious minorities but not foreigners, although secret drinking is relatively widespread.
The Iranian embassy in London could not be reached for comment.
*not her real name
Register for free to continue reading
Registration is a free and easy way to support our truly independent journalism
By registering, you will also enjoy limited access to Premium articles, exclusive newsletters, commenting, and virtual events with our leading journalists
Already have an account? sign in
Join our new commenting forum
Join thought-provoking conversations, follow other Independent readers and see their replies