Iran nuclear deal: Ayatollah Ali Khamenei rejects long-term freeze on nuclear research and demands lifting of sanctions
Hardening of position threatens chances of reaching a potentially groundbreaking agreement
Ali Akbar Dareini
Wednesday 24 June 2015 21:25 Comments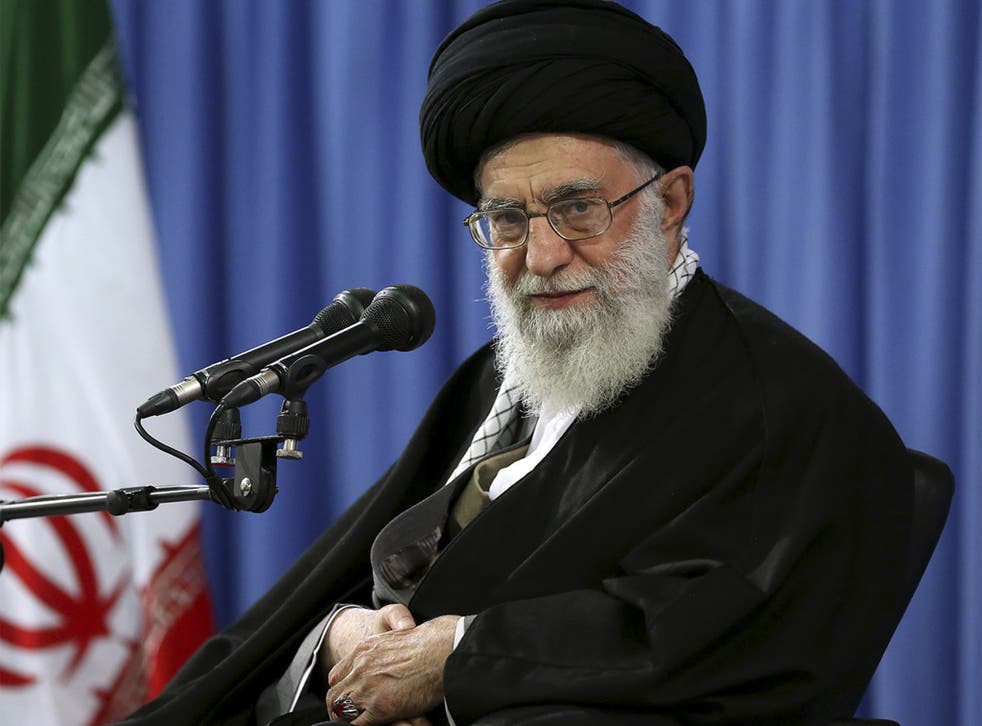 Iran's stance on nuclear research has hardened less than a week before the deadline on a proposed deal with world powers.
Supreme leader Ayatollah Ali Khamenei rejected a long-term freeze on nuclear research at the same time as Iran ratified a bill banning access to military sites and scientists.
He also insisted that Iran will only sign a deal if international sanctions are lifted first, which could further complicate the negotiations. The ratified bill calls for all sanctions to be lifted on the first day of implementation.
The Ayatollah has backed his negotiators amid criticism from hard-liners, but his latest remarks may narrow their room to manoeuvre ahead of a self-imposed 30 June deadline for a potentially groundbreaking deal with world powers that would curb Iran's nuclear activities in exchange for lifting sanctions.
Iran's constitutional watchdog, known as the Guardian Council, ratified legislation banning access to military sites and scientists, making it law, according to state television.
The bill would still allow for international inspections of Iranian nuclear sites within the framework of the nuclear non-proliferation treaty.
The US – which is negotiating the deal with Britain, France, Russia, China and Germany – has said the sanctions would be gradually lifted as inspectors verify Iran's compliance with the deal.
Speaking in comments broadcast on Iranian state television, Ayatollah Khamenei said demands that Iran halt the research and development portion of its nuclear programme constituted "excessive coercion."
"We don't accept 10-year restriction. We have told the negotiating team how many specific years of restrictions are acceptable," he said. "Research and development must continue during the years of restrictions."
He said that waiting for the UN's International Atomic Energy Agency to verify Tehran's co-operation would take too long. The Americans' "goal is to uproot and destroy the country's nuclear industry," he said.
France's Foreign Minister, Laurent Fabius, alluded to the Ayatollah's comments, saying that France "wants the deal to be robust" but that "a certain number of statements do not seem to go in that direction".
He added that his country "wants a solid accord, but at the same time must stress the firmness of its positions".
AP
Register for free to continue reading
Registration is a free and easy way to support our truly independent journalism
By registering, you will also enjoy limited access to Premium articles, exclusive newsletters, commenting, and virtual events with our leading journalists
Already have an account? sign in
Join our new commenting forum
Join thought-provoking conversations, follow other Independent readers and see their replies