Iran nuclear deal: Historic agreement reached with US and other world powers
Both sides declare victory as 4.30am agreement in Geneva crowns  months of intense negotiations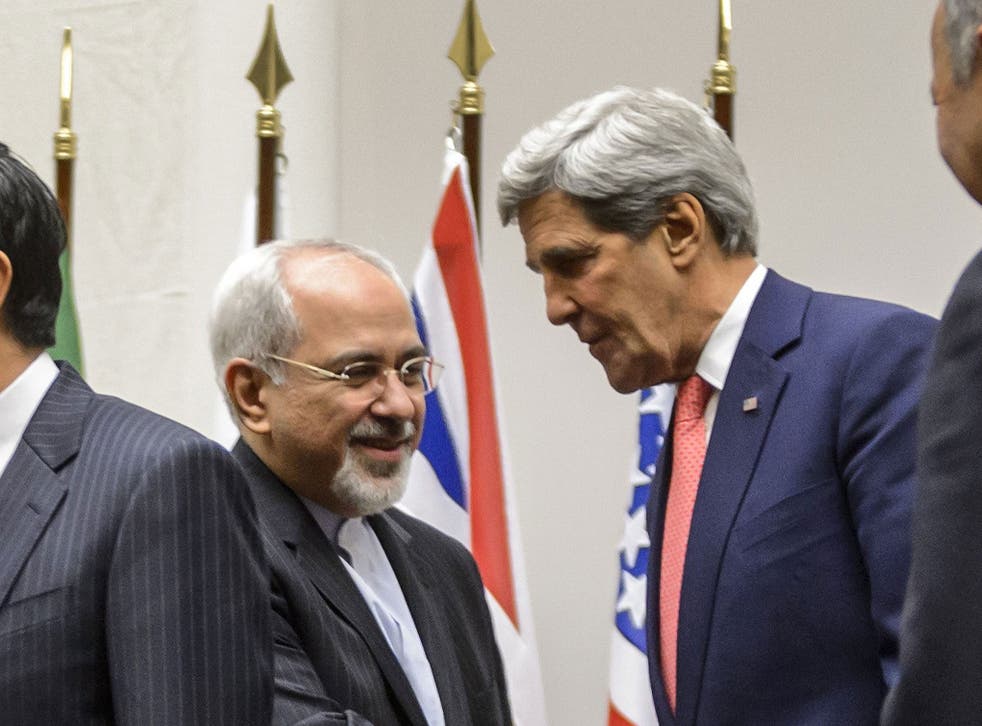 In the early hours of this morning, the United States and five other world powers made history by sealing a landmark deal with Iran to curb its nuclear programme in hopes of preventing Tehran from building a nuclear bomb.
The 4.30am agreement in Geneva, made possible by the election of moderate Iranian President Hassan Rouhani in June, crowned months of intense negotiations between the so-called P5+1 – the permanent members of the UN Security Council along with Germany – and Iran. But it emerged today that it was also the fruit of secret diplomacy between Iranian officials and a senior Obama administration official, Deputy Secretary of State William Burns.
The first nuclear deal with Iran in almost a decade has already jolted strategic alliances around the Middle East region, where unlikely bedfellows Israel and Saudi Arabia have joined forces to voice their opposition. It could also lay the groundwork for future co-operation between the US and Iran which have not had diplomatic relations since the 1979 Islamic Revolution, and the Iranian hostage crisis.
Read more
Robert Fisk: He may huff and puff but Netanyahu is on his own
News: Israeli minister warns deal could end in suitcase bomb
Editorial: Deal may have far-reaching consequences for Middle East
The agreement runs for six months while negotiations continue on a comprehensive final deal. But both sides were able to declare victory, while US and Iranian officials stressed that today's agreement was only a "first step".
President Barack Obama hailed the "substantial limitations" to Iran's nuclear programme which would "cut off Iran's most likely paths to a bomb". Yet the Iranians were also able to claim that it left intact their "red line" guaranteeing their right to enrich uranium for peaceful uses, and that no new sanctions will be imposed in the next six months. Iran's spiritual leader, Ayatollah Ali Khamenei, who had spoken out about the need to preserve Iran's "red lines", wrote to President Rouhani saying that the accord "can be the basis for further intelligent actions".
Foreign ministers from the five of the world's most powerful nations – most nuclear powers themselves – had flown to Geneva on Friday amid hopes that a long-awaited deal was close. But it took almost two more days to finally nail the accord.
The agreement provides for Iran to freeze or roll back its uranium enrichment programme to levels which would provide assurances that Tehran could not enrich to weapons grade. In particular, Iran promised to limit uranium enrichment to 5 per cent, which can provide reactor fuel, for the six-month period. And it is to dilute its stockpile of uranium enriched to 20 per cent which can have medical uses.
Tehran also agreed to halt construction of its heavy-water plutonium reactor at Arak which, on completion next year, could provide a second pathway towards a nuclear bomb. Iran has always insisted that its nuclear programme is purely civilian.
In return for the concessions by Iran, which also agreed to more intrusive inspections by the UN watchdog, the IAEA, some $7bn in international sanctions are to be lifted, including on gold and precious metals and aviation spare parts. However US officials noted that this decision was "reversible", depending on Iran's compliance, and that sanctions imposed on the oil and banking sector would not be affected at this stage.
The agreement marks a personal success for Baroness Ashton, the EU foreign policy chief, who led the negotiations with the Iranian Foreign Minister, Mohammad Javad Zarif. The talks took place in English in a sign of the new Iranian government's willingness to break with the past under Mr Rouhani's predecessor, the firebrand president Mahmoud Ahmadinejad.
But the outcome was also a personal triumph for the US Secretary of State, John Kerry, a former senator who brought all his skills as a veteran dealmaker to the table. And the French Foreign Minister, Laurent Fabius, can take personal credit for toughening the terms on offer to Iran.
The deal specifically addresses the central problem of mistrust between the West and Iran, which has a history of concealing sensitive nuclear activities from UN weapons inspectors.
It tackles concerns that the Iranians have only been "buying time" with the West while pursuing negotiations and at the same time increasing the spinning centrifuges which are used to enrich uranium. Mr Obama said that "the burden is on Iran to prove to the world that its nuclear programme will be exclusively for peaceful purposes."
Iran has already mastered the critical technology of uranium enrichment, but has not gone beyond 20 per cent grade. To build a bomb, the uranium would have to be enriched to more than 90 per cent – but for that, Iran would have to break out of UN controls which it has shown no sign of doing.
US officials yesterday confirmed reports by the Associated Press and Al-Monitor that Mr Obama had authorised Mr Burns to open a secret back channel to the Iranian government after Mr Obama and Mr Rouhani exchanged letters in August. Mr Obama is gambling that Mr Rouhani will stick to the terms of the agreement while pursuing promised engagement and reforms, but the Iranian president has powerful hardline factions inside Iran arrayed against him.
Mr Obama meanwhile faces internal criticism from Congress that he has given away too much too soon.
Register for free to continue reading
Registration is a free and easy way to support our truly independent journalism
By registering, you will also enjoy limited access to Premium articles, exclusive newsletters, commenting, and virtual events with our leading journalists
Already have an account? sign in
Register for free to continue reading
Registration is a free and easy way to support our truly independent journalism
By registering, you will also enjoy limited access to Premium articles, exclusive newsletters, commenting, and virtual events with our leading journalists
Already have an account? sign in
Join our new commenting forum
Join thought-provoking conversations, follow other Independent readers and see their replies