Iran hails 'good start' to talks with Europe aimed at salvaging nuclear deal as Trump imposes more sanctions
Divergent approaches to Tehran on display as US cracks down while others pursue diplomacy
Jeremy B. White
San Francisco
Tuesday 15 May 2018 22:02 Comments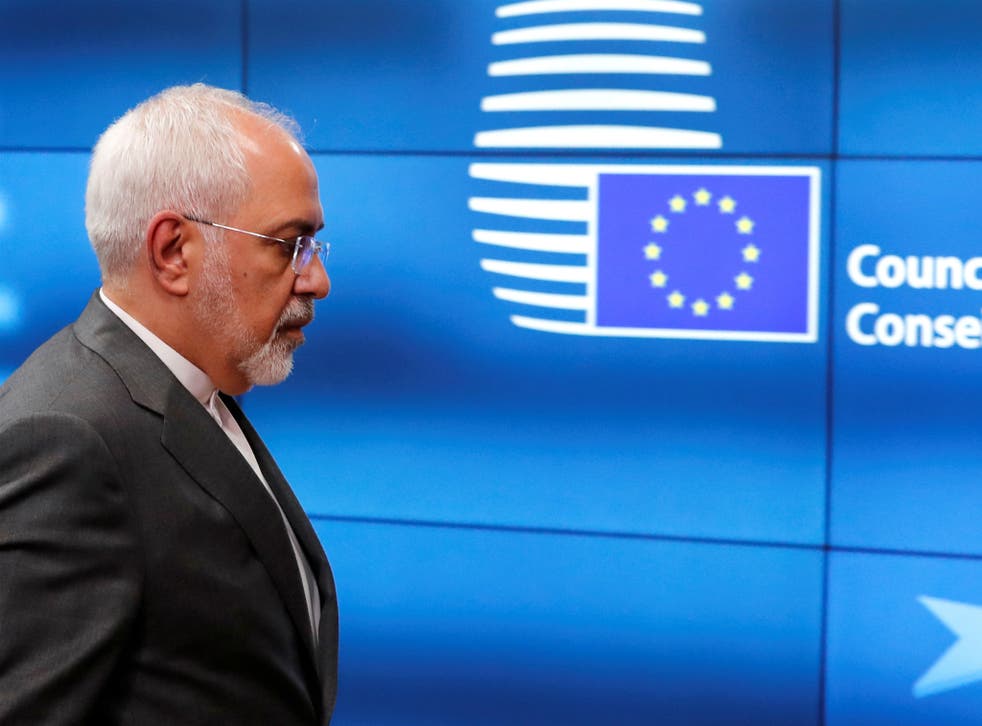 Iran's foreign minister heralded a "good start" to talks with Europe to preserve the 2015 nuclear deal even as the US imposed a second round of new sanctions, illustrating the divergent approaches of America and its allies.
Donald Trump's decision to exit the nuclear disarmament pact, which was one of Barack Obama's central achievements, has drawn denunciations and vows to preserve the deal from both European leaders and Tehran.
Following through on Iranian pledges to try and uphold the pact even without America's participation, Iranian foreign minister Mohammad Javad Zarif emerged from a meeting with officials from Britain, France, Germany and the European Union projecting optimism.
"We are on the right track," Mr Zarif said, adding that "a lot will depend on what we can do in next few weeks".
EU foreign policy chief Federica Mogherini said the two sides were working on "solutions to keep the deal alive" as well as international commerce involving Iran that depends on it. The UK foreign secretary, Boris Johnson, told reporters the nuclear agreement "has value" even in America's absence.
"We will be looking at a package of measures that we may be able to devise as Europeans to encourage the Iranians to stay in the deal," Mr Johnson said.
Iran parliament reacts after Trump's withdrawal from nuclear deal

Show all 10
As European powers were dispatching representatives to negotiate with Iran, America was condemning the regime and seeking to curtail its influence with a fresh round of sanctions.
The parallel announcements hinted at a post-Iran deal world in which America adopts a more aggressive stance even as its allies continue to pursue diplomacy.
New penalties announced by the US Treasury Department target prominent officials with Iran's central bank, saying the financial entity channelled "millions of dollars" to Hezbollah, an Iranian proxy group that the US considers to be a terrorist organisation.
"The United States will not permit Iran's increasingly brazen abuse of the international financial system. The global community must remain vigilant against Iran's deceptive efforts to provide financial support to its terrorist proxies," the treasury secretary, Steven Mnuchin, said.
Last week the Treasury Department announced it was imposing sanctions on members of what it called a currency exchange network used to fund Iranian clients.
Taken together, the actions signal the Trump administration's more aggressive approach to Iran in the aftermath of Mr Trump pulling the US from the nuclear deal.
Syrian military video shows air defences trying to intercept Israeli missiles
Mr Trump and Republican allies in Congress have condemned the deal as an unacceptable concession to an Iranian regime that continues to project influence by sponsoring armed groups across the region.
"Iran's Islamic Revolutionary Guard Corps (IRGC) pours resources into exporting destabilising influence throughout the Middle East, even as the Iranian people are victims of a struggling economy," the White House said in a statement last week after a rocket strike on Israeli positions in the Golan Heights that Israel blamed on Iran.
The attack, which followed Israeli striking Iran-linked targets in Syria, fuelled fears of a widening regional conflict.
Hezbollah leader Hassan Nasrallah warned in a televised speech that the rocket assault marked a "new phase" in the Syrian war.
Register for free to continue reading
Registration is a free and easy way to support our truly independent journalism
By registering, you will also enjoy limited access to Premium articles, exclusive newsletters, commenting, and virtual events with our leading journalists
Already have an account? sign in
Join our new commenting forum
Join thought-provoking conversations, follow other Independent readers and see their replies