Iran Supreme Leader Ali Khamenei orders country's atomic energy body to prepare for uranium enrichment capacity upgrade
'Tehran will attack 10 times more if attacked by enemies,' Ayatollah Khamenei says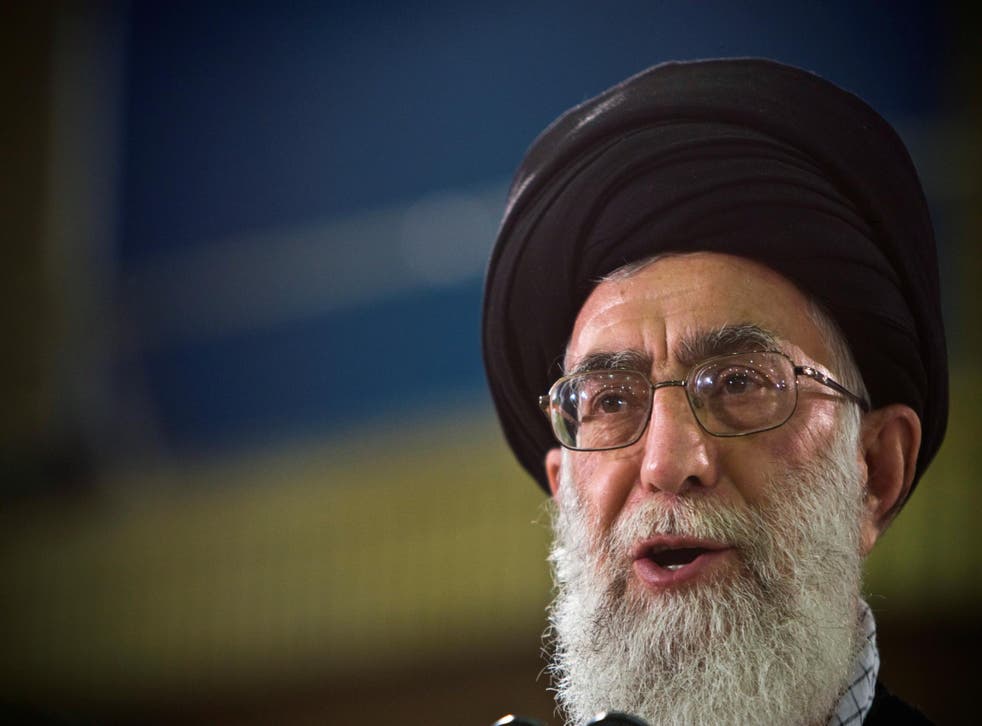 Iran's Supreme Leader Ayatollah Ali Khamenei has ordered the country's atomic energy body to prepare for an increase in uranium enrichment capacity if a nuclear deal with world powers falls apart after the US pulled out.
Tensions between Iran and the West have heightened since President Donald Trump withdrew the United States from the 2015 accord with Tehran, calling it deeply flawed.
Under the deal, the Islamic Republic curbed its disputed nuclear energy programme and in return won a lifting of most international sanctions that had hobbled its economy.
Last month, in its first report since the U.S. withdrawal from the 2015 nuclear deal that Israel also opposes, the UN's nuclear agency, the International Atomic Energy Agency (IAEA) said Iran continues to stay below the maximum level of uranium the deal allows it to enrich. Ayatollah Ali Khamenei said the latest push for enrichment would still be within the terms of the deal.
The agency's report also said Iran appears to be fulfilling other obligations, but is slow when it comes to "complementary access" inspections.
One of Mr Trump's demands - which European allies back in principle - is negotiations to rein in Iran's ballistic missile programme, which was not covered by the nuclear deal.
World news in pictures

Show all 50
Iranian Supreme Leader Ayatollah Ali Khamenei again said this was non-negotiable. "Some Europeans are talking about limiting our defensive missile programme. I am telling the Europeans, 'Limiting our missile work is a dream that will never come true," he said in a televised speech.
Mr Trump also objected that the 2015 deal did not address Iran's nuclear work beyond 2025 or its role in conflicts in Yemen and Syria. Though committed to the deal, European powers share Trump's concerns and want broader talks with Iran to address the issues.
"Our enemies have staged economic and psychological ... warfare against us and new American sanctions are part of it," Ayatollah Khamenei told a gathering to mark the 29th anniversary of the death of Iranian revolutionary leader Ayatollah Ruhollah Khomeini.
"Tehran will attack 10 times more if attacked by enemies ... The enemies don't want an independent Iran in the region ... We will continue our support for oppressed nations," he said.
Ayatollah Khamenei said Iran had no intention of curbing its influence in the Middle East and urged Arab youth to stand up to U.S. pressure.
"Young Arabs, you should take action and the initiative to control your own future ... Some regional countries act like their own people's enemies," he said in an allusion to US-allied Gulf Arab states who have supported rebels fighting to topple Syrian President Bashar al-Assad, a close ally of Tehran.
Reuters and Associated Press
Register for free to continue reading
Registration is a free and easy way to support our truly independent journalism
By registering, you will also enjoy limited access to Premium articles, exclusive newsletters, commenting, and virtual events with our leading journalists
Already have an account? sign in
Register for free to continue reading
Registration is a free and easy way to support our truly independent journalism
By registering, you will also enjoy limited access to Premium articles, exclusive newsletters, commenting, and virtual events with our leading journalists
Already have an account? sign in
Join our new commenting forum
Join thought-provoking conversations, follow other Independent readers and see their replies