Iran nuclear talks: Relief at interim deal gives way to gripes and mistrust
World powers are unclear as to how they can ensure Iran fully adheres to any nuclear agreement
Bradley Klapper
Saturday 30 May 2015 23:19 Comments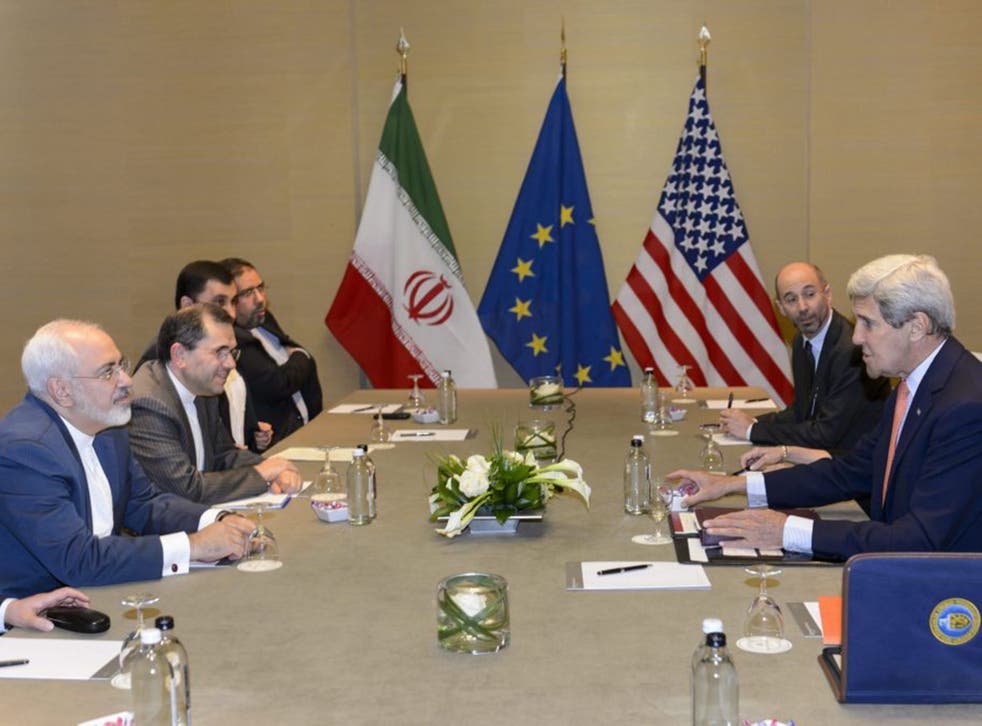 Top US and Iranian diplomats gathered in Geneva in an effort to bridge differences over how quickly to ease economic sanctions on Tehran, following April's interim nuclear deal. Talks will cover how significantly the Iranians must open up military facilities to international inspection.
Discussions between the US Secretary of State, John Kerry, and Iranian Foreign Minister, Mohammad Javad Zarif, were likely to extend into 31 May, a negotiating round that officials described as the most substantive since world powers and Iran clinched a framework pact in April.
That agreement, however, left big questions unanswered, which weeks of subsequent technical discussions have done little to resolve.
World powers believe they have secured Iran's acquiescence to a combination of nuclear restrictions that would fulfill their biggest goal: keeping the country at least a year away from bomb-making capability for a decade. But they are less clear about how they can ensure that Iran fully adheres to any agreement.
Iranian officials, including Ayatollah Ali Khamenei, the supreme leader, have publicly vowed to limit or even block monitors' access to sensitive military sites.
Nuclear scientists thought to have been involved in covert nuclear weapons efforts may also be off limits.
The US says any deal depends on such access and France has taken a particularly tough stance on the inspections issue. French foreign minister Laurent Fabius said last week that his government would not sign a final accord unless Iran agrees to open all sites, including military facilities, to verification inspections. Mr Kerry is set to meet with Mr Fabius in Paris this week.
A report on Friday by the UN nuclear agency declared work essentially stalled on its probe into Iran's past activities.
The Iranians aren't fully satisfied, either. Unresolved issues include the pace at which sanctions will be scaled back and how to "snap back" punitive measures into place if Tehran is caught cheating.
President Barack Obama has used the snap-back mechanism to defend the proposed pact from criticism in Congress and from some US allies.
And exactly how rapidly the sanctions on Iran's financial, oil and commercial sectors would come off in the first place is a sore point between Washington and Tehran.
Senior State Department officials describe questions on sanctions and Iranian transparency and access as the toughest matters remaining.
Iran insists that it is interested in peaceful energy for medical and research purposes, though many governments around the world suspect it of harbouring nuclear-weapons ambitions. The US estimates that Iran is less than three months from assembling enough nuclear material for a bomb if it chose to covertly develop one.
Copyright The Washington Post, AP
Register for free to continue reading
Registration is a free and easy way to support our truly independent journalism
By registering, you will also enjoy limited access to Premium articles, exclusive newsletters, commenting, and virtual events with our leading journalists
Already have an account? sign in
Join our new commenting forum
Join thought-provoking conversations, follow other Independent readers and see their replies