Tehran attacks: at least eight dead in shootings and suicide bombings at Ayatollah Khomeini's tomb and parliament
Eight people killed and four hostages taken in shooting and suicide bombing at parliament building, quickly followed by reports of armed gunmen and two explosions at Ayatollah's tomb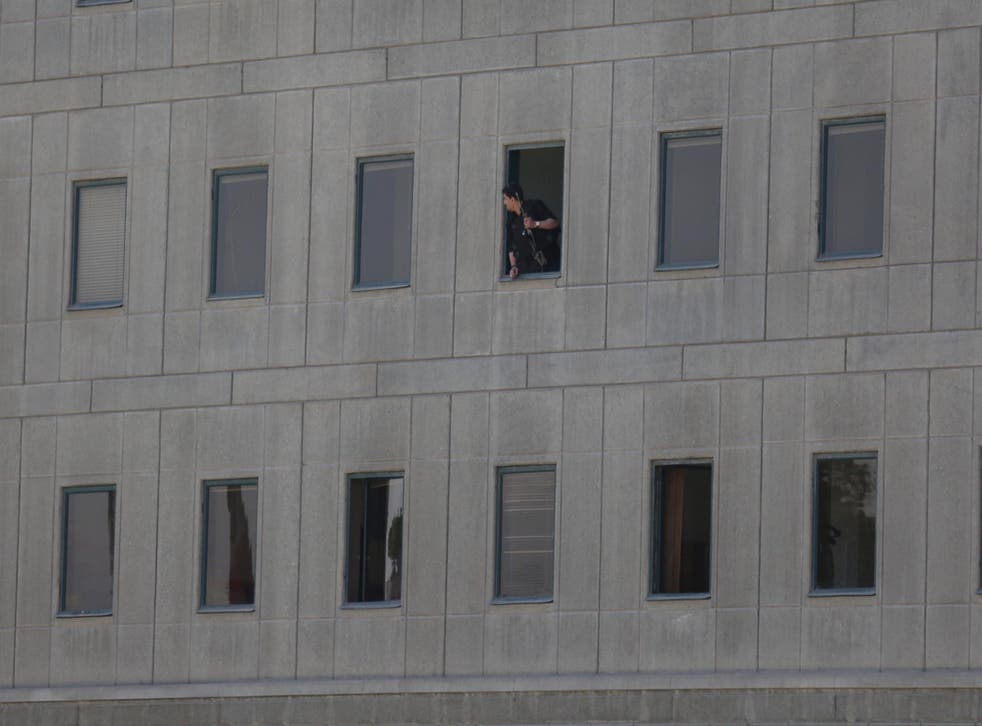 At least eight people are dead and several more have been injured in twin shooting and suicide bomb attacks at the Iranian parliament and the Mausoleum of Ayatollah Khomeini in Tehran.
One guard and six others were killed in the incident in parliament early on Wednesday, Tasnim news agency reported, in an attack which occurred around the same time four men launched an assault on Ayatollah Khomeini's tomb with guns and two suicide bombs.
Reports emerged that another suicide bomb was detonated on the fourth floor of parliament and several people had been taken hostage later on Wednesday morning. Heavy gunfire could be heard coming from inside as security forces swarmed at the building's entrances.
In the mausoleum attack, assailants killed a security guard and injured at least four others, state television said. A picture reportedly showing the first explosion, released by Jamaran News, shows an empty courtyard.
Initial reports said one attacker was shot dead at the scene and one woman arrested. Tehran's governor later said that one attacker had been killed, and another had blown himself up.
There are conflicting reports as to how many gunmen were involved in the parliament attack. At least four people have been taken hostage.
Unconfirmed reports said that the attackers had been looking for the chamber where MPs were in session, but lost their way once inside the building.
At least one male assailant escaped the building but was captured as he was on the run, the agency reports.
The identity and motivation of the attackers in both incidents is still unclear, or whether the two are linked.
Ayatollah Ruhollah Khomeini launched the county's Islamic revolution in 1979. He is regarded as the revolutionary founder of the modern state and is revered in Shia Islam worldwide.
The incidents occurred during Ramadan - the holy Muslim month - in which jihadi group Isis tells supporters the rewards for jihad are multiplied. No claim of responsibility has yet been made.
Join our new commenting forum
Join thought-provoking conversations, follow other Independent readers and see their replies