Iran: Thousands rally in support of country's supreme leader after two days of protests
Anti-government protests broke out earlier in the week over rising prices of basic food supplies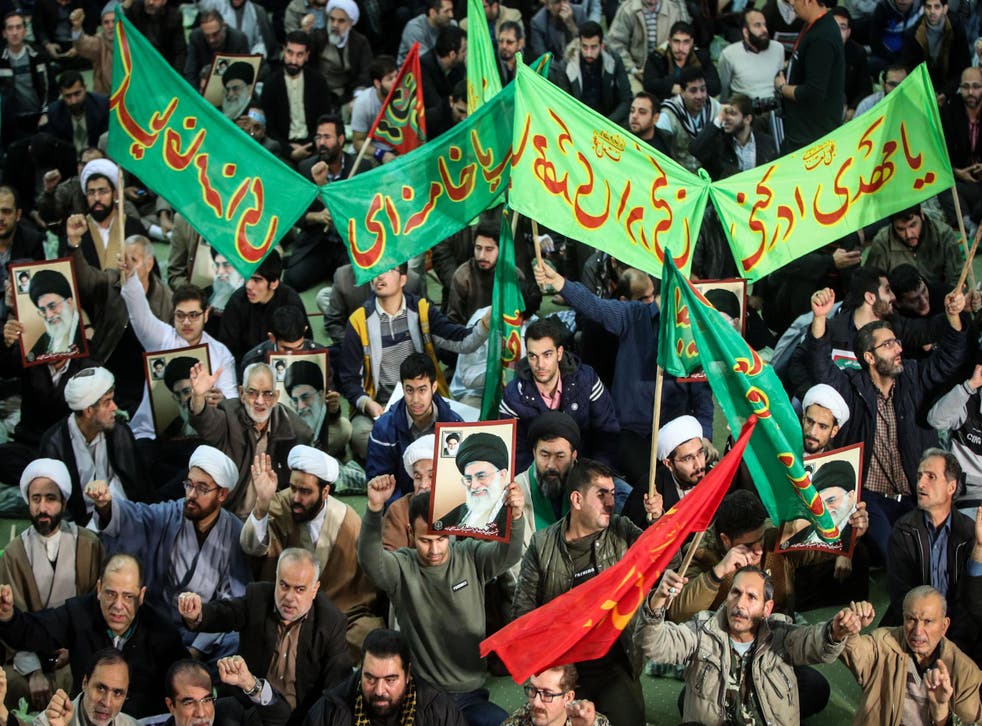 Iranian hard-liners rallied on Saturday in support of the country's supreme leader and clerically overseen government as spontaneous protests sparked by anger over the ailing economy hit major cities in the Islamic republic.
The demonstrations, commemorating a mass 2009 pro-government rally challenging those who rejected the re-election of hard-line President Mahmoud Ahmadinejad amid fraud allegations, had been scheduled weeks earlier.
However, they took on new importance after the economic protests began on Thursday, sparked by social media posts and a surge in prices of basic food supplies, like eggs and poultry.
Thousands took to the streets in several cities, beginning in Mashhad, the country's second-largest city and a holy site for Shia pilgrims. Demonstrators also have criticised Iran's government during the protests, with social media videos showing clashes between protesters and police.
The semi-official Fars news agency said protests on Friday also struck Qom, the world's foremost centre for Shia Islamic scholarship and home to a major Shia shrine.
The spontaneous demonstrations appear to be the largest to strike the Islamic Republic since its 2009 Green Movement arose after Mr Ahmadinejad's re-election. However, information about them remains scarce as both state-run and semi-official media in Iran have not widely reported on the protests.
That was not the case for Saturday's pro-government "9 Dey Epic" demonstrations. State television aired live footage from across the country showing people waving flags and carrying banners bearing the image of Iran's Supreme Leader Ayatollah Ali Khamenei.
In Tehran, some 4,000 people gathered at the Musalla prayer ground, calling for criminal trials for Mir Hossein Mousavi and Mahdi Karroubi, leaders in the Green Movement who have been under house arrest since 2011.
Iranian President Hassan Rouhani, whose administration struck the 2015 nuclear deal with world powers, campaigned on freeing the men, though they remain detained.
Mohsen Araki, a Shia cleric who serves in Iran's Assembly of Experts, praised Mr Rouhani's efforts at improving the economy. However, he said the President needed to do more to challenge "enemy pressures".
"We must go back to the pre-nuclear deal situation," said Mr Araki. "The enemy has not kept with its commitments."
Ali Ahmadi, a pro-government demonstrator, blamed the US for all of Iran's economic problems.
"They always say that we are supporting Iranian people, but who should pay the costs?" he asked.
Iran's economy has improved since the nuclear deal, which saw Iran limit its enrichment of uranium in exchange for the end of some of the international sanctions that crippled its economy. Tehran now sells its oil on the global market and has signed deals for tens of billions of dollars of Western aircraft.
That improvement has reached the average Iranian, however unemployment remains high. Official inflation has crept up to 10 per cent again. A recent increase in egg and poultry prices by as much as 40 per cent, which a government spokesman has blamed on a cull over avian flu fears, appears to have been the trigger for the protests.
World news in pictures

Show all 50
While police have arrested some protesters, the country's powerful Revolutionary Guard and its affiliates have not intervened as they have in other unauthorised demonstrations since the 2009 election. The economic protests initially just put pressure on Mr Rouhani's administration, but purported footage from recent demonstrations have included anti-government chants.
Early on Saturday, US President Donald Trump tweeted his support for the protests.
"Many reports of peaceful protests by Iranian citizens fed up with regime's corruption & its squandering of the nation's wealth to fund terrorism abroad," he wrote. "Iranian govt should respect their people's rights, including right to express themselves. The world is watching! #IranProtests."
Meanwhile, US Secretary of State Rex Tillerson's comments in June to Congress saying America is working towards "support of those elements inside of Iran that would lead to a peaceful transition of that government" has been taken by Iran's government as a sign of foreign interference in its internal politics.
The State Department issued a statement on Friday supporting the protests, referencing Mr Tillerson's earlier comments.
AP
Join our new commenting forum
Join thought-provoking conversations, follow other Independent readers and see their replies