Iran's opposition defiant in face of crackdown
Former vice-president sentenced to six years for his part in post-election protests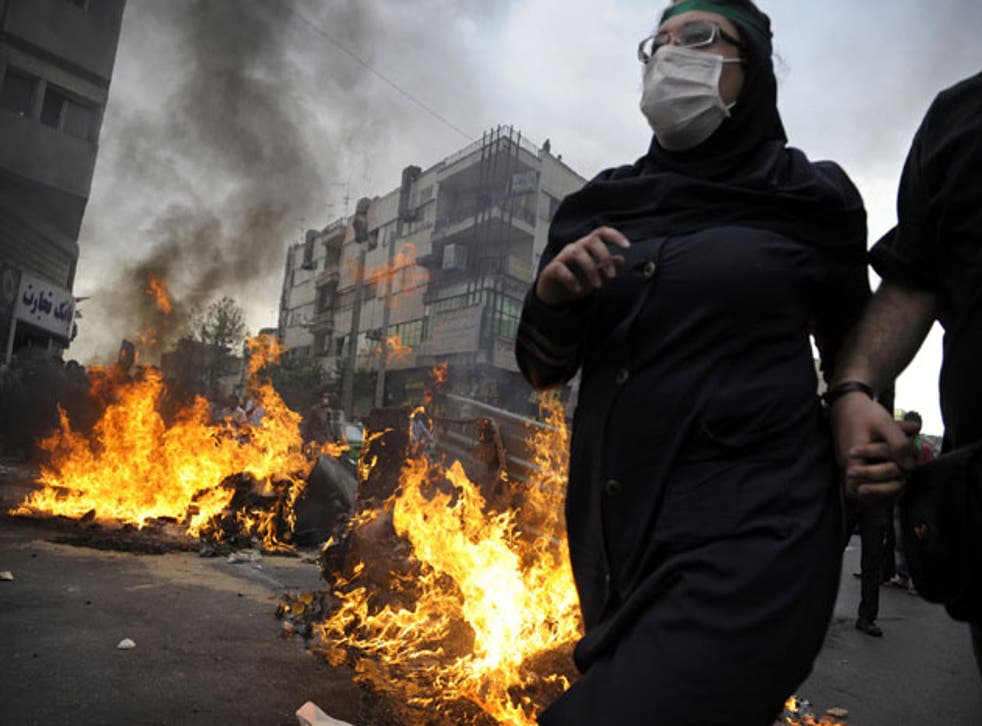 Iranian opposition leader Mirhossein Mousavi said yesterday that the reform movement would not be cowed by the hardline government's harsh methods as riot police prevented a demonstration by moderates taking place.
Mr Mousavi's remarks preceded a scheduled gathering by moderates to commemorate the killing of Dariush Forouhar and his wife, who headed the illegal but tolerated Iran Nation Party. They were stabbed to death by "rogue" agents in 1998.
Iran's security forces have warned the opposition not to take part in "street riots", trying to avoid a revival of mass protests which erupted in June after Iran's presidential vote; the biggest unrest in Iran since its 1979 Islamic revolution.
A witness said dozens of riot police surrounded the area where the mourning ceremony was held to prevent it turning into an opposition rally. "They are dispersing people. The police are not allowing anyone to stop in the area. The police and security forces are carrying batons," said the witness, who asked not to be named.
Mr Mousavi said the reform movement would continue despite the government's pressure to uproot it. "The government should not intimidate people to change their path ... this movement will continue and we are ready to pay any price," Mr Mousavi was quoted as saying by his Kaleme website.
Unable to stage their own demonstrations, reformers have sought to hijack official protests and have urged supporters to turn out when Iran marks the national Student Day on 7 December. Police clashed with Mr Mousavi supporters in Tehran on 4 November when an official rally marking the 30th anniversary of the storming of the US embassy turned violent.
Mr Mousavi and the other defeated reformist candidate, Mehdi Karoubi, say the vote was rigged to secure President Mahmoud Ahmadinejad's re-election. The authorities have portrayed the post-election demonstrations, quelled by the Revolutionary Guards and Islamic militiamen, as a Western plot to undermine the Islamic Republic.
Thousands were arrested for fomenting unrest. Most have been freed, but Iran's judiciary has fast-tracked sentencing for dozens of reformers, including former senior officials, lawyers, students and activists still in jail. So far five have been sentenced to death and another 81 have received jail terms of up to 15 years.
The most senior of those, moderate cleric and former vice-president Mohammad Ali Abtahi was sentenced to six years in jail, then freed on a bail of $700,000 (£425,000) yesterday. He has 20 days to appeal the sentence.
"He was sentenced to jail for acting against national security and propaganda against the system. I have appealed against his sentence," the semi-official Fars news agency quoted Mr Abtahi's lawyer, Hossein Simai,as saying.
Under Iran's Islamic law, acting against national security is punishable by death. US Secretary of State, Hillary Clinton, said the death sentences were "unfortunate and distressing". Iranian Foreign Ministry spokesman, Ramin Mehmanparast, called on Mrs Clinton to respect Iran's independence, saying "interfering in Iran's state matters is unacceptable".
The opposition says more than 70 people were killed in the post-election violence. Officials say the death toll was half that and members of the security forces were among the victims.
Any legal action against the opposition leaders could revive street protests.
Register for free to continue reading
Registration is a free and easy way to support our truly independent journalism
By registering, you will also enjoy limited access to Premium articles, exclusive newsletters, commenting, and virtual events with our leading journalists
Already have an account? sign in
Register for free to continue reading
Registration is a free and easy way to support our truly independent journalism
By registering, you will also enjoy limited access to Premium articles, exclusive newsletters, commenting, and virtual events with our leading journalists
Already have an account? sign in
Join our new commenting forum
Join thought-provoking conversations, follow other Independent readers and see their replies