British general says no increased Iran threat in Syria and Iraq, prompting rare rebuke by Pentagon
There 'has been no increased threat from Iranian-backed forces in Iraq and Syria,' says Major General Chris Ghika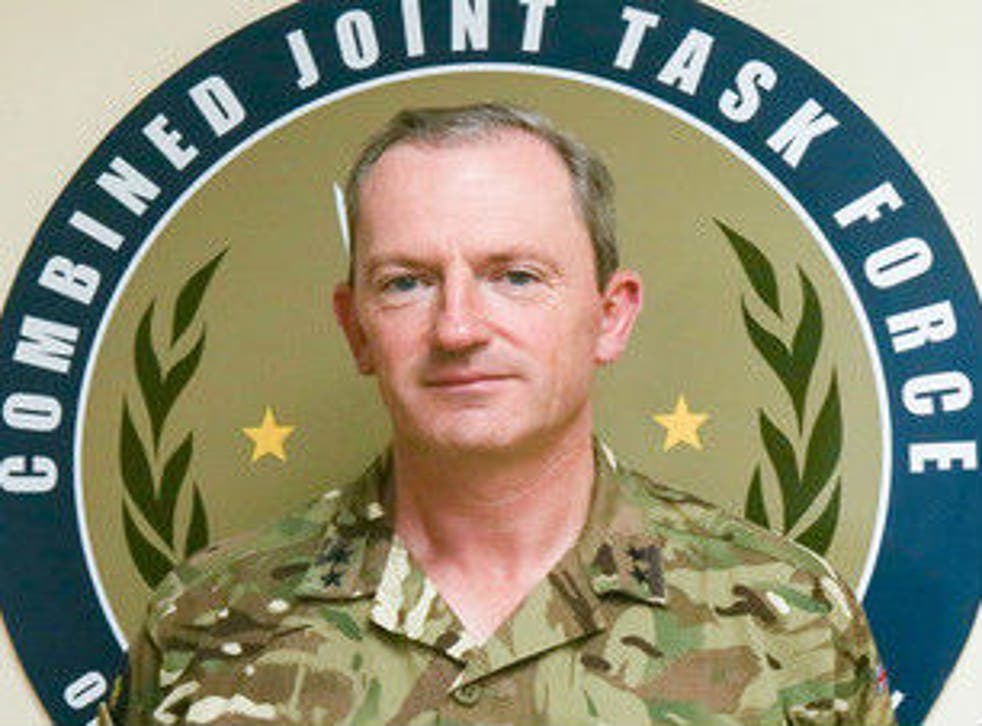 A British general was on the receiving end of a rare rebuke from the Pentagon for saying there was no increased threat from Iranian-backed forces in Iraq or Syria - contradicting recent US claims.
Major General Chris Ghika, deputy commander of Operation Inherent Resolve (OIR), the US-led coalition fighting Isis, disputed claims from the White House that forces in the Middle East are facing an increased threat from Iran or its allies.
Washington has recently dispatched an aircraft carrier, B-52 bombers and Patriot missiles in response to what it says is a raised threat from Tehran.
The US State Department also warned all non-emergency government staff to leave Iraq urgently amid escalating tensions with its neighbour.
But Maj Gen Ghika told reporters during a video conference from coalition headquarters in Baghdad on Tuesday, that there "has been no increased threat from Iranian-backed forces in Iraq and Syria".
The Islamic Republic of Iran 40 years on

Show all 20
He said the coalition monitors the presence of Iranian-backed forces "along with a whole range of others because that's the environment we're in".
But he added: "There are a substantial number of militia groups in Iraq and Syria, and we don't see any increased threat from any of them at this stage."
Maj Gen Ghika's comments sparked a rare rebuke from the Pentagon, which put out a statement hours later refuting his claims.
US Central Command spokesman Captain Bill Urban said the coalition in Baghdad has increased the alert level for all service members in Iraq and Syria.
"Recent comments from OIR's deputy commander run counter to the identified credible threats available to intelligence from US and allies regarding Iranian backed forces in the region," he said in a statement. "US Central Command, in coordination with Operation Inherent Resolve, has increased the force posture level for all service members assigned to OIR in Iraq and Syria.
"As a result, OIR is now at a high level of alert as we continue to closely monitor credible and possibly imminent threats to US forces in Iraq."
US officials have not publicly provided any evidence to back up claims of an increased Iranian threat.
However as tensions in the region surge, foreign secretary Jeremy Hunt said British officials are worried about the risk of a conflict between the US and Iran which neither side intends.
Support free-thinking journalism and attend Independent events
He told reporters in Brussels: "We are very worried about the risk of a conflict happening by accident, with an escalation that is unintended really on either side but ends with some kind of conflict. What we need is a period of calm to make sure that everyone understands what the other side is thinking."
US president Donald Trump also denied a New York Times report that his administration had updated plans to send up to 120,000 troops to counter Iran if necessary.
He told reporters: "Would I do that? Absolutely – but we have not planned for that. Hopefully we're not going to have to plan for that. If we did that, we'd send a hell of a lot more troops than that."
Reinforcing Mr Trump's denial, secretary of state Mike Pompeo said at a joint news conference in Sochi with Russian foreign minister Sergei Lavrov: "We fundamentally do not seek war with Iran."
A Ministry of Defence spokesman said: "Major General Ghika speaks as a military officer in the US-led coalition focused on the fight against Daesh in Iraq and Syria.
"His comments are based on the day-to-day military operations and his sole focus is the enduring defeat of Daesh.
"He made clear in his Pentagon briefing that 'there are a range of threats to American and coalition forces in this part of the world. There always have been, that is why we have a very robust range of force protection measures'.
"The UK has long been clear about our concerns over Iran's destabilising behaviour in the region."

Press Association contributed to this report.
Join our new commenting forum
Join thought-provoking conversations, follow other Independent readers and see their replies